Fueled by continued economic uncertainty and the ongoing zero interest-rate policy, consumer staples (NYSEARCA:XLP) have performed very well over the last two years, with almost double the total return of the S&P: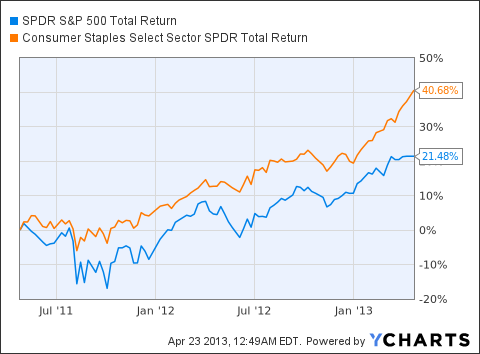 SPY Total Return Price data by YCharts
As a result, many favorite consumer staples stocks have expensive valuations following the recession and are trading at relatively high P/E multiples: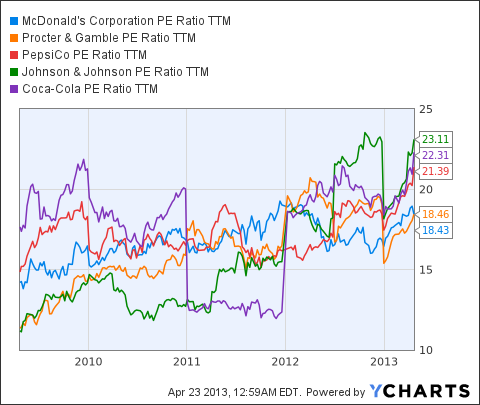 MCD PE Ratio TTM data by YCharts
Typically, holders of these stocks are seeking safety and strong dividend yields. Because of these characteristics, they didn't really fall out of favor during the recession and have grown from a more expensive base than the rest of the market during the recovery. At these valuations, shareholders are no longer getting as much of these defensive qualities as they would expect. However, one particular segment of the consumer staples sector had fallen out of favor and offers more attractive valuations: grocers.
Due to intense competition and too much leverage during the last decade, several grocers have filed for bankruptcy, including the high-profile Winn-Dixie and A&P filings, along with many independent and smaller grocers. SuperValu (NYSE:SVU) has managed to avoid this fate, but the stock is still 90% below its 2007 high after struggling with the debt it incurred to buy Albertson's in 2006. However, there are three grocers in particular that have managed to avoid these problems, taken market share, and grown earnings:
Kroger (NYSE:KR): Kroger is the largest pure-play grocer in the U.S., with 2012 revenues of $96 billion. The company has had 37 straight quarters with positive same-store sales, which is the highest in the sector. KR has an investment-grade debt ratings of BBB/Baa2 and a good history of returning cash to shareholders through dividends and share repurchases. KR has higher than average sales of private-label brands, which attract price-sensitive customers, and a strong integration of pharmacy and fuel programs. The company's business model is structured to produce 6%-8% annual EPS growth with a ~2% dividend to return 8%-10% annually, returning equal or better than the S&P historically while suffering less volatility.
With an April 23 market cap of $17.82 billion, Kroger's trailing P/E is 12.35 (forward 11.14), with a current FCF yield (excluding working capital) of 8.5% funding $1.1 billion of share repurchases in 2012 and a dividend of 1.8%.
Safeway (NYSE:SWY): Safeway has been more volatile than Kroger due to heavy exposure to California and other harder-hit markets in the U.S. However, the company's management has been extremely focused on returning cash to shareholders, repurchasing $3.25 billion of shares over the last three years and paying $520mm of dividends against a current market cap of $6.5 billion. Some of these repurchases were funded through a leveraged recapitalization, but the company maintained its investment grade ratings of BBB/Baa3.
Because of its markets, SWY has experienced more pressure on gross margins over the last few years and wasn't able to reduce expenses, resulting in flat net income with rising sales (though it increased EPS due to repurchases). However, after extensive development and testing, SWY finally launched its "just for U" loyalty program in 2012 that offers individual members personalized deals and coupons. Over the last few quarters, it has been extremely successful, and will be instrumental in attracting shoppers and propelling resumed earnings growth going forward. The company has also just sold 19% of its stake of the gift card and digital wallet provider Blackhawk (NASDAQ:HAWK) in an IPO on April 19.
Safeway has a trailing P/E of 11.4 (forward 11.2), with a current (ex-w/c) FCF yield of 12% and a dividend of 2.6%.
Wal-Mart (NYSE:WMT): While people think many things about Wal-Mart, it is the world's largest grocer. Wal-Mart U.S. alone generated $274.5 billion of sales in FY2013, and 55% were from groceries. I don't presume to tell readers here anything they don't know about WMT, but the stock remains attractive at a trailing P/E of 15.5 (forward 13.3), an ex-w/c FCF yield of 5%, and a dividend of 2.4%. FCF is depressed somewhat, as WMT continues to expand in the U.S. and overseas, with capital expenditures ~50% higher than depreciation charges. WMT help up extremely well during the recession (of the 30 Dow stocks, only WMT and MCD rose in 2008) and is the 4th largest holding in XLP. When comparing mega cap consumer staples, WMT appears to be a much better value than the other usual suspects.
While holding consumer staples and collecting steady dividends for very long periods of time is an excellent way to generate wealth, investors seeking yield and stability of earnings growth should be cautious of current valuations and look for stocks that have similar characteristics and lower prices.
Disclosure: I am long WMT, KR. I wrote this article myself, and it expresses my own opinions. I am not receiving compensation for it (other than from Seeking Alpha). I have no business relationship with any company whose stock is mentioned in this article.