Daily fantasy sports threatens to overtake the world of traditional fantasy sports, and Monday was the first day that investors were offered the opportunity to invest directly in this exploding market.
Most people are familiar with traditional fantasy sports: betting on make-believe rosters of individual athletes by comparing their stats over an entire season. Daily fantasy sports compresses the betting timeframe of traditional fantasy sports from a season into one day. Unsurprisingly, fans are attracted to the fast-paced bets and are steadily migrating over from traditional fantasy sports.
Once a market dominated by private firms and venture capitalists, daily fantasy sports is now attracting the full interest of Wall Street. As of Monday, investors have the opportunity to invest directly in this market via MGT Capital Investments (NYSEMKT:MGT).
At 2:09pm on Monday, MGT was halted for news. A few minutes later, the company announced that it would acquire a 65% stake in FanTD, owner of the daily fantasy sports website www.FanThrowdown.com, for $2,584,500 worth of restricted stock and cash. Although the stock portion will fluctuate with the price of MGT, the deal valued FanTD at roughly $4 million. When trading resumed at 3:33pm, the market reacted positively to the news, and MGT closed the trading session with a gain of 3.7%.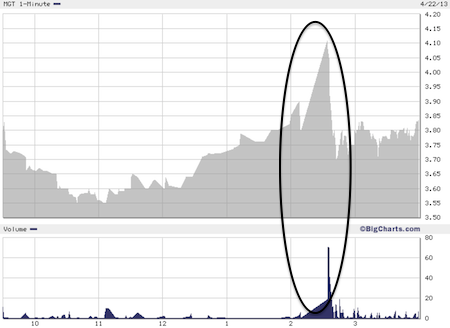 Fantasy sports is big business. There are over 35 million fantasy sports players in North America- up from 9 million in 2005. Most players spend $467.60 per year playing fantasy sports, and Comcast sees "a clear opportunity to introduce the game to a broader set of sports fans." Players are usually wealthy, with an average household income of $92,750 per year. Twitter hosted a summit this month that discussed fantasy sports giants like Yahoo Fantasy Sports, CBS Sports, Fox Sports, ESPN, and the NFL itself.
Fantasy sports wagering is legal in 45 states and has a preferential carve-out under the 2006 Unlawful Internet Gaming Enforcement Act. According to the U.S. District Court for the District of New Jersey in Humphrey v. Viacom, fantasy sports games involve predominantly skill because of the complex nature of the game's strategies and the negotiations that occur among team owners.
MGT's stake in FanThrowdown.com places the company squarely into the daily fantasy sports business. As I noted this spring, MGT Capital has had substantially no operations aside from liquidating its defunct Medicsight patent portfolio and awaiting the progression of its major lawsuit against the casino industry. Everyone has been waiting to see the emergence of MGT as an operating business, and now we know what it is: online gaming.
CEO Robert Ladd indicated that this acquisition was part of a "comprehensive strategy" to acquire more legal, online gaming properties. Indeed, on April 17, MGT announced that it would acquire assets from Digital Angel's mobile game application business, including its IT contract with High Impact Gaming, Michael Haller's intellectual property, two video games (Boom Boom Hamster Golf and SmashBots), and office property in Sherman Oaks, California. Once this acquisition closes on April 30, this Californian division will help facilitate the integration of online games into MGT as revenue-generating subdivisions.
Here is a summary of MGT from a capital perspective. Readers will notice that although it has a variety of assets, its only operation is online gaming: Digital Angel and FanThrowdown.com.
MGT Capital Investments
| | |
| --- | --- |
| Market Capitalization | $13.6 million |
| Cash | approx. $4 million |
| Debt | $0 |
| Shares Outstanding | 4,541,672 |
| Preferred Outstanding | 172,517 (convertible 1:1 to common) |
| Warrants Outstanding | 4 million at approx. $3.64/share |
| CEO Ownership | 18% |
| Other Insider Ownership | 9% |
| Restricted Stock for FanThrowdown.com | 627,500 shares by May 6 |
| Restricted Stock for Digital Angel | 50,000 shares by April 30 |
| Fully Diluted Share Count | approx. 9.3 million* |
| - ASSETS - | |
| Medicsight Patents | worth up to $5 million |
| Digital Angel | worth $325,000 |
| 65% Stake in FanTD | worth $2.6 million |
| 55% Stake in Patent #7892088 | worth up to billions |
| | * Note that if all warrants were exercised, approximately $14.5 million in cash would be added to the balance sheet. |
As a $13.6 million company whose principal business operations will be controlling a 65% stake in a $4 million daily fantasy sports website, MGT is now the most concentrated investment opportunity in the daily fantasy sports market. There are few alternatives: venture capital firms (Piton Capital, Pentech Ventures or Bullpen Capital) or huge conglomerates like Comcast (NASDAQ:CMCSA) or Time Warner (NYSE:TWX) with only nominal exposure to daily fantasy sports as percentage of operations.
At a valuation of $4 million and assuming the deal closes by May 6, MGT's FanThrowdown.com will be valued significantly below industry leaders like FanDuel.com. The top website in daily fantasy sports, FanDuel.com just received $11 million in Series C financing (its Series B was $4 million) led by the investment unit of Comcast. FanDuel.com boasts 400,000 registered users, 250,000 line-up entries per week, and annual payouts of $50 million in 2012 (up 400% YoY). "We estimate that it is three times larger than its nearest rival," remarked Andrew Cleland of Comcast Ventures. FanDuel.com has partnerships with Sports Illustrated and is likely worth well over $50 million in total.
M&A and investment is hot in the fantasy sports sector. In addition to the multi-million dollar investments discussed above for FanThrowdown.com and FanDuel.com, Crain's summarized additional activity in the space.
In 1999, Fort Lauderdale, Fla.-based SportsLine.com paid $31 million for Daedalus World Wide, developer of Commissioner.com, which currently powers CBS Sports' fantasy offering. In 2005, London-based FUN Technologies paid $12 million for Minneapolis-based Fanball, though it has since been sold to Colorado-based Liberty Media and shuttered.

In 2006, NBC purchased Rotoworld, and in 2010 Yahoo gobbled up Citizen Sports, both for undisclosed sums. In 2012, Fantasy Sports Ventures was acquired by the Gannett Co. and its USA Today Sports Media Group for a reported $30 million.
Coincidentally, the day that MGT announced its FanThrowdown.com acquisition aligned with the first day that Atlantic City casinos could legally offer daily fantasy sports from their sports book rooms. No casinos currently offer fantasy sports bets, but several are gearing up for the fall NFL season. This new opportunity could mean big profits for MGT, especially if the company is able to build a turnkey solution for casinos looking for an easy entry into fantasy sports wagering.
Although most of MGT's debt-free market capitalization is backed by cash and other real assets, there is always risk when investing in smaller companies. The biggest risk is usually management blowing cash on a stupid acquisition, which does not seem to be the case with MGT based on Monday's savvy investment. Nevertheless, investors should look carefully at the fully diluted calculations I provide above and the risk factors outlined by the company in its SEC filings.
As the exclusive option for investors looking for concentrated exposure to the daily fantasy sports business, I expect MGT to begin to rally sooner than I had originally anticipated. I previously outlined three catalysts for MGT in 2013, but that was before the company had any operations in online gaming whatsoever. With Monday's acquisition announcement of FanTD, the pace is certainly accelerating.
Disclosure: I have no positions in any stocks mentioned, and no plans to initiate any positions within the next 72 hours. I wrote this article myself, and it expresses my own opinions. I am not receiving compensation for it. I have no business relationship with any company whose stock is mentioned in this article.