The latest attempt by Facebook (NASDAQ:FB) to increase mobile revenues comes in the form of Facebook Home. This is an app that essentially takes over your smartphone to make Facebook the center of your mobile world, with a Facebook home screen and a Facebook-centric interface that replaces the regular Android interface.
Facebook Home is designed to be a key part of Facebook's attempts to monetize mobile users better, as it has deeper engagement with users than the typical Facebook mobile experience and also allows extra advertising opportunities. Facebook's mobile usage is skyrocketing and accounts for more than 50% of total usage, but mobile revenues only account for 23% of their total ad revenues. For Facebook to fully take advantage of mobile usage growth, they must find ways to monetize their mobile users better.
So how has Facebook Home done so far?
The Facebook Phone (HTC First)
The first phone to be launched with Facebook Home preinstalled was the HTC First. It was made available through AT&T on April 12th. While there haven't been any sales figures released, we can proxy interest in the phone by looking at search volumes (via Google Trends) for the HTC First and Nokia Lumia 920. The Nokia Lumia 920 is also an AT&T exclusive, which makes it a good comparison. We also know that the Lumia line shipped 400,000 units in North America in Q1 2013. Based on relative search volumes to the rest of the Lumia line, we estimate that around 225,000 Lumia 920s were sold in the US during Q1.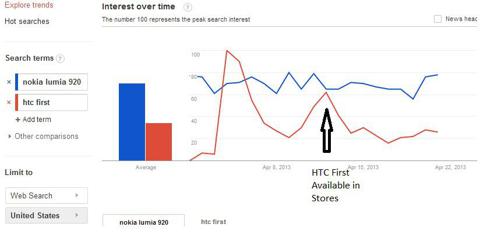 As you can see from the chart, search interest in the HTC First was never greater than the Nokia Lumia 920 once the phone was available. Based on relative search volumes, we estimate that the HTC First would have sold around 10,000 units in the first ten days, with continuing volumes of around 5,000-6,000 per week as search volumes are approximately 1/3rd of the Lumia 920. Sales are estimated to be around 25,000 for the first month, which would be around 0.2% of US smartphone sales during that period.
The Facebook Home App
Meanwhile, the Facebook Home application on Google Play reached the 500,000 download mark after five days. App Annie shows that Facebook Home has fallen to #116 in top free apps and #10 in top new free apps for Android in the US. Facebook Home has only made the top 100 free list in two (Canada and Singapore) of the top 16 countries that App Annie tracks. For a company with over a billion monthly active users, this has to be considered a slow download rate, even with the limited number of devices that it is currently compatible with.
In addition, reviews for Facebook Home have been quite negative. At the time of writing this article, there were 12,169 reviews with an average score of 2.2. One star reviews made up 52% of the total. Even allowing for a high number of fake reviews, the overall rating appears significantly below average for an Android app. This poor reception does not bode well for uninstall or usage rates, so the number of active users could be much less than the 500,000 who have downloaded it so far.
Conclusion
Facebook Home has not been a success so far. Poor phone sales and sluggish downloads indicate limited interest in the concept, while the negative reviews suggest that many of those who were interested enough to download it have a low satisfaction rate with it. Facebook Home does not appear to be the answer to Facebook's mobile monetization challenges.
Facebook may find better results with future iterations, but it is hard to overcome the early negative perceptions. The good news for Facebook is that desktop usage is declining much slower than mobile usage is increasing, so Facebook Home's failure is more of a missed opportunity, than a disaster in which weak mobile monetization leads to stagnant or declining revenue. Such a problem may occur though if declines in desktop usage accelerates before Facebook improves mobile monetization substantially.
Disclosure: I have no positions in any stocks mentioned, and no plans to initiate any positions within the next 72 hours. I wrote this article myself, and it expresses my own opinions. I am not receiving compensation for it (other than from Seeking Alpha). I have no business relationship with any company whose stock is mentioned in this article.