When it comes to investing, gold has been one of the most solid bets over the past several years. In fact, the value of the raw metal itself has skyrocketed on the market, leading a lot of investors to try and jump on the bandwagon. However, there has been a gap between investment in gold -- and the profits it has been drawing in -- and the investments in gold miners and mining stock, which has been drawing in significantly less investor money. That, in my mind, means the greater opportunity is in gold miners themselves that actually take gold out of the ground and convert it into cash.
The Problem With Mining in the Past
The reasons that mining has been lagging behind are legion, but there are several of them that have played into the reason gold as a metal has been doing better as an investment. One reason is that investing in gold has become much easier with the introduction of gold ETFs, which mean that investors no longer have to buy coins or bullion from banks or collectors. In addition to this, though, the value of gold is at least partially divorced from all the work it takes to wrest it out of the ground. Those costs still weigh heavily on mining companies and are one reason why they've broken even, but not much more prior to the past few years.
What's Driving Change?
The slump that many investors have seen investing in mining companies and gold miners is going to change. Companies are seeing higher profits, and their management is improving. These two things together are making gold miners a better investment than they were before, and bringing them up to the level of investing in raw gold. Additionally, companies and experts are expecting new discoveries of gold in addition to bigger companies buying up smaller ones and consolidating their base of power and resources. The end result being that a bigger operation is producing more gold with lower fixed costs.
Why Only Invest in One?
For those investors who just aren't sure they want to invest in just one gold miner there is the Market Vectors Gold Miners ETF (NYSEARCA:GDX). Since the companies are raking in profits and producing more gold, and the profits should continue as long as gold maintains a price north of $1,000. I wouldn't personally buy the metal above $1,000 an ounce, but as long as the price is higher and the miners have willing buyers, I'll gladly buy the miners.
I like an investment in for a mining play over companies like Newmont Mining (NYSE:NEM), Barrick Gold (NYSE:ABX), or Gold Corp. (NYSE:GG) because it gives you a hedge against the geo-political risks that companies in the space often face. With GDX you can also count on a dividend as the underlying performers pay them out.
As you can see from the chart below, there is a much greater disparity between and the metal tracked by [[GLD] than there was at the start of the year when gold was higher. This separation is what makes miners more attractive for a potential recovery. You can see that it is also trading at a discount compared to Newmont and Gold Corp. Only Barrick has sold off more, and further separation will make a snap back that much more lucrative.
Click to enlarge image.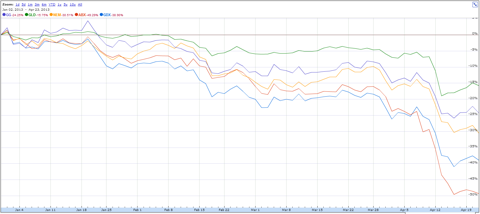 Generate Income With GDX
For an even better entry, look to sell puts in GDX. That would obligate you to purchase GDX at the strike price, but that would give you the advantage of reducing your cost basis by the premium collected for the contracts. A good starting point would be on the 28 strike weeklies 10 days out. They have a .70 bid, which would reduce your cost basis to 27.30, and there is a good chance the options won't exercise because they are worthless. So continued put selling could take place. If, by chance, GDX does further erode below your strike and you are put into shares, the next move would be to sell out of the money weekly calls. That would give you consistent weekly income against your stock position.
However you decide to trade it, it's clear to me GDX is the best option.
Disclosure: I have no positions in any stocks mentioned, and no plans to initiate any positions within the next 72 hours. I wrote this article myself, and it expresses my own opinions. I am not receiving compensation for it (other than from Seeking Alpha). I have no business relationship with any company whose stock is mentioned in this article.