One of the biggest stories in the financial media over the past two weeks has been the fall in commodities prices. As I write this, May 2013 WTI crude oil futures contracts are trading hands for $88.30 per barrel although the market volatility will likely cause this price to be quite different by the time you are reading this. Gold has also been hit particularly hard and trades at $1420 per ounce at the time of writing. This has understandably resulted in stocks of commodity-related firms to also decline sharply. In some cases though, this decline was completely unwarranted. One example of an unwarranted decline are the stocks of offshore drilling companies.
To understand why the declining prices of these stocks is unwarranted, it is important to understand a little about the business. First, offshore drilling companies have very limited exposure to commodity or oil prices. These companies make their money from leasing out offshore drilling rigs to major oil companies on long-term contracts. While some of these contracts have performance bonus and similar provisions that can allow the offshore drilling contractor to benefit from rising oil prices, for the most part these are fixed rate contracts. The oil company leasing the rig will pay the offshore drilling company the same amount whether oil is $100 per barrel, $80 per barrel, or $50 per barrel. Therefore, neither the revenues nor the earnings of these companies are at all affected by oil prices.
Offshore drilling is significantly more expensive than conventional onshore drilling. Therefore, a period of sustained low oil prices could reduce demand for offshore rigs as oil companies would have difficulty earning a profit on oil produced offshore. However, there is no risk of that at present. Oil prices have not fallen enough to make offshore drilling nonviable and rig contracts are for long enough periods that short-term fluctuations in oil prices are all but meaningless. Therefore, the fundamentals of the various offshore drilling companies have not changed despite the fall in oil prices. The fall in these companies' stock prices because of it, though, could be creating a buying opportunity.
One offshore drilling company that could be a particularly good buy at these levels is Atwood Oceanics (NYSE:ATW). I discussed Atwood in a previous article which was posted on Seeking Alpha Pro. In short, Atwood has the potential to more than double its earnings per share between now and 2016. That article was posted on April 4, on which date the stock traded at $50.11 (closing price). I showed that the stock was undervalued at that price based on its PEG ratio which, at the time, stood at 0.50. Today, the stock trades at $46.15 or nearly 7.9% lower. If Atwood was a good buy at $50.11, it is an even better buy now at its discounted price.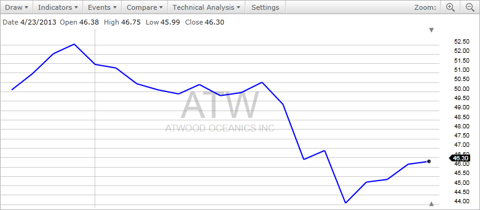 Source: Fidelity Investments
Another offshore driller that has been negatively, and unfairly, impacted by the turbulence in the commodities markets is Ocean Rig (NASDAQ:ORIG). Ocean Rig is a rapidly growing drilling company which I have also covered in the past. According to Thomson Reuters, Ocean Rig will have the greatest EBITDA growth of any of the major offshore drilling companies between now and 2015.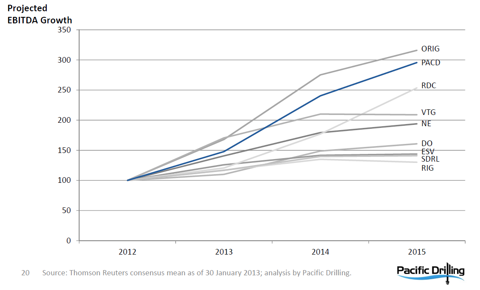 Source: Pacific Drilling
Ocean Rig's stock has also fallen over the past few weeks.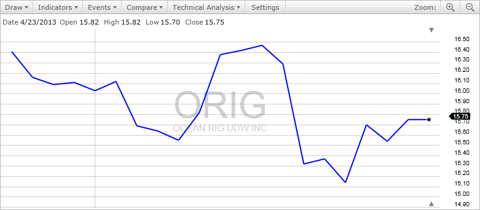 Source: Fidelity Investments
Like Atwood, Ocean Rig has a significant number of newbuild rigs coming online in the next two years that will serve as a growth driver. The company is also lightly levered. This could be an opportunity to buy in.
Another potential opportunity may be found in shares of ultra-deepwater specialist Pacific Drilling (NYSE:PACD). Shares of this company have rallied from their low point last week but they still trade hands at a price that is considerably below its monthly average.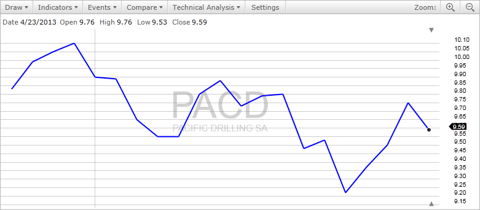 Source: Fidelity Investments
Like both Ocean Rig and Atwood, Pacific Drilling has strong forward growth potential. However, the stock is considerably more expensive than either of the other two as it trades at 61.37 times trailing twelve month earnings.
Disclosure: I am long PACD. I wrote this article myself, and it expresses my own opinions. I am not receiving compensation for it (other than from Seeking Alpha). I have no business relationship with any company whose stock is mentioned in this article.