CARBO Ceramics (NYSE:CRR) is the world's largest supplier of ceramic proppant, which is widely used in hydraulic fracturing oil and gas wells. The empty space that was left by the extracted oil or gas is filled by proppant in order to keep the cracks open for oil or gas outflow. There are three types of proppant exist in the market, sand, resin-coated sand and ceramic proppant. Sand is the least expensive proppant among the three. The extra processing that is required by resin coated sand puts resin-coated sand in the middle of the price range. Ceramic proppant is the most expensive one, since raw materials need to be processed to form uniform ceramic proppant. The higher initial cost of ceramic proppant is justified by the fact that the use of these proppant in certain well conditions results in an increase in the production rate of oil and natural gas, an increase in the total oil or natural gas that can be recovered from the well and, consequently, an increase in cash flow for the operators of the well. The increased production rates are primarily attributable to the higher strength and more uniform size and shape of ceramic proppant versus alternative materials. As a result, CARBO sits comfortably in the top quartile of its business.
Enough about the basics, the company has a wide range of product to offer for its clients, mainly Halliburton (NYSE:HAL) and Schlumberger (NYSE:SLB). Each buys more than 10% of the company's total sale. The combined sale could well over 50% of total sale in my opinion. The company's flagship product is its ceramic proppant. Management team has recognized that the sales growth in its main product will mostly come from volume rather than price. With its main product, ceramic proppant, constitute over three quarters of its sales volume, the future doesn't seem to be very attractive. To make things worse, two recent entrants Imerys and Pyramax are operating ceramic proppant business to compete with CARBO Ceramics (CRR).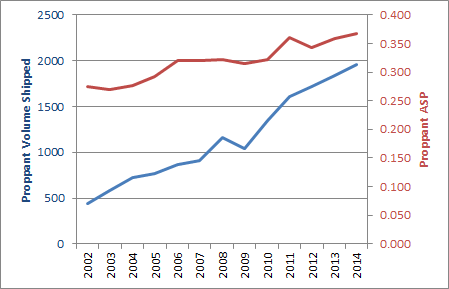 However, if you dig deeper, you can see there is a wide range of options for CARBO Ceramics to move into the future. There are three brand new potential growth areas, innovative proppant and new proppant production technique, fracturing consulting business, and spill prevention business. All these areas have strong synergies with its main product -- ceramic proppant.
First of all, the company is constantly improving its product range. The company has been actively engaged in new product development. It has rolled out 4 new product lines in the last 5 years. And the company has announced that it will improved its production technique for its high-end proppant by the end of this year. The company is very focused on oil and gas industry, and it is enjoying the benefit of industry "know-how" insight based on its tunnel vision in this industry.
The company is rolling out both high-end and low-end products to capture more market share, since the competition for ceramic proppant is increasing in both domestic and global market. These new product lines will help the company maintain its gross margins as well as its brand as the market leader in this niche market. A quarter of its production capacity is producing resin-coated sand to maintain competitive in the shallow wells that do not require high cost ceramic proppant. And the company is expanding its high-end product range by a new resin-coated ceramic proppant and a non-radioactive traceable proppant. Both of which are highly desirable in ultra-high stress wells. These will guarantee the company's profit margin which is around 17%.
The company is not just a producer of proppant, but an innovator with strong patent shield to avoid further competitions. Its patent had successfully fended off a competitor, from Brazil, entering the market before 2006. The proppant business has kicked off another round of R&D from 2005. All the patents that the company is holding will provide protection for its new lines of products well into the 2020s. In 2010, the company reported to have 9 patents and 7 U.S. patent applications. (Management went a bit wary on the figures in the subsequent years.) With three new products came in to the market since 2010, it is reasonable to believe that the company has over 15 patents by now. All these will protect CARBO's profit margin in the future.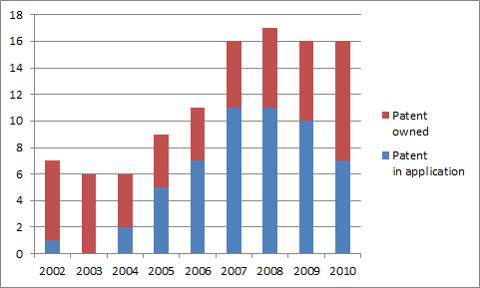 Thirdly, the company's fracturing consulting arm, StrataGen, provides a valuable add-on service for its client to evaluate the benefits of using proppant, especially when a production optimization or potential stimulation problems elimination is required. The company has a deep root in this area. Although CARBO sold most of this business arm to Halliburton in 2008, it kept the bits that are highly relevant to its core proppant business. This shows its management is much focused and thrives be the best in its field.
Fourthly, the spill prevention arm of CARBO came from an acquisition from BBL Falcon Industries in 2009, which is highly relevant to its new ultra-high stress well proppant product, the resin-coated ceramic proppant. Not only does the new proppant increase production efficiency, it also reduces the risk of oil or gas flow-back, thanks to its new resin-coating. This arm of business acts as a technical sales team of the company's main product in the future. The sales of its subsidiaries may not be as much as investor wish, but it is a spiral relation between its core and side business. In the following figure, the difference between proppant sales and total sales shows the profit generated and forecast by its "know-how" subsidiaries.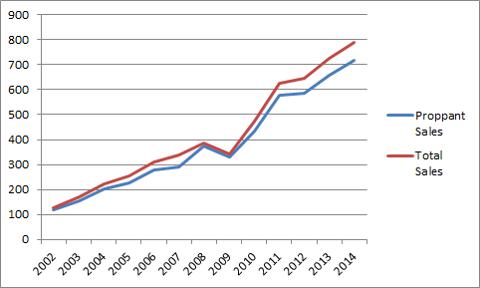 The challenge that lies ahead of CARBO is the new shale gas economy. The depressed gas price in the US is holding back growth rate in high-end proppant market. And geographically distributed shale gas wells require the company to increase its inventory as well as transportation cost, since most of its products are supplied on a just-in-time basis. The company is actively responding to this new requirement by leasing more rail cars to guarantee its delivery schedules.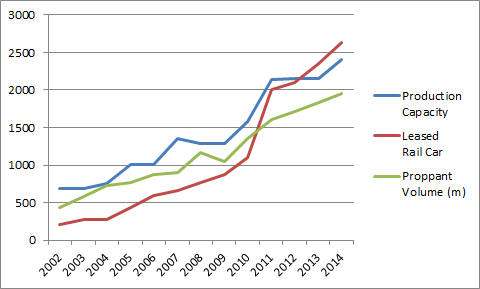 The company's financial cash flow is consistent with its net income, which suggests the accounting is safe and sound.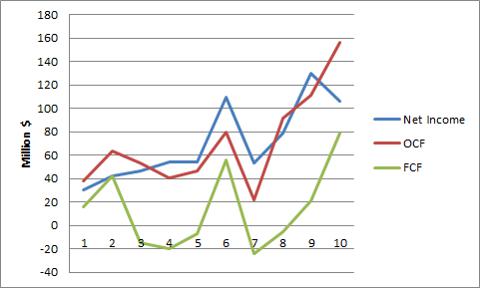 Assuming the company's FCF will grow at 13% a year for the next 5 years (consistent with NI and dividend growth), then slows to 8% for another 5 years and becomes stable at 4%, this will return a DCF valuation of about $87. These are very conservative figures, since the pressure is building up from both low gas price and distribution cost. By averaging with the comparative ratio and fundamentals regression methods, the result is a price target of $90. The recent slump in price is sending the stock to an oversold territory, which creates a nice spot to start building position in this stock.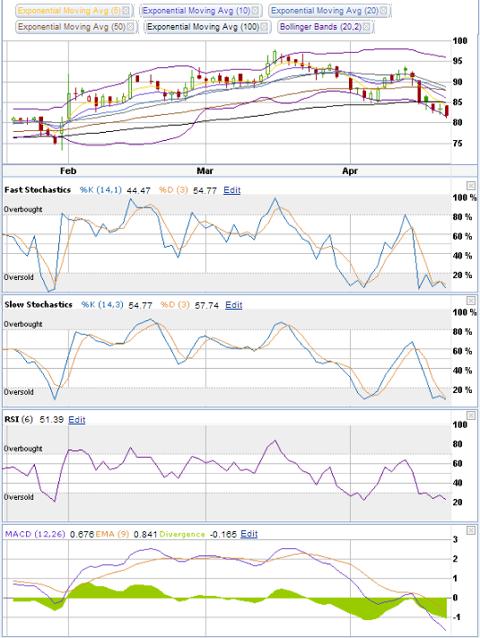 Disclosure: I have no positions in any stocks mentioned, but may initiate a long position in CRR over the next 72 hours. I wrote this article myself, and it expresses my own opinions. I am not receiving compensation for it (other than from Seeking Alpha). I have no business relationship with any company whose stock is mentioned in this article.