By David Urani
New-home sales for March came in at 417,000 annually adjusted, which was up slightly from 411,000 in February and just below the 419,000 consensus. The headline result was a little underwhelming, and essentially as expected. Nevertheless, housing stocks are having a good day, which actually began before the new-home sales release on a broad upgrade of the industry by Barclays. Regionally, the results were mixed, with the Northeast and South significantly higher and the Midwest and West lower.
Where you can really start to understand why the Street is taking the results positively is when you look at the unadjusted numbers. Non-adjusted sales for the month came in at 40,000, which is a 21% increase from 33,000 month to month. March is typically when the spring selling season starts really getting into gear; it's not necessarily surprising that this happened, but I find that at times it can be important to note that even though the adjusted headline number was flattish, traffic is in fact flooding into the market.
Again, it's typical to get a big boost in March, but where this may become a significant issue in 2013 in particular is on the supply side. You see, in March the months' supply of homes sank all the way to 3.8 from 4.6. It hasn't been that low since 2005. That becomes an issue because there are already widely reported shortages of homes in a number of markets. Likewise, there's going to be a need for homebuilders to stay active as they try to keep up with the influx of spring and summer demand.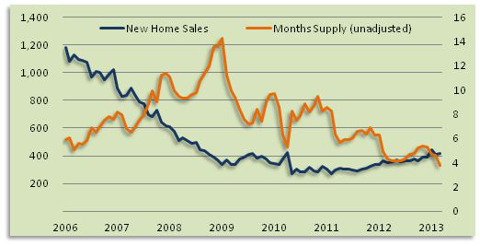 In fact, if subsequent new-home sales reports come up on the light side, we may need to consider that sales could be being held back by lack of available supply.