VIX - Market Sentiment:
Tuesday S&P futures continued their march higher even as bad numbers from PMI were out across the board. As reported yesterday on the sonar (here) I expected China's PMI numbers to again contract and the numbers proved this thesis to be right with a reading of 50.5 versus an estimate of 51.4. German and US PMI also missed estimates with only French flash PMI coming just slightly above inline. The big news today was a huge move in the S&P futures after computers read a hacked AP tweet which stated the White House was under attack injuring President Barack Obama. The futures and markets plunged sharply and volatility spiked on the news as HFT's reacted to the news apparently pressing the sell button before many even knew the incident had never happened. The market did recover from the large dip experienced and volatility again trended lower.
Volatility as one would expect with such news screamed to the upside just for it to again get sold down across the board closing near the lows of the day. Futures, Volatility ETF (NYSEARCA:VXX), and even 2x volatility ETF (NYSEARCA:UVXY) traded wildly as computers adjusted to the false tweet. Although some larger VXX bids came in just 10 minutes before the false tweet nothing jumped out to me as horribly suspicious in terms of option activity. I can say the large pop in the VIX and VXX was met with crazy selling as the computers apparently were selling anything they could get their hands on. This was not the case however earlier in the day as large floor orders for June, July and even August VIX calls were out and were unable to find bids for the most part. The largest two move bullish plays were 10K buys of the July and August calls adding 800K of the 2.6M seen in call premium bought today. This leaves the thesis of the "Sell in May and go away" still in play as volatility longs look to buy back month and sell front month.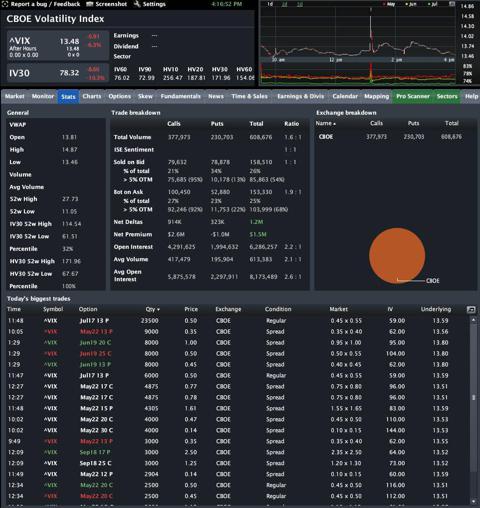 Statistics and Screenshot Provided By LiveVol
VIX futures are listed below.
Yesterday
· May VIX futures 15.27
· June VIX futures 16.01
· July VIX Futures 16.79
Today
· May VIX futures 14.55
· June VIX futures 15.42
· July VIX Futures 16.25
Options Paper:
For those who follow me and my trades on Twitter, I closed my trade on Netflix (NASDAQ:NFLX) at a nice gain today. My short trade on Zion Bank (NASDAQ:ZION) not so much but I'm planning on riding this a little while longer. I rolled the profits from my NFLX trade into GNC Holdings (NYSE:GNC) after a large risk reversal 10K went off today. Specifically someone sold 1.25M worth of put premium to buy the June 42.5-47.5 call spread for .25 net debit. This 250K net call bet believes GNC is headed to 47.50 before June expiration or a 12% increase from the current price. The stock price reflects this trade as it then moved higher almost another 1.00 after this trade went off at 12:18. I followed this trade today and opened a starter position but will look to add on market weakness as I typically do not buy this close to the May timeframe. Options activity was more than 11x average daily volume with calls outnumbering puts 2.4 to 1 on the day.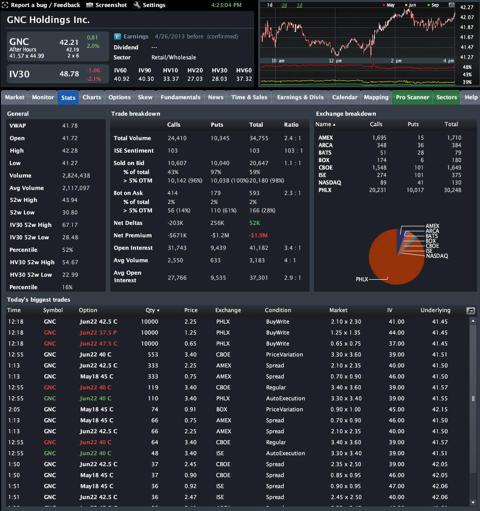 Statistics and Screenshot Provided By LiveVol
Another trade I established today was playing Apple (NASDAQ:AAPL) ahead of earnings by selling backspreads outside the current straddle price. As I tweeted earlier I believe the 30.50 weekly straddle is underpriced which would put AAPL between 435 on the upside and 375 on the downside using nice round numbers. I used these as my starting points for my backspreads buying the 435 - 375 strangle and selling 2x of the 450 and 360 strangles against it for 1.50. This allows me to only spend 150.00 with the potential to make 1350.00 if AAPL pins to the 450 or 360 levels post earnings. As stated in the sonar yesterday and on my profile I typically do not like to be short naked options so I will more than likely buy or short the additional 100 shares in the AH after AAPL reports. Options players clearly believed AAPL was headed higher after earnings today as a large reversal in options activity saw 13.5M in call premium bought versus 7.3M in put premium net sold on the day. With just 12 minutes left in the trading day one bull sold 2.5K of the 340 strike puts to buy the weekly AAPL 460-470 call spread spending just .18 to make a bullish bet. This seemingly small 45K bet would explode to 2.5M if AAPL went back above 470 by Friday so this is a high risk high reward bet. Options activity was almost 125% average daily volume with calls outnumbering puts 1.4 to 1 on the day.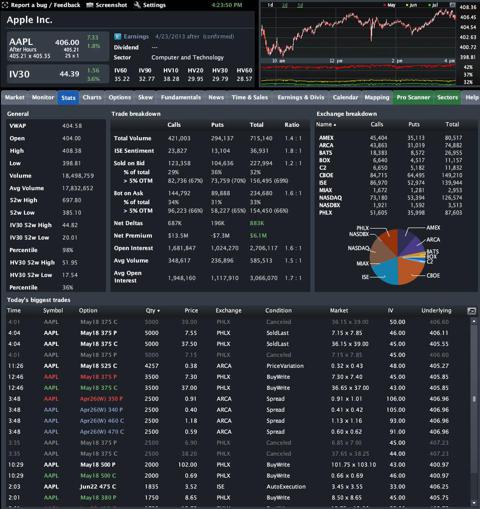 Statistics and Screenshot Provided By LiveVol
Popular ETFs and equity names with bullish / bearish paper:
Bullish Option Flows - ISE and % OTM calls bought on offer
Braskem S.A. (NYSE:BAK) 91% - 5.6K OTM calls bought
Astex (NASDAQ:ASTX) 70% - 2.5K OTM calls bought
Fortinet (NASDAQ:FTNT) 64% - 3.5K OTM calls bought - Interesting with Juniper (NYSE:JNPR) reporting tonight with bearish option bias.
Bearish Option Flows - ISE and % OTM puts bought on offer
KB Home (NYSE:KBH) 68% - 2.8K OTM puts bought
Lamar Advertising (NASDAQ:LAMR) 68% - 5.1K OTM puts bought
J.C. Penney (NYSE:JCP) 67% - 26K OTM puts bought - could be closing short check OI.
As always happy trading and stay hedged.
Remember equity insurance always looks expensive until you need it!
Disclosure: I am long AGNC, BA, BAX, CBB, CIM, CONE, DNDN, DRYS, GNC, HEK, IOC, LNG, NQ, TLM, and I am short ASH, EA, HPQ, LULU, PH, SPY, ZION
Trades Today: Closed NFLX call calendar and diagonals, Bought SDS calls (Short SPY), Bought GNC calls, AAPL double 1:2 ratio spreads.
Portfolio Exposure:
Long: 24.5%
Short: 20.5%
Cash: 55.0%
Disclaimer: The opinions in this document are for informational and educational purposes only and should not be construed as a recommendation to buy or sell the stocks mentioned or to solicit transactions or clients. Past performance of the companies discussed may not continue and the companies may not achieve the earnings growth as predicted. The information in this document is believed to be accurate, but under no circumstances should a person act upon the information contained within. I do not recommend that anyone act upon any investment information without first consulting an investment professional as to the suitability of such investments for his or her specific situation.
Disclosure: I have no positions in any stocks mentioned, and no plans to initiate any positions within the next 72 hours. I wrote this article myself, and it expresses my own opinions. I am not receiving compensation for it (other than from Seeking Alpha). I have no business relationship with any company whose stock is mentioned in this article.