Jon Markman is bullish on heavy industrials calling them 'one-in-a-generation' values. He highlights another penny stock (similiar to two he detailed in previous weeks), Boise (NYSE:BZ). It is curious that MSN continues to allow him to highlight microcap penny stocks in his column, but for those with an appetite for risk it could be worth a look. Markman calls it a potentail 5-10 bagger. There was a huge Markman bounce on penny stocks QTM and UIS a few weeks ago after a Markman article highlighted the two, so the same could occur with BZ: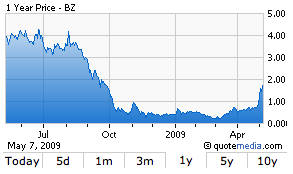 In many cases, value is way too mild a word for the heavy industrials. A lot of major companies that produce things that give shape and power to the world's infrastructure -- not to mention provide the paperwork for government stimulus legislation -- are going for once-in-a-generation prices. And that's even after they've moved up by 100% or more. They may look like microcap stocks, but it's only because prices have been pounded to ridiculously low prices by fears that a year of weak business is likely to extend infinitely into the future. Reality check: Not gonna happen.

Now I'd like to take you to the great Northwest for a look at Boise (news and messages), a major papermaker based in Idaho. Its one-year trip from $10 a share to $1, with a brief stop in March at 22 cents, is emblematic of a lot of heavy industrials that are now on a quiet recovery path.

Boise shares were recently trading around $1.45, with their price-to-sales multiple at an incredibly low 0.06; stocks are considered to be cheap when price-sales is under 1.5. Its price-to-book ratio was 0.25; stocks are normally considered cheap at less than 1.0. And the price-earnings multiple was around 3, depending on what you count as earnings.
Joshua Zaret, a veteran forestry analyst at Longbow Research in New York, told me this week he believes these companies are seeing something positive in demand, which combined with lower input costs and improved balance sheets is creating a strong underpinning for a fundamentally sound rally.
Look, paper vastly underperformed in the broad market downdraft, so it only makes sense that it should outperform now on the way up. With valuations and expectations so low, a lot of value investors think the move is for real.
Where could the stock go? Zaret says that in a normal cycle, which could emerge later this year or next year, forestry stocks trade around 13 times earnings. If Boise could earn $1 per share, which seems possible by 2012, say, given that its pretax, pre-special-items number was almost 9 cents per share in the last quarter in a terrible environment, then this is another stock that has a shot at emerging as a five- or 10-bagger for patient risk takers. Now that would be a lot more than just paper profits.
Disclosure: No Position