Rick's Cabaret: Time To Buy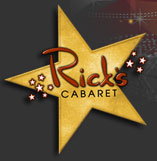 Rick's Cabaret International (NASDAQ: RICK): Rick's stock has been on an absolute tear in the last 1-2 months, more than tripling in price from a low of $2.50, to $7.50 before Thursday's pull back.
I have been watching the trends at Rick's as well as the chart and volume patterns, and everything looks bullish aside from Thursday's down move along with the rest of the market.
If you've been waiting to buy Rick's on a pullback, now's the time to do it.
Look to enter a position right here, and especially on any weakness below $6.00 per share.
Protect yourself on the downside and liquidate if Rick's falls below $4.50, but I don't think that will happen.
With improving fundamentals, restructured debt, and the recently announced highest monthly sales in the company's history with improving trends at the weakest clubs, now's the time to buy into Rick's, not later.
Gain more knowledge:
Netflix: Time To Short
Netflix (NASDAQ: NFLX): I won't go into laborious detail about why you should consider shorting Netflix shares, yes even in the face of an apparent "bull market", but suffice it to say, I think that the stock has gotten way ahead of itself, and has now shown extreme weakness, good fundamentals or no fundamentals.
Thursday was a critical level as the stock dropped below its 50-day moving average on almost 2x the volume.
Other indicators are also turning bearish for the stock, at least short term, and that is all we care about.
I haven't officially tried to short yet, as 30% of the float is short, so I am unaware if it is hard to borrow the shares or not.
If it is, consider buying May puts for a short term move, perhaps June, but remember that this is a short term (1-3 weeks) play, and nothing more, as I believe in the management and prospects of Netflix overall, just not in such a heady way as we've seen lately.
As investors rotate out of these recession plays and look at more discretionary stocks where people are likely to migrate once the fear of losing a job and a down economy subside, stocks like Netflix that were strong on the way up, despite a down market, will be the first to fall.
I believe that has already begun.
Strategy: Short 1/4 - 1/2 position now, more if stock rises over the next few days. Sell entire position if stock breaks $43.50 or so.
Warning: if you are unfamiliar with shorting and how it works, please read my explanation and disclaimer about shorting before taking any action.
GeoEye: Getting caught up on earnings

GeoEye (NASDAQ: GEOY): A couple of quick notes on GeoEye.
Strategy: GeoEye remains a long term buy and hold in the PeakStocks.com portfolio.
Gain more knowledge: