Chevron (NYSE:CVX) announced yesterday that it realized drilling success by its Australian subsidiary in the Exmouth Plateau area, located in the Carnarvon Basin, in Western Australia.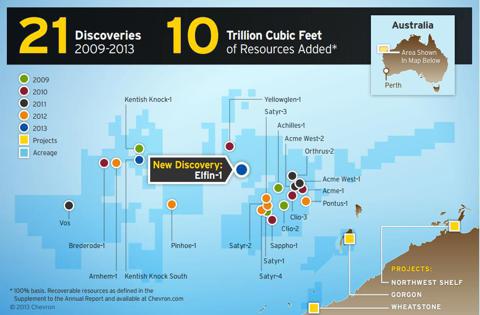 Source: Chevron
As a matter of fact, the Elfin-1 exploration discovery well encountered approximately 132 feet of net gas pay in the upper Mungaroo sands. Located in the WA-268-P permit area, the well is located approximately 106 miles northwest of Barrow Island and was drilled in 3,570 feet of water to a total depth of 11,909 feet. Chevron Australia is the operator of WA-268-P with a 50% interest while Shell Development Australia (OTCPK:RYDAF) and Mobil Australia Resources (NYSE:XOM) each hold a 25% interest. It is Chevron's 21st discovery offshore Western Australia since mid-2009.
The Wheatstone Project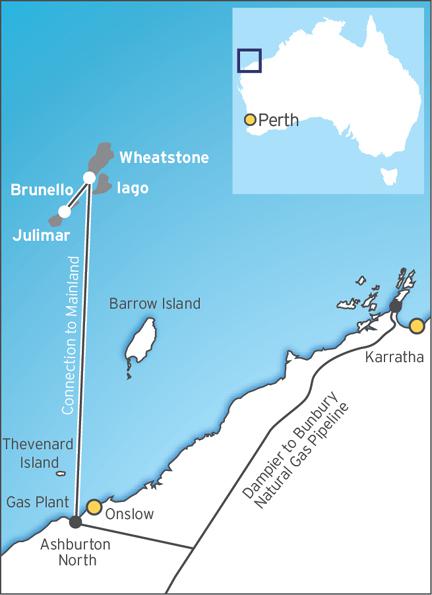 Source: Chevron
This discovery solidifies even more its position in the natural gas play in Australia. Chevron's Wheatstone Project including a two-train 8.9 million tonnes per annum LNG facility is being developed after the final investment decision was announced in September 2011. Wheatstone is expected to have a daily production of 1.4 billion feet of cubic natural gas and a separate domestic gas plant, both located at Ashburton North, 7.4 miles west of Onslow in Western Australia's Pilbara region. As of now, the first two phases of camp are completed and site preparation at plant site has started.
The Gorgon Project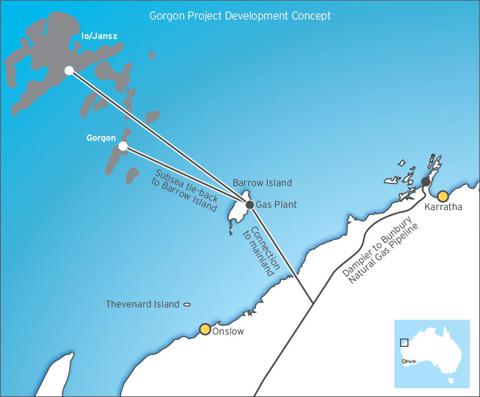 Source: Chevron
Another key project in the area is the Gorgon Project. Located within the Greater Gorgon area, about 81 miles off the north-west coast of Western Australia, Gorgon is one of the world's largest natural gas projects and the largest single resource project in Australia's history.
The project includes a 15 million tonnes per annum LNG facility on Barrow Island, a domestic natural gas plant with the capacity to provide 8333.33 MW/H per day to supply gas to Western Australia and a carbon dioxide injection project. Work on the project is progressing on schedule with approximately 60% of construction and the plant start-up is planned for late 2014, leading to the first LNG cargo in Q1 2015.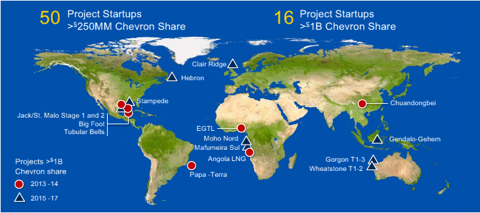 Source: Chevron's Security Analyst Meeting, March 2013
Chevron has massively injected new funds the last few years not only to sustain its production level but to add significant assets with great potential with its exploration program's success. For more information about the natural gas boom and what is at stake in LNG exports, please read the article here. The growth of Chevron's portfolio positions the company advantageously to supply future LNG demand in the Asia Pacific region and investors should take notice of Chevron before considering investing in the natural market.
Disclosure: I have no positions in any stocks mentioned, and no plans to initiate any positions within the next 72 hours. I wrote this article myself, and it expresses my own opinions. I am not receiving compensation for it (other than from Seeking Alpha). I have no business relationship with any company whose stock is mentioned in this article.