A recent plunge in the price of gold has led to a steep drop in mining stock valuations. In some cases, these stocks are now at historically low levels which is creating a potential buying opportunity. Gold is likely to remain as a key asset class for many investors with all the money printing that is going on around the world. Gold is also likely to remain in strong demand from consumers in emerging market countries like India, and China. One of the best ways to play a short-term rebound in gold might be a junior miner, but that would come with higher risks. Investors who want to minimize risks should consider a larger company with a solid balance sheet and even a significant dividend. Newmont Mining Corporation (NYSE:NEM) could be an ideal stock to buy after a recent decline. Let's take a look at the chart below: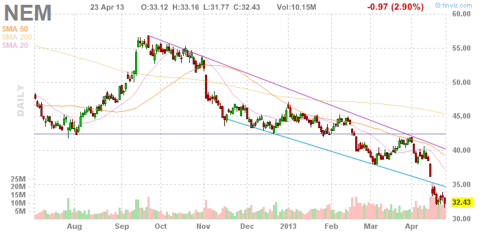 As the chart shows, this stock was trading for about $55 just a few months ago, but has since plunged to about $32. This stock is oversold at these levels and it could be poised for a rebound in the short-term. The chart shows that the 200-day moving average is about $45 and the 50-day moving average is just under $40. The recent drop in this stock appears to be overdone and if investors see the price of gold stabilizing over the days and weeks to come, a solid rebound could occur for Newmont.
Newmont shares look cheap right now based on a number of valuation metrics. This stock trades for about 8.5 times earnings while the average stock in the S&P 500 Index (NYSEARCA:SPY) trades for around 15 times earnings. As a recent Barron's article points out, Newmont has historically traded for about 24 times earnings over the past decade. Plus it now offers a historically high dividend yield of just over 5%.
Newmont's balance sheet is solid with about $1.65 billion in cash and around $6.3 billion in debt. This company generates nearly $10 billion per year in revenues which makes it one of the largest gold miners in the world. It has projects and operations in the United States, Australia, Peru, Canada, New Zealand, and other areas. Even with a drop in gold prices, Newmont is expected to remain solidly profitable. Analysts expect the company to earn $3.72 per share in 2013 and $4.41 per share for 2014. That shows the valuation is cheap in terms of the price to earnings ratio, plus it also creates a strong case for the dividend as being safe, since the payout ratio is just around 40%. Another positive is that this stock is trading at just a slight premium to book value, which is $27.73 per share.
While the mining industry has many risks including geopolitical, safety, weather and many others, these risks are minimized since Newmont is diversified with operations and production coming from many different countries. Furthermore, Newmont's size and balance sheet also reduces downside risks for investors. The main risk for investors would be if gold were to continue to plunge further, but since gold has already started to rebound from oversold levels, it appears more likely that stocks such as Newmont Mining will also follow and rebound as well.
Here are some key points for NEM:
Current share price: $32.43
The 52 week range is $31.77 to $57.93
Earnings estimates for 2013: $3.72 per share
Earnings estimates for 2014: $4.41 per share
Annual dividend: $1.70 per share which yields 5.2%
Data is sourced from Yahoo Finance. No guarantees or representations are made. Hawkinvest is not a registered investment advisor and does not provide specific investment advice. The information is for informational purposes only. You should always consult a financial advisor.
Disclosure: I have no positions in any stocks mentioned, and no plans to initiate any positions within the next 72 hours. I wrote this article myself, and it expresses my own opinions. I am not receiving compensation for it (other than from Seeking Alpha). I have no business relationship with any company whose stock is mentioned in this article.