On Tuesday April 23rd Wells Fargo & Co. (NYSE:WFC) announced a quarterly dividend increase of $0.05/share to bring its upcoming dividend payout to $0.30/share. It should be noted that this increase represents a 20% rise from its prior dividend of $0.25/share which was paid on January 30th. In the wake of Wells Fargo's dividend increase, I wanted to examine several of the catalysts behind my decision to establish a long-term position in this particular bank.
Overview: Based in San Francisco, California, Wells Fargo & Co. provides retail, commercial, and corporate banking services through its Community Banking, Wholesale, Wealth, Brokerage and Retirement segments. As of February 25, 2013, it provided services through approximately 9,000 stores, 12,000 ATMs, the Internet, and offices in approximately in 35 countries". (Yahoo Finance) Shares of WFC, which currently possess a market cap of $196.37 billion, a P/E ratio of 10.52, a forward P/E ratio of 9.52, and a PEG ratio of 1.33, settled at $37.13/share at the end of Tuesday's session.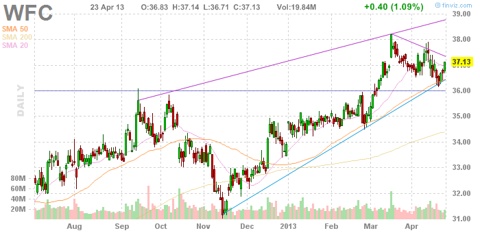 Neighborhood Banking Enhancement: Wells Fargo recently unveiled its new approach to personal banking, and I think if executed correctly, such a move could outperform the likes of its top competitors. On April 12th the bank announced it had launched
a new banking store concept, the neighborhood bank format, that has been created to deliver the kind of on-site banking experience that Wells Fargo customers have come to expect, but in a smaller format that allows the company to offer store locations with personalized service, in settings not suitable for its larger stores.
Making the retail customer a primary focal point of its branch-based operations is going to be a key catalyst moving forward. In the post-mortgage meltdown era that we live, the idea of putting customers first and doing whatever takes to enhance their banking experience could in fact contribute quite nicely to the company's bottom line if the its pilot program is successful.
Mortgage Operations Expansion: For one of the most scrutinized banks during the 2008 mortgage meltdown, this could be a very positive sign in terms of its maturity as a player in the U.S. mortgage market. On April 22nd it was announced that the bank would be expanding its mortgage origination operations, as it broke ground on a 265K square foot expansion to its mortgage headquarters in Iowa.
If the move pays off for Wells Fargo, which I think it will, the centralization of its mortgage operations could not only bring more revenue to the table, but may significantly reduce the borrowers' processing time from start to finish. One of the things investors should note is that direct competitors such JPMorgan Chase (NYSE:JPM) are reducing their mortgage origination operations as the result of a Mortgage Bankers Association prediction that foretells a 16% decline in home lending this year, which equates to $1.48 trillion vs. $1.76 trillion when compared to last year.
Dividend Behavior: Since May 6 2009, WFC has increased its quarterly dividend a total of four times by an average of $0.0625 per increase each time. From an income perspective, the company's forward yield of 3.23% coupled with its payout ratio (currently 26.00%) and its continued annual increases could equate into a very viable income option for long-term investors.
It should be noted that WFC announced two payouts within the first quarter of 2011 ($0.05/share payout in February and $0.07/share payout in March) and 2012 ($0.12/share payout in February and $0.10/share payout in March) respectively, in both cases I coupled the payouts as one increase. The total increase equates to $0.25/share or 500% over that period.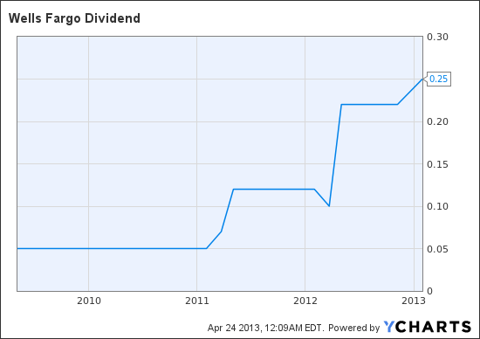 WFC Dividend data by YCharts
Chart Note: Although the above featured chart demonstrates Wells Fargo's superb dividend growth over the last four years, it does not include Tuesday's announcement which would clearly demonstrate the over increase of 500% since May 2009.
Conclusion: When it comes to those who may be looking to establish a position in Wells Fargo, I'd continue keep a watchful eye on not only the company's dividend behavior over the next 12 months, but any key developments that may occur in terms of new and improved Mortgage and Retail banking initiatives.
Disclosure: I am long WFC. I wrote this article myself, and it expresses my own opinions. I am not receiving compensation for it (other than from Seeking Alpha). I have no business relationship with any company whose stock is mentioned in this article.