Now that the most recent earnings are out for Apple (AAPL), I wanted to spend some time looking at the company's historic relationship between book value and market cap on both an absolute basis and on a per share basis to see where AAPL shares are on the historic continuum.
Let me start by saying I am neither long, nor short AAPL at the moment. I have no intention of entering a short position in AAPL. Instead, I am focused on finding a sensible place to make an entry point.
Price/Book Multiple
The chart below shows the historical Price/Book multiple per share. The long term average for AAPL is 3.55 and the shares just recently pushed below that average. There have been six separate occasions when this has occurred in the company's past and during all but the period related to the 2008 financial crisis, the shares remained under that value for a protracted period of time.
Perhaps more interesting is the fact that the low Price/Book was 1.23 during 2003 and the shares have spent numerous periods in the 1.5 - 2.0 range. While the trend has reverted to its historical mean, this suggests that AAPL is neither expensive nor cheap on a relative historic basis.
Source: YCharts, SEC Filings, Author
Market Cap and Book Value
A different way of viewing this same relationship was the historical relationship between Market Cap and Book Value. AAPL has consistently grown its book value over time but the relationship between Book Value and Market Cap has been extraordinarily distorted during the run up, peaking in the second half of 2012. To make the graphs more meaningful, I have done them both on a linear and log scale.
Growth of Book Value
Through the most recent quarter, the LTM change in book value was 31.6% which is appreciably lower than 64.9% for the same twelve month period from March 2011 through March 2012 and the 53.7% growth rate from March 2010 through March 2011.
Matching the Technicals and Fundamentals
The monthly chart below shows that the 50 day MA is currently at 353.89 but before that level there is a significant area of support between 370 and 375.
Using the current Book/Share of 144.28 and deriving prices for a variety of multiples in the table below, we can identify some logical entry points.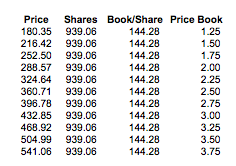 Based on the technical and fundamental levels above, I think an attractive entry point would be at the $360 level. Whether we get there or not remains to be seen but based on my view, AAPL appears to be valued at or near its historical average as the book value growth rate has continued to slow.
Disclosure: I have no positions in any stocks mentioned, and no plans to initiate any positions within the next 72 hours. I wrote this article myself, and it expresses my own opinions. I am not receiving compensation for it (other than from Seeking Alpha). I have no business relationship with any company whose stock is mentioned in this article.