There's been a lot of debate over the past year when it comes to growth. Apple (NASDAQ:AAPL) has been punished because it isn't doing much new, and estimates are being cut left and right. Apple isn't growing as fast as it used to, and thus the stock is hammered for that. On the other hand, Google (NASDAQ:GOOG) appears to be growing very fast, and shares are rocketing higher. However, there's something that investors, and the market, seem to be missing. Google's growth isn't what it really seems, and today, I'll detail the entire picture.
Don't believe everything you see:
Have you seen this State Farm commercial, where they joke about everything on the internet being true? Even if you haven't, you probably are smart enough to know that not everything you see on the internet is true. When it comes to investing, this is even more important. You should always check numbers twice, because not everything is true, or, it's not exactly what it seems.
The following screenshot is from Yahoo! Finance's earnings estimate page for Google on the day it reported Q1 results, about a week ago. Look at the numbers circled, the year ago revenue number and growth estimate. Google must be doing really well if analysts expect it to show 72.5% revenue growth, right? Well, not quite.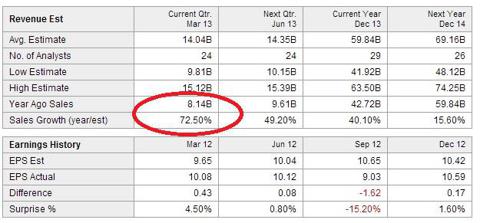 Now here is what Google reported in Q1 last year, taken from its earnings release for the quarter:
Google reported revenues of $10.65 billion for the quarter ended March 31, 2012, an increase of 24% compared to the first quarter of 2011. Google reports its revenues, consistent with GAAP, on a gross basis without deducting traffic acquisition costs ("TAC"). In the first quarter of 2012, TAC totaled $2.51 billion, or 25% of advertising revenues.
Google has always done things this way. They report revenues on a GAAP basis, which includes those Traffic Acquisition Costs "TAC." Then they tell you how much "TAC" was, and you can then get a non-GAAP number, which in this case, is the $8.14 billion you see in the "year ago" number above.
So here's the problem. The Google "estimate" for this quarter you see is a GAAP number, and the year ago is the non-GAAP one. In case you don't believe me, here is what Google reported just last week.
Google Inc. reported consolidated revenues of $13.97 billion for the quarter ended March 31, 2013, an increase of 31% compared to the first quarter of 2012. Google Inc. reports advertising revenues, consistent with GAAP, on a gross basis without deducting traffic acquisition costs . In the first quarter of 2013, TAC totaled $2.96 billion, or 25% of advertising revenues.
So in terms of GAAP revenues, the $13.97 billion compares to the $10.65 billion, and as Google tells you, that's 31% growth. Last time I checked, 31% is a lot less than 72% or so. If you subtract out the $2.96 billion in "TAC," you get a non-GAAP number of $11.01 billion. On a non-GAAP basis, that's about 35% growth. It's still not 72%.
So here's what Yahoo Finance shows today for Google: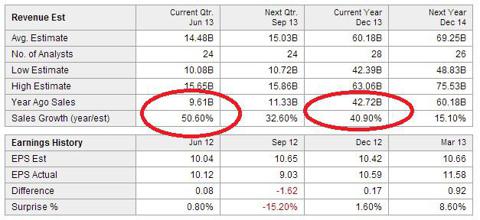 Again, the $9.61 billion is non-GAAP, but the current estimate is GAAP. If you were to compare the current estimate of $14.48 billion to the GAAP number from last year, you get growth of about 19%. That's less than half of the 50% that Yahoo shows. The following quarter and full-year numbers are just as off.
The moral of the story is that you can't believe everything you see. When looking at Google's growth numbers that appear to be 50%, 75%, or some really high number, you have to check the facts. We're not comparing apples to oranges here, and that's a big problem. That doesn't even take into account another large item, which I'll get to in the next section.
The Motorola bump:
Google saw its revenues slowing down. That's not exactly news, but Google decided to do something about it. Google purchased Motorola Mobility a couple of years ago, and that purchase obviously helped provide a boost to revenues. Google completed the acquisition during the second quarter of 2012, and started including its results from the new segment when it reported Q2.
Like any acquisition, adding revenues will give a boost to your revenue growth. Because Google puts out separate lines on the income statement for Google and Motorola, you can get a better picture of what's really happening. So I'll show a chart here that shows the last nine quarters of revenue growth. In the last four quarters of the chart, you can see the impact of the Motorola acquisition. The blue line shows Google-only growth, while the red line shows the total. These are GAAP revenues, since Google provides Motorola results on a GAAP basis.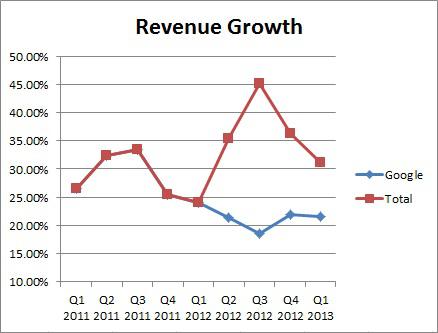 In terms of non-weighted averages, the four quarters for Google-only revenue growth averaged about 21%. When you include Motorola, you're looking at roughly 37%. Google's growth numbers are inflated by the Motorola acquisition, and I'm not criticizing them for that. I'm just stating a fact.
So where do we go from here?
Obviously, those lofty growth numbers are about to come down. We are now in Q2, which means we have comparable Motorola to Motorola numbers going forward. In last year's period, Motorola had $1.25 billion in quarterly revenues, which really helped Google's growth. Google has also sold off Motorola Home, so some of those revenues may not appear in the comparisons anymore.
So let's look at where expectations are now. The table below shows what to look for in Q2 and Q3. The top half shows what Yahoo! gives you as the current estimates. However, since I showed above that the comparisons are not exactly correct, I've shown the correct comparison in the second half of the table.

The key takeaway here is that with a full year of Motorola results in, we are now going to see a "real" growth rate. As you can see from the chart above, it's not some sky high figure many think it is.
The other cost of business:
The other item to watch going forward is margins. Google acquired Motorola Mobility to become more competitive in the technology space, and that's fine. Adding another revenue source is always good when you're looking for growth. However, this acquisition will definitely lower Google's margins over time. According to Google's GAAP results, here is how the Motorola segment has performed in terms of gross margins.

Google has improved those margins since the original acquisition quarter, as they cut jobs and other expenses that were not needed. I wouldn't be surprised to see these gross margins continue higher in the short-term. However, Google's gross margins were in the mid 60s, percentage wise, before the acquisition. When you add a segment with a gross margin of 20%, that will hurt your margins. The table below shows how Google's margins have dropped post-acquisition. The two highlighted lines are Q1 from last year up against Q1 of this year.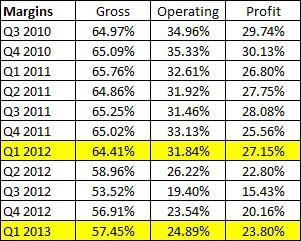 You can see how the gross and operating margins dropped year over year. Now the profit margin number doesn't look too bad, but you have to consider an important point. In Q1 of 2013, Google's effective tax rate was just 7.95%, compared to 18.48% in the year-ago period. Take out the tax break, and the net margin would have been much lower.
Google's rise versus Apple's fall:
As Apple's stock has come down, Google's stock has rallied strongly. One reason may be this inflated growth due to the Motorola acquisition. Because everyone seems to be worried about Apple's growth, they are selling Apple and moving to Google, a name that is showing high "growth." It's fair to say that some of the money moving out of Apple has gone into Google. You can see in the chart below how Google has really outperformed Apple over the past 6 months.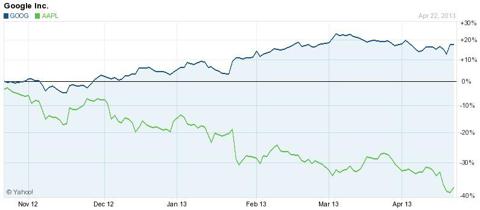 (Source: Yahoo! Finance)
But what if Apple finally bottoms here? What if money starts flowing back into Apple? Well, I think if money starts to flow back into Apple, you'll probably see some come out of Google. First, Apple and Google are competitors. So if Apple is doing better, that could mean Google is doing worse. Also, when people realize Google's growth isn't what it seems and is coming down, they may not decide to pay a premium for this stock.
Valuation:
After this large rally, Google does trade at a bit of a premium. Google is currently trading for about 18 times 2013 expected calendar non-GAAP earnings. Yes, that is a mouthful, but think about that. Google's non-GAAP earnings do not include stock-based compensation and other restructuring expenses, net of tax. Thus, the non-GAAP earnings are often higher than the GAAP earnings. If you figure that Google's GAAP earnings will be around $40 or so this year, Google trades at more than 20 times this year's calendar GAAP earnings. At the same time, Google does not pay a dividend, and is not buying back stock.
On the other hand, you have Apple. Apple is currently trading for about 10 times calendar 2013 expected GAAP earnings. Apple also is paying a dividend that's yielding about 3% currently, thanks to a 15% dividend raise announced yesterday. Also, Apple announced an extra $50 billion to its buyback program. They expect to buyback $60 billion worth of shares (against a $380 billion market cap) by the end of 2015.
At this point, Apple is becoming more of a value investment, but at half the price of Google, which is a better buy? Right now, I would say Apple, because of the dividend and buyback. Both names are showing slowing revenue growth and declining margins, although Google maintains an edge there. However, what you are paying for Google seems a bit lofty. If money starts flowing back into Apple on the raised dividend and buyback news, some of that money will come out of Google, which could pressure shares.
Final Thoughts:
Google's growth is not what it seems. You can't compare GAAP to non-GAAP numbers. Google is not growing at 50%, or 75%, despite what Yahoo! Finance may tell you. Always check your numbers. Google's growth has also been inflated by the Motorola Mobility acquisition. This quarter, we will start getting Motorola comparable numbers, and Google's growth numbers will start to slow down and level off. Now I don't want anyone to believe I'm saying Google is doing anything wrong. Google isn't, and if anyone is to blame, it's Yahoo!, but don't be fooled by this issue.
Apple has been punished for its growth numbers coming down, and if money starts to flow back into Apple, Google could be the first to be hit. That makes Google a potential short idea, but that doesn't necessarily mean I am recommending everyone shorts it. One this is certain, and Google's growth is not all it is cracked up to be.
Disclosure: I have no positions in any stocks mentioned, and no plans to initiate any positions within the next 72 hours. I wrote this article myself, and it expresses my own opinions. I am not receiving compensation for it (other than from Seeking Alpha). I have no business relationship with any company whose stock is mentioned in this article.
Additional disclosure: Investors are always reminded that before making any investment, you should do your own proper due diligence on any name directly or indirectly mentioned in this article. Investors should also consider seeking advice from a broker or financial adviser before making any investment decisions. Any material in this article should be considered general information, and not relied on as a formal investment recommendation.