The drought outlook for the early part of the summer shows some significant changes coming up that will influence crops (JJA, JJG).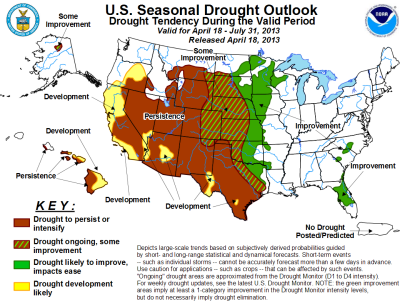 The overall trend will be affected by a jet stream pattern that will be generally consistent with last summer's. The significant difference will be the addition of this past winter's moisture and a much more active tropical storm season across the Gulf of Mexico.
Soil moisture levels for the Ohio Valley, part of the Northeast and the mid-Mississippi Valley are forecast by the Climate Prediction Center (map, top) to remain unchanged through July. My forecast (map, right) is for moisture to be adequate through June and then dry out in July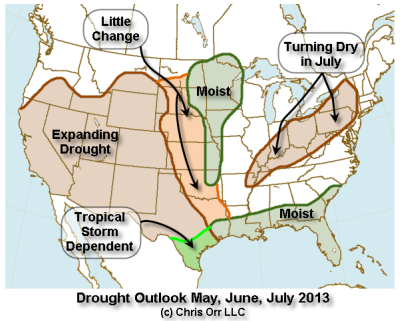 as temperatures reach above normal levels and thunderstorm activity becomes spotty.
The Gulf Coast states will experience an overall moist summer dominated by persistent tropical storm activity. The tropical season will start with a late May storm over the northeast Gulf and then pick up the pace in June. I expect to see at least 5 significant tropical storms this summer, the track of each determining where the season's rainfall will be in relation to the normal rainfall pattern. Not all areas will be equally wet, impacting cotton (NYSEARCA:BAL), peanuts, rice and other crops in a slightly uneven pattern.
Florida will likely see several tropical storms come off the Atlantic Ocean and possibly one very strong hurricane. The tropical storms will improve drought conditions but the hurricanes may also cause damage to citrus.
The Upper Mississippi Valley and central Great Plains will see a general improvement to the dry conditions as the currently elevated soil moisture levels evaporate moisture into the air, which will feed weekly thunderstorm activity. Corn (NYSEARCA:CORN), soybean (NYSEARCA:SOYB) and wheat (NYSEARCA:WEAT) will be in much better shape than last year, provided hail damage can be avoided.
The western and southern Great Plains will have enough moisture to remain status quo, which is not good news for wheat and the west end of the corn belt. I expect thunderstorms to be more active than they were last year as moist air streaming north from the Gulf of Mexico collides with dry air flowing in from the west. Cattle (NYSEARCA:COW) producers will have enough hay for a first cutting and at least a partial second cutting. The question is whether there will be enough grass to avoid selling off livestock.
Rocky Mountain wildfires later in May and into the summer will add smoke to the air, which will aid precipitation development across the Great Plains and also cool afternoon high temperatures.
The West will continue to be dry. Wildfires will be a major concern from May until the monsoon begins in July.
Disclosure: I have no positions in any stocks mentioned, and no plans to initiate any positions within the next 72 hours. I wrote this article myself, and it expresses my own opinions. I am not receiving compensation for it (other than from Seeking Alpha). I have no business relationship with any company whose stock is mentioned in this article.