CYS Investments (NYSE:CYS) is a mortgage REIT company. Its objective is to earn consistent, risk-adjusted investment income. CYS invests in Agency RMBS. With mortgage rates falling for most of the past year, CYS's net interest spread has been hurt. This in turn has pressured CYS's dividends. However, in the fall fixed rate Agency mortgage rates bottomed, and they are now slightly higher than that bottom. This led to a spate of refinancing.
The good news appears to be that the spate of refinancing is over. CYS had an average CPR (Constant Prepayment Rate) of 17.6% for Q1 2013. However, the average CPR of the RMBS held at the end of Q1 2013 was only 13.4%. Further, the latest April 2013 data indicate that the CPR has fallen further to 12.1%. This is important. The CPR and the mortgage rates are the prime determiners of core earnings. This large decrease in average CPR, if sustainable, indicates better core earning times are ahead for CYS. In fact, CYS currently sees the net spread at 120 bps in the 15-year market and approximately 150 bps in the 30-year market.
The pickup in the 30-year market increased substantially in February. Things worked out well for CYS here. It owned very few 30-year RMBS at that point, so it suffered only small NAV losses as interest rates climbed. Plus, it was able to buy 30-year fixed rate Agency RMBS at roughly their cheapest recent point. CYS also took advantage of the lows in implied volatility in Q1 2013 to expand its hedges cheaply. It now has $4.1B of caps to hedge the extension risk and almost $9B of swaps. CYS expects both of these Q1 moves to impact profitability favorably for many quarters into the future. This may help to reverse the Q1 rise in adjusted average cost of funds and hedges to 0.81% from 0.75% in Q4 2012.
Actual Q1 2013 results were lackluster, but as mentioned earlier, they are likely to improve. CYS had Core Earnings plus drop income of $56.4 million or $0.32 per diluted common share ($0.17 Core Earnings and $0.15 Drop Income). The interest rate spread net of hedging and including drop income was 1.16%. This was slightly worse than the Q4 2012 adjusted net interest rate spread of 1.31%. However, recent drops in CPRs indicate a likely Q2 2013 improvement. Book value declined to $12.87 per share from $13.31 per share at the end of Q4 2012.
The table below shows CYS's investment portfolio as of March 31, 2013.

The 30-year fixed rate Agency RMBS are clearly now a significant portion of the portfolio. They are clearly profitable from a cost to fair value perspective. They have a much lower average CPR of 8.8% versus the 14.9% of the 15-year fixed rate Agency RMBS. Not surprisingly they also have a forward yield of 2.48% versus the forward yield of the 15-year fixed rate Agency RMBS of 1.86%. They should mean better profits in future quarters for CYS. The company's leverage ratio as of March 31, 2013 was 7.8 to 1.
CYS management reports that mortgage refinancings have slowed down in recent weeks. This backs up the lower CPRs seen recently and it is consistent with the slightly higher 30-year fixed rate mortgage rates seen in Q1 2013 versus Q4 2012.
CYS management also commented that Washington seems to be re-aiming its attention to the non-Agency market. This could further help CPRs of Agency RMBS. It could also mean that CYS should expand its investment into the non-Agency market. Investors should watch for hints of this.
CYS may well be able to grow its dividend soon. In fact the recent dividend history tends to back this up. Recent dividends have been a Q1 2013 regular dividend of $0.32, a Q4 2012 regular of $0.40 and a special of $0.52, a Q3 2012 regular of $0.45, a Q2 2012 regular of $0.50, a Q1 2012 regular of $0.50. In the two years prior to this the dividends were as high as $0.60 for five quarters running. The current $0.32 regular dividend, which does not account for any special dividends, is 10.4% annualized, which is a good dividend in itself. If the regular dividend rises to $0.45, the annualized dividend would be 14.7%. If the regular dividend rises to $0.50, the annualized dividend would be a 16.3%, etc.
There is a lot of possible upside for CYS. There is very little possible downside as mortgage rates are far more likely to rise than to go much lower. This will be especially true if the Fed starts tapering its MBS buying beginning in the middle of 2013. With all of the above positive improvements in CYS's outlook (and current situation), CYS is again a buy. Consider that the book value is $12.87, but the stock price at the close on April 23, 2013 was $12.27 per share. CYS is a book value bargain.
The two year chart of CYS provides some technical direction for this trade.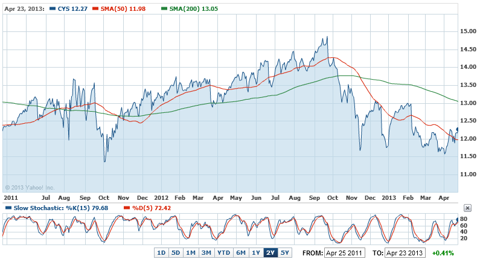 The slow stochastic sub chart shows that CYS is near overbought levels. The main chart shows that CYS has been in a downtrend. However, CYS seems to be trying to break out of this downtrend. The price line has already passed through the 50-day SMA moving upward and it seems to be headed toward the 200-day SMA. If it keeps going as it is currently, it may break through the 200-day SMA when the stock price rises approximately to the level of CYS's book value. Regardless of whether CYS does actually break through the 200-day, CYS appears to have found solid technical support at approximately $11.60. This means it is unlikely to fall much from current levels and it has good upside potential. When you add its $10.4% annual dividend to this picture, CYS is a good to great investment.
Still, given the uncertain state of the US economic and world economic outlooks, averaging in over the course of 2013 and perhaps the beginning of 2014 is probably an excellent strategy. This strategy will also let investors assess any changes to Fed policy throughout the year without taking on a large risk.
Note: Some of the fundamental financial data above is from Yahoo Finance.
Good Luck Trading.
Disclosure: I have no positions in any stocks mentioned, but may initiate a long position in CYS over the next 72 hours. I wrote this article myself, and it expresses my own opinions. I am not receiving compensation for it (other than from Seeking Alpha). I have no business relationship with any company whose stock is mentioned in this article.