This month, Kiplinger provided their annual list of Kiplinger's 25. I wanted to do a comparison of those funds with either their benchmark ETFs or ETFs in similar families (i.e., large-cap value). Comparisons include:
Performance over one, three, five, and 10 years (when available)
P/E and P/BV
Top 10 Holdings and their percentage of holdings
Historical theoretical growth of $10,000 over time
In Part 1 of this series, I covered the two large-cap value funds that Kiplinger listed, Artisan Value (MUTF:ARTLX) and Vanguard Dividend Income (MUTF:VDIGX), and compared them to the iShares Russell 1000 Value (NYSEARCA:IWD) and the iShares S&P 500 Value (NYSEARCA:IVE) ETFs. Kiplinger actually categorized their five large funds into one family, comparing them to the S&P 500. However, I wanted to go a step further and therefore broke up value and blend. For this article, I would like to focus on the two large-cap blend funds listed and their comparable ETFs.
Large-Cap Blend Funds
Dodge & Cox Stock (MUTF:DODGX) has a goal of long-term growth as well as income, with a secondary objective of achieving reasonable current income. Their strategy is to be fairly diversified while choosing undervalued individual stocks that have long-term room for growth. As of March 31, 2013, the fund's top 10 holdings include Hewlett-Packard (NYSE:HP), Wells Fargo & Co. (NYSE:WFC), Capital One Financial (NYSE:COF), Comcast (NASDAQ:CMCSA), Sanofi (NYSE:SNY), Time Warner, Inc. (TWC), Novartis AG (NYSE:NVS), Merck & Co. (NYSE:MRK), Sprint Nextel (NYSE:S), and Microsoft (NASDAQ:MSFT).
Fidelity Contrafund (MUTF:FCNTX) seeks capital appreciation by investing in both growth and value funds. The fund is typically around 85%-90% domestic. This fund's top 10 holdings include Google (NASDAQ:GOOG), Apple AAPL), Berkshire Hathaway (NYSE:BRK.A), Wells Fargo, Coca-Cola (NYSE:KO), Disney (NYSE:DIS), Noble Energy (NYSE:NE), Visa (NYSE:V), Biogen Idec (NASDAQ:BIIB), and TJX Companies (NYSE:TJX).
Mairs And Power Growth Fund (MUTF:MPGFX) is the final large cap fund listed in Kiplinger's Top 25. This smaller fund ($3 billion in holdings vs. $43 billion and $63 billion, respectively, for Dodge & Cox Stock and Fidelity Contrafund) is based in the Midwest and although location is not the only determining factor, Mairs and Power prefer to stick to what they know. Their top 10 holdings have an upper Midwest feel to them with several of the companies headquartered there or that have a large operational presence there. The top 10 holdings are Valspar (NYSE:VAL), 3M (NYSE:MMM), Target (NYSE:TGT), Medtronic (NYSE:MDT), Emerson Electric (NYSE:EMR), Honeywell International (NYSE:HON), Pentair Ltd. (NYSE:PNR), Ecolab (NYSE:ECL), H.B. Fuller (NYSE:FUL), and Toro (NYSE:TTC).
Two alternative ETFs in the large-cap blend family are the SPDR S&P 500 (NYSEARCA:SPY) and iShares Morningstar Large Core Index (NYSEARCA:JKD). SPDR S&P 500 is the largest ETF with over $127 billion of assets under management and an average trading volume of nearly 129 million. iShares Morningstar Large Core Index is less than .3% the size at just over $321 million and a very mutual fund like 85 holdings. Similar holdings in each top 10 include Johnson & Johnson (NYSE:JNJ), Microsoft, and Procter & Gamble (NYSE:PG) -- although, as you might expect with a smaller fund, the holdings are as much as 4.2% greater in JKD.
Here is the short- and long-term return comparison for the four different funds:
Click to enlarge images.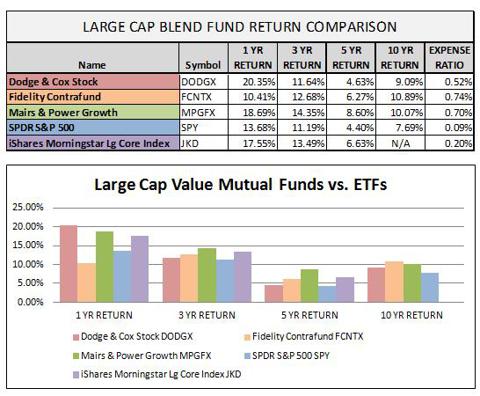 From this information, it is obvious to see that there is no clear leader in both the short and long term. In the last year, Dodge & Cox and Mairs &Power have both done very well, but the worst of the five still has a 10% return, in Fidelity Contrafund. In terms of ETFs, the smaller and perhaps more agile iShares Morningstar Large Core Index has outpaced the SPDR S&P 500 in every increment since inception.
Now, let's focus a little on the top holdings of each fund: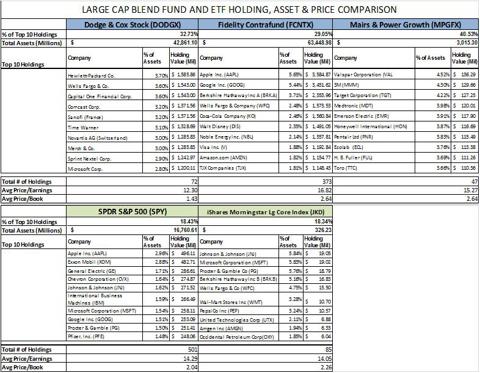 Of the 10 top holdings of each of these funds, there is not a lot of similarity. This highlights the differences they each have in valuation models as well as turnover philosophy. For DODGX, FCNTX, and MPGFX, they have turnover rates of 11%, 48%, and 2%, respectively. In terms of P/E and P/BV rations, Dodge & Cox Stock currently sports the most favorable ratios, with the other two mutual funds lagging behind the comparable ETFs. If these are two criteria that you seriously look at for individual stocks, it undoubtedly is worth investigating this further for Vanguard Dividend Growth.
Sometimes the best thing to see is how our money will grow. Using the hypothetical growth over time, with dividend reinvestment included, here is how the three mutual funds compare over 10 years, and then how DODGX compares to the two ETFs over the last five years, since JKD has not been around for 10 years yet: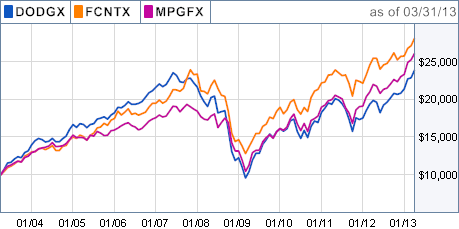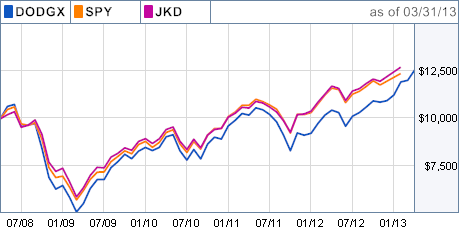 As always (and I will always close each ETF vs. mutual fund article with this), there are pros and cons to both. The focus and heavier management of mutual funds can be a comfort, but it does come with a price. I believe that Kiplinger has done a great job of providing 25 that are typically very low in terms of their management fees.
Disclosure: I have no positions in any stocks mentioned, and no plans to initiate any positions within the next 72 hours. I wrote this article myself, and it expresses my own opinions. I am not receiving compensation for it (other than from Seeking Alpha). I have no business relationship with any company whose stock is mentioned in this article.