After posting 12 consecutive annual price rises, gaining more than 500% over that span, gold (NYSEARCA:GLD) is suddenly being shunned by investors who once saw it as a way to generate outsized returns without the volatility and uneven performance in the stock, bond and real-estate markets.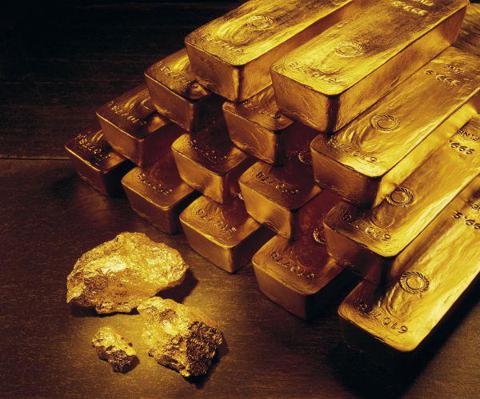 Gold prices fell sharply to below $1,400 an ounce on April 16, 2013 from about $1,575 an ounce a week earlier. Prices saw its biggest one-day percentage drop since February 1983. Gold's one-day dollar drop was the second largest in its history.
On Tuesday, S&P revised the outlook for Newmont Mining (NYSE:NEM) to negative from stable. The explanation for this was to reflect the potential for leverage to exceed its previous expectations if the lower gold price is sustained. S&P affirmed its ratings on Newmont, including the 'BBB+' corporate credit rating.
As a matter of fact, S&P added: "following a sharp correction in gold prices given the heightened potential for leverage to exceed the maximum 2.5x EBITDA threshold that we view as supportive of the current rating, particularly if the lower price is sustained and production costs and capital spending are not reduced. The price drop also highlights the inherent volatility in precious metal prices."

Newmont's 2012 revenue declined to $9.9 billion from the 2011 levels of $10.3 billion. As for the adjusted annual net income, it reported $1.9 billion in 2012, down from $2.2 billion in 2011. Cash and equivalents are decreasing from year-to-year. From $4.06 billion in 2010, it dropped to $1.76 billion the year after and slightly dropped for 2012 to $1.56 billion.
This is not good news for Newmont since the revised outlook could lead the company to see its financial rating being downgraded if the gold prices doesn't go up in the coming weeks. The total debt of Newmont is substantial, with $6.3 billion at the end 2012 compared to $4.3 billion the year before. For more data on Newmont Mining, see my article, World's Top 6 Gold Producers: 2nd Place Newmont Mining.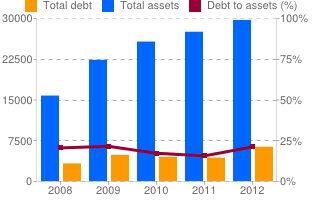 Source: Google Finance
Thus, this could result in several negative effects. For example, renewal of capital for expenditures could lead to higher interest rates in the near future. This situation would not bode well for Newmont shareholders, with total stockholder returns going south as a result. I recommend to hold the stock in the expectation that the market will gain back some of the lost of the last week. However, a downgrade is a real possibility with the recent gold market trend and Newmont's heavy debt on its balance sheet.
Disclosure: I have no positions in any stocks mentioned, and no plans to initiate any positions within the next 72 hours. I wrote this article myself, and it expresses my own opinions. I am not receiving compensation for it (other than from Seeking Alpha). I have no business relationship with any company whose stock is mentioned in this article.