Security National Financial (NASDAQ:SNFCA) is an old company that has come into play only in the last year or so.
The Company was organized as a holding company in 1979 when Security National Life Insurance Company ("Security National Life") became a wholly-owned subsidiary of the Company and the former stockholders of Security National Life became stockholders of the Company. Security National Life was formed in 1965 and completed a public offering of Class A common stock in that year.
- Oldest electronic 10K filing
From 2005 until mid-summer 2012 the stock rarely traded outside the $1.50 to $5.50 channel except in the worst of late 2008 and late 2011 downturns. Prior to mid-2012 it had negligible trading volume, as seen on chart 1, below.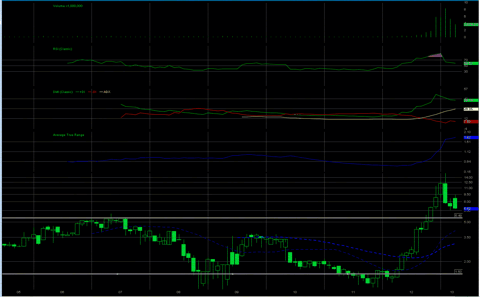 In April 2012 the stock began recovering from late 2011 lows and ran without significant retrace to over $15. In August and again in November the rate of price appreciation accelerated as the stock went parabolic (more clear on the next chart).
The growth in the company has partially resulted from accretive "acquisitions" of insurance policies through reinsurance contracts, such as the recent deal with Mothe. However the real growth has been from increased mortgage origination fees. Granted it could be a decade before the losses of real estate value are recovered from the bubble; however mortgage issuance has been on an upswing as a result of loosened credit and a backlog of both refinance and real estate purchase demand. The year over year growth in mortgage fee income is:
2011 2012 Y-o-Y(%)
Q1 $13.5M $25.5M 89%
Q2 $15.7M $35.1M 123%
Q3 $21.5M $43.3M 101%
Q4 $26.9M $46.7M 74%
In addition there was growth of 10% to 50% in net investment income; however the dollar amount was dwarfed by mortgage fees both in size and in amount of increase. The engine behind this financial company's growth has been the increasing liquidity in the refinance and real estate market. While the housing market may rise and fall, it appears safe for the near term to assume low interest rates. Moderately navigable mortgage approvals processes will allow SNFCA to sustain at least a 50% year over year increase in this segment of their revenues and more near term growth can be expected to be at or near the 80% average growth indicated.
Conservatively assuming 80% growth from $25.5M predicts $45.9M revenues from this source for Q1/2013. Dismissing a near term credit tightening it is reasonable to assume that the company's revenues will at least be flat in the recently completed and current quarter.
The company's expenses are also fairly uniform and the only two wild cards are the lawsuits associated with finger pointing from the housing bubble and the ongoing managed risk of foreclosure losses. The slowly improving - or at least stagnant - employment rates suggest there should be no eye-popping rush of new foreclosures, so earnings growth should also be positive or flat at the recent numbers.
Despite this, on Feb. 15th the stock went into a significant retraction.
I first encountered the company as a bounce play recommendation. After digging into the prior filings enough to see no fundamental catalyst for the drop, I was unable to discover any obvious accounting issues. The Q3 filing showed a leveling off of the aggressive EPS growth that was driving the stock price; however this was published on 14 November 2012 and therefore did not explain the drop in February.
| | | | | | |
| --- | --- | --- | --- | --- | --- |
| quarter end date | 2011/12 | 2012/03 | 2012/06 | 2012/09 | 2012/12 |
| Basic EPS | 0.08 | 0.17 | 0.36 | 0.40 | 0.65 |
| Diluted EPS | 0.08 | 0.16 | 0.34 | 0.36 | 0.57 |
(source ih.advfn.com)
However, I was confronted with a significant number of insider sales. Most of these present an ongoing history of acquiring shares via exercising options and the automated sales at market of enough of these shares to pay for the exercise price and taxes. This is a classic "cashless exercise" process. However, on 15 February Lynn filed an amended form 4 showing a $5.33 disposition price. My belief is that since this filing was seen when the price was over $15 it caught unwarranted attention. I further assume that people missed the October date of the transaction. On 19 Feb. Sill filed a similar amendment from August showing disposition of shares at the even lower price of $3.49.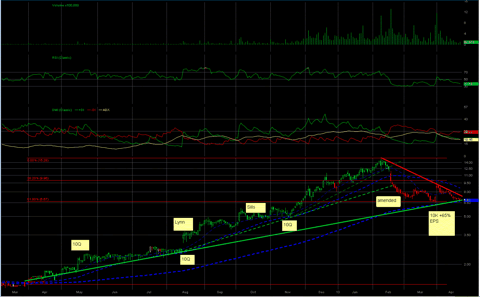 My premise continues to be that the stock tanked on unfounded fears from these amended sale reports at a time when the stock price had gone parabolic and was ahead of itself. Chart 2, above, shows the long term trendline (solid green) and two accelerated shorter term trendlines (heavy green dashes and light green dashes). The light dashed trendline was broken on the amended Lynn filing on 15 February and the heavy dashed trendline was broken days after Sills' amended filing. The long term trendline has yet to be broken. Since then there have been no shortage of form 4s showing options exercise. It should be observed that the pullback is a perfect 61.8% Fibonacci retrace from the $15.28 peak and is asymptotically settling on the 200 day SMA.
On 11 March, and again on filing the 10K, the stock attempted to recover. The 10K confirmed continued growth with $1.58 trailing EPS. Comparable companies have P/E of 8.6 to 14.1, justifying the previous prices. The company's present low P/E is atypical for either the industry or the company and is a result of the pull-back. A recent article here addressed the theory of price compression and this effect is completely applicable to the current situation.
My expectation is that the 10Q which will be filed by mid-May will again confirm the company's strong financial performance. Even if growth stalls (year-over-year growth in mortgage fee revenue might be leveling out) and earnings continue at "only" ~50 cents per share per quarter average, the trailing EPS will soon be at least $2 and even the lower comparable, with a P/E of 8.6, would justify a $17.40 share price. While prices of $15 to $17 are justifiable today, the theory of price compression suggests that the recovery price can substantially lag "fair market value" in such an over-correction. However, the baseline year-over-year growth of 4.54:1 (solid green trendline) is 13% per month. It would only take 9 months for the base trendline to reach $21. It is certainly plausible for continued growth - even maintaining current performance - to bring EPS over $2 for the year ended 12/31, completely justifying this as a price target.
There certainly are risks. Mortgage starts could fizzle if the economy falters, but Q1 was definitely a good quarter for mortgages. The company is reasonable in their policy to write off any debt that is more than 90 days past due, but an unexpected spike in loan defaults would significantly impact assets and earnings.
Perhaps some of the biggest risks are to be found in their litigation section. While I am not a lawyer, these appear to be run of the mill legal issues related to loan defaults and which bank should be liable for past losses. The most significant seems to be with the entity that acquired the mortgage assets of Lehman. A court decision or a settlement of the dispute with Lehman's surviving entity would be a +/-$4M impact when the case is resolved. This could be a one time variation of as much as +/- $0.15 in EPS. Even a loss on this case would be only a decrease in how undervalued the stock is, not whether or not it is undervalued.
Conclusions
The baseline growth since April 2012 was fully justified on increasing revenues and earnings. The stock price went parabolic in November and suffered a classic case of price compression. The inevitable retracement was triggered by two amended Form 4s that were mistakenly seen as showing recent insider sales at a fraction of market price. These served to expose how quickly the stock had moved and how thin its support was. The stock is now a victim of an overreaction to the pullback. Even the 10K filing has been ignored as the stock settles back to the retrace levels despite a 65% quarter-over-quarter EPS growth. Q1 earnings should confirm strong performance.
The stock showed excellent event-driven trading opportunity on the 10K. For the short term swing trader the same catalysts are present. For the long term investor continued quarterly performance at or above 50 cents/share through at least the end of the year would justify a significant price appreciation over a 6-12 month horizon.
Disclosure: I am long SNFCA. I wrote this article myself, and it expresses my own opinions. I am not receiving compensation for it (other than from Seeking Alpha). I have no business relationship with any company whose stock is mentioned in this article.