This article focuses on Main Street Capital (NYSE:MAIN) and Triangle Capital (NYSE:TCAP), both of which are currently trading at higher premiums to book value than other business development companies ("BDCs"). As investors seek higher yields, certain asset classes have become overpriced and in some cases credit qualities have been sacrificed. Some BDCs have continued to grow and invest in riskier assets to preserve portfolio yields while others have maintained underwriting standards being more selective and potentially growing at a slower pace or lower yields.

Both MAIN and TCAP have been actively raising capital for portfolio growth but taking two different approaches. TCAP is moving into riskier asset classes in order to maintain its portfolio yield of around 13% while MAIN is slowly transitioning to safer assets and sacrificing yield, which is probably why it has lower earnings and dividends as well as a higher P/E. Both companies have been growing net asset value ("NAV") more than most BDCs, especially MAIN which grew from $13.06 per share in 2010 to $18.59 per share in two years or 42% which does not fully explain the 57% premium. American Capital (NASDAQ:ACAS) has grown NAV by 67% in the last two years but does not pay a dividend and reinvests its gains into share buybacks and debt reduction.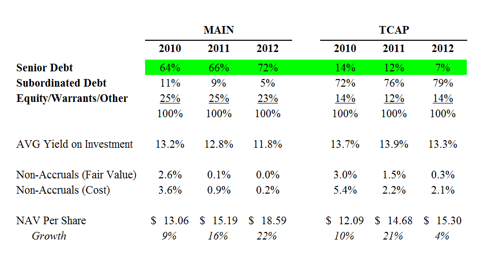 Both MAIN and TCAP have significantly reduced non-accrual rates regardless of asset classes, but performance during a down market would be a true test. Investors are obviously willing to pay a premium (see chart below) for portfolio quality as well as proven underwriting skills to minimize default rates. BDCs such as Prospect Capital (NASDAQ:PSEC) and Ares Capital (NASDAQ:ARCC) have a larger portion of senior debt with low non-accruals rates but even Solar Capital (NASDAQ:SLRC) with an even mix of both senior and subordinated debt currently has no investments on non-accrual.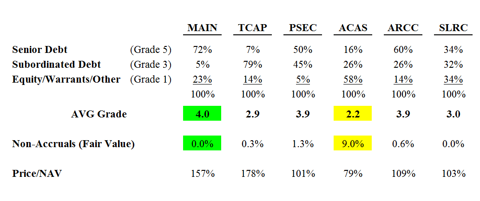 Most BDCs trade near book value because as a regulated investment company ("RIC") they are required to distribute at least 90% of capital gains, dividends and interest to shareholders to avoid taxation at the corporate level and 98% of net investment income to avoid paying a 4% excise tax. However, in 2011 ACAS changed from a RIC to a Subchapter C, discontinued paying dividends and was able to carry forward any NOLs historically incurred to succeeding years. Below is a chart showing the historical trend of non-accruals for ACAS with a concerning seesaw pattern that is most likely from continued write downs.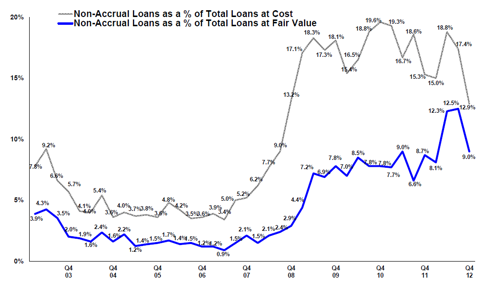 Summary
Both MAIN and TCAP are adequately managed and the higher dividend for TCAP is attractive but the risk profile of MAIN is preferred. MAIN's dividend is low but dependable, growing, and during the recession it was one of the only BDCs not to cut its dividend and performed better than most, if not all BDCs, compared with others such as ACAS. People pay for quality assets and dependability, which MAIN has proven. Is it overpriced? Probably. But I think there are many investors who will continue to hold and collect a dividend as the NAV grows and if there is a market correction hopefully it would outperform the others.
These are the five general criteria I use to evaluate BDCs:
Profitability (EPS to cover dividends, NAV and EPS growth)
Risk (diversification, portfolio quality, volatility, leverage)
Payout (sustainable, consistent, growing)
Analyst Opinions
Valuation (NAV, P/E, PEG)
For more information about BDCs and how I evaluate them, please see this article.
Below is an oversimplified table ranking the 25 BDCs I have reviewed giving them a relative score between 0 and 10 (10 being the best). In reality I use different weightings for almost 100 data points on each company and my personal rankings (based on my risk/return comfort) are close to these but far from exact.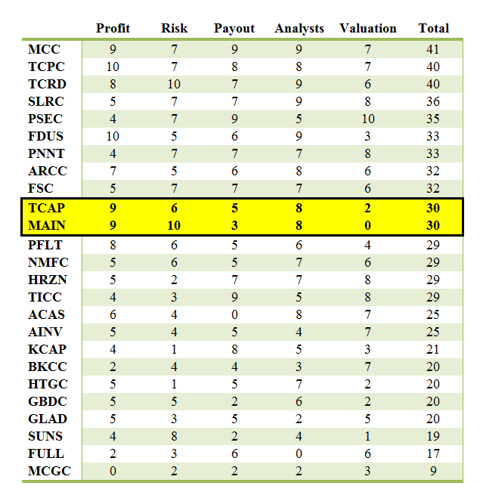 Previous articles:
Disclosure: I am long MAIN. I wrote this article myself, and it expresses my own opinions. I am not receiving compensation for it (other than from Seeking Alpha). I have no business relationship with any company whose stock is mentioned in this article.