The shorts continue getting squeezed in LuluLemon Athletica (NASDAQ:LULU). We saw a massive 10% move this week as the stock price $69 to around $76 at the time of this article. I expect big numbers in the next earnings report based on fundamental and technical analysis. This article will discuss the bullish case for LULU and why I could be a buyer at these levels.
LULU designs, manufactures and distributes athletic apparel and accessories for women, men and youth. The apparel include fitness pants, shorts, tops, jackets and outdoor wear for everyday and healthy lifestyle activities. It also sells fitness-related accessories like underwear, socks, yoga mats and bottles.
My current job involves treating people with health-related issues. It amazes me how more than 90% of my clientele wears LULU products. The number continues to increase and the demand continues to grow. I believe the market will soon take off in male wear, as lately, I am seeing more males wearing LULU clothing. I have visited a number of stores and sales events here in Vancouver, and the number of line-ups and people buying continues to be impressive.
Now the bears will come out and say that the latest news in early April will dent their sales. I beg to differ as I think this shows that management will do everything to continue to make sure that the product is perfect. I wear LULU clothing, and although yes, it might be expensive, I can say the product is of very high quality when one compares other products like Under Armor (NYSE:UA) or Nike (NYSE:NKE). these two companies are also performing very well, continue to gain market share and are trending higher which bodes well for the retail space.
Fundamental analysis
The fundamentals for LULU remain very strong. Here are some key factors:
- Market capitalisation of around $11b
- Total cash in hand of $590m
- $0 debt
- Float of 111m shares
- 34% of the float is short.
This high percentage of float being short is what I believe will push LULU to new highs.
Latest earnings report
Here are a some key notes, as discussed by the CEO
"For women's golf, the approach is technical street with pieces that transition from sweat to street. Innovative construction methods like bonding and laser cutting are also elements we've played with in this collection.
For men's, we are excited to be introducing our largest polo offering to date in response to feedback from our guests, especially around father's day. These tops will be handsome yet functional for tennis and golf. Our polos will come in both athletic fit, providing enough room in the body to accommodate swings during a match, as well as slim fit, for guys looking for something more modern and progressive."
What this shows is that they listen to their consumers. A big positive.
Now onto some key numbers:
"For the fourth quarter, total net revenue rose 30.7% to $485.5 million, from $371.5 million in the fourth quarter of 2011"
"Net income for the quarter was $109.4 million, or $0.75 per diluted share. This compares with net income of $73.5 million, or $0.51 per diluted share, for the fourth quarter of 2011."
"Net revenue rose 36.9% to $1.37 billion, from $1 billion in fiscal 2011. "
Also the international growth continues to expand:
"Our goal is to open a store in Hong Kong. We're evaluating several sites right now, but those leases came to take a little bit longer to negotiate. But we're confident we'll have it sometime within a 12-month period. And then London, the goal is to open additional showrooms this year and then move to stores next year."
Technical analysis
The weekly chart shows that the lower trendline acted as support around $64, and buyers stepped in to keep the stock well supported. I expect consolidation in the next few weeks, before the stock rips higher later in the Summer.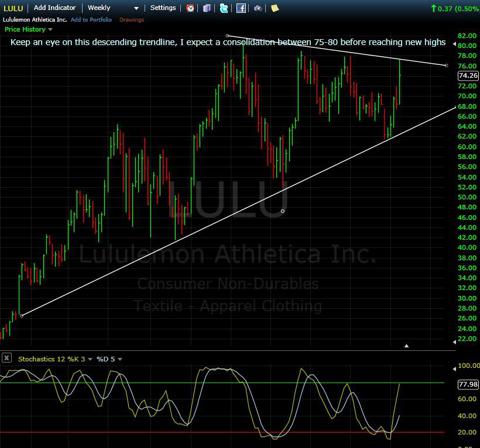 The monthly chart also looks great. Very strong support once again.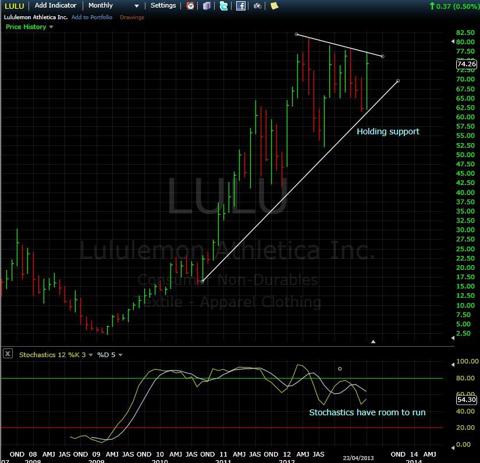 Conclusion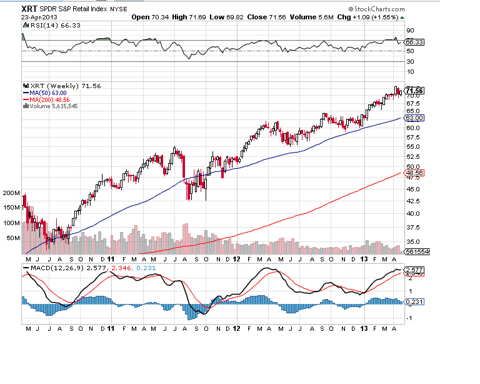 The trend for the retail sector remains strong. Look at a chart of the retail sector and you can see where the trend is going. Companies like NKE and UA continue to be strong and make new highs, and LULU is another leader that I like in this space.
The high percentage of short in the float, together with the big cash position and the earnings guidance makes me believe we will soon see new highs in LULU. The volume on the recent days have been massive, and I believe that after a period of consolidation, a breakout will ensue. The company has issued conservative guidance after the recent Luon pants problems but I believe that with the recent sales and outwear I see people wearing, the price looks cheap in my eyes and I would be a buyer on ay dips.
Additional Information: Please do your due diligence before investing in any stock mentioned in this article. This article is written for general information purposes only.
Disclosure: I have no positions in any stocks mentioned, but may initiate a long position in LULU, NKE, UA over the next 72 hours. I wrote this article myself, and it expresses my own opinions. I am not receiving compensation for it (other than from Seeking Alpha). I have no business relationship with any company whose stock is mentioned in this article.