As income becomes harder and harder to find, those with some risk appetite have been moving into equity markets to hunt for yield.
The U.S. equity markets have historically been fairly low on the list for the high yields, however this has begun to change over the last five years as companies have strengthened their balance sheets. Now, companies are rewarding their investors and for those looking to snap up some of this action there are number of things to look out for.
For lower volatile holdings, large-cap defensive stocks offer the best prospect for stable dividends. Whilst you can obtain some high dividends in excess of 12% elsewhere, you may increase the risk of capital losses and longevity of dividend payments. However cash flow can provide an indication of this.
Dividends are generally paid out if a company has low debt and strong free cash flow, as the company has no real need for surplus cash. There are a number of sectors that emulate just this, Pharmaceuticals, Tobacco, Telecommunications, Utilities and Oil & Services. Many of these sectors are seen as staples allowing stable revenue during economic cycles.
A top yielder for many years has been Pfizer (NYSE:PFE), the Viagra maker has had steady cash flows from some blockbuster drugs and will continue to do so (until its patent runs out). As some of the large-cap Pharmaceuticals have a monopoly on certain drugs it allows them to generate significant profits and maintain a high free cash flow. The chart below shows Pfizer's free cash flow over the past five years, and as you can see (apart from one quarter in 2010) the company has strong free cash to pay out dividends.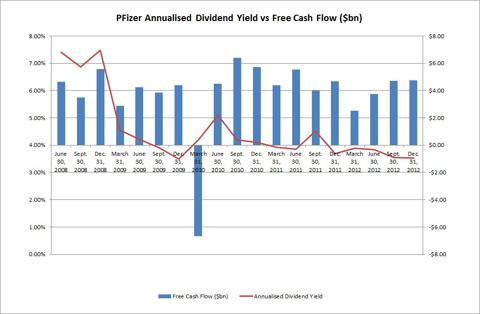 This stable cash flow both allows for consistent dividend payments and support to the share price, as shown below it has returned a healthy 52% over five years.

Source: Google Finance
Another sector portraying similar attributes is the tobacco industry, whilst many believed regulation and health concerns would stand in the way of profits, these companies have defied the odds bringing in consistent revenue. Tapping into emerging markets, revenue streams continue to grow. British American Tobacco (NYSEMKT:BTI) is one of the world's largest producers selling just over 705 billion cigarettes in 2011. The returning customer base makes for a stable revenue stream and high free cash flow.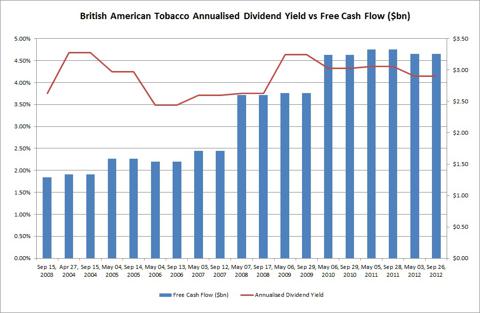 As you can see free cash flow has continued to rise year on year since 2003 supporting consistent dividend payments of around 4%. The cash flow is not all that has risen; the share price has returned just under 500% in 10 years, not including dividends!

Source: Google Finance
Telecom giant AT&T (NYSE:T) has been paying dividends since 1984 and providing broadband and wireless services to millions of Americans. Revenue has been consistent. The following chart shows free cash flow over the past five years and the consistent yield between 5% and 6% per annum.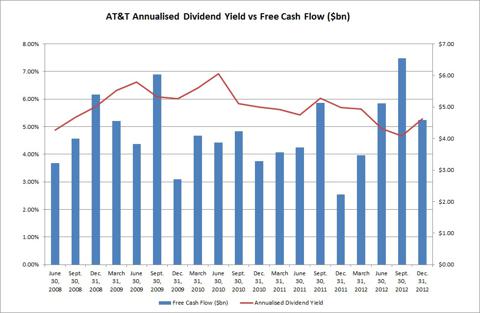 The share price has risen gradually since the credit crisis and although only returning 4% over five years, looks to be a nice addition to a portfolio offering a stable dividend.

Source: Google Finance
Utility and Oil companies often pay out large dividends. Oil and Services companies such as Exxon Mobil (NYSE:XOM) and BP (NYSE:BP) have historically paid dividends over the long term and have been top holdings for many income portfolios. With some of the highest revenue streams they are known to reward investors, but the cyclical nature of oil supply and demand can affect the free cash flow.
Other sectors to look at are consumer staples such McDonald's Corporation (MCD). The global franchise has steady revenue and offers a dividend yield of 3.09%. Free cash flow has been consistent over the past five years ranging from $750m to $1,250m.
Many would look to big tech names for dividends. Apple Inc (NASDAQ:AAPL) recently announced a share buyback and a dividend increase to $3.05 a share and with plenty more cash to distribute or spend, it may look like a great long-term dividend holding. But looking at the free cash flow, does it paint a different story?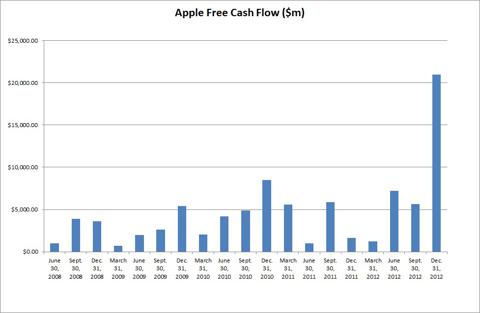 On the face of it free cash flow has been very strong, however it is hard to quantify long-term dividend paying abilities especially when a company is still in the growth phase of its business cycle. From Apple's recent results, the slowing demand for iPhones and decreasing margins may hamper cash flow going forward, however for now it looks like your income is safe.
Summary
Free cash flow plays an important role for companies paying dividends. Steady revenue streams and free cash flow with little cyclicality will provide the best long-term option and the few examples listed above should provide an indication of what to look for.
Free cash flow data has been sourced from ycharts.com and company data.
Disclosure: I have no positions in any stocks mentioned, and no plans to initiate any positions within the next 72 hours. I wrote this article myself, and it expresses my own opinions. I am not receiving compensation for it (other than from Seeking Alpha). I have no business relationship with any company whose stock is mentioned in this article.