Investing is a difficult business. It's even more difficult when certain industries are undergoing massive, moat-busting operating model disruption; meanwhile, new moats materialize to defend newly acquired competitive advantages.
With that backdrop in mind, I've shifted my investment focus from sifting through rubble to find diamonds, pejoratively known as the "cigar butt" approach that Warren Buffett advised against, to finding operating models that have the potential to disrupt industries. Stated differently, I want to find those companies with land-grab-type operating models that have the potential to live up to the quote: "To the victor goes the spoils."
One such company that recently caught my attention is SolarCity (SCTY). Before discussing the investment theses for SolarCity, we first need to attempt to dispel the association with solar panel makers. The economics of solar panel manufacturing is not encouraging, and that is precisely why SolarCity had to reprice its IPO in December 2012: guilt by association.
The news for solar panel makers isn't getting better: case in point, SoloPower announced on April 23, 2012 that it's pulling the plug, hopefully temporarily, at its Portland, Oregon manufacturing facility as it searches for additional investors.
But there are signs of hope in the solar manufacturing space: ABB (NYSE:ABB) agreed to buy Power-One (NASDAQ:PWER), maker of solar power inverters, for $1 billion. ABB CEO Joe Hogan said in the press release: "The market is very tumultuous for solar overall and wind power, but I really feel the strong big disrupters in the energy market in the next 10 years are going to be shale gas and photovoltaic power."
SolarCity, though, does not sell or manufacture solar equipment, it sells energy. CEO Lyndon Rive describes the business model as "distributed energy generation." In other words, SolarCity is basically a mobile utility company, like a cell phone of sorts, while the traditional utility is more like a fixed wire line telephone service.
With little to no upfront cost to consumers, SolarCity installs a solar panel system, the mobile power plant on its customer's rooftop. SolarCity and its investors front the installation cost (with the help of certain tax incentives) in return for owning the solar system and selling the energy generated to its customers at the same or lower prices than consumers could get from the traditional utility for the life of the agreement (usually 20 years). Any additional energy generated is sold back to traditional utilities through a practice known as net metering.
In my mind, the SolarCity model has the potential to disrupt the traditional, centralized power plant utility model once consumers are educated with respect to the value proposition.
IPO and Price:
Investors appear to be beginning to understand the SolarCity operating model and getting on board after the initial valuation hiccup experienced in the December 2012 IPO. The stock is up some 175% from its $8 IPO price, currently valuing the company at $1.8 billion.
The IPO was initially priced at $15/share with an allotment of 10 million shares, then amended to $8/share at an 11.5 million share allotment because of disagreement over valuation.
Interestingly, the pricing differences in the amendments to the offering revealed that two existing investors, Draper Fisher Jurvetson and DBL Partners, indicated the desire to subscribe to 1.5 million and 300 thousand additional shares at the lower price point, respectively. Visionary entrepreneur of Tesla (NASDAQ:TSLA), Pay Pal and SpaceX (and cousin of CEO Lyndon Rive and CTO Peter Rive), Elon Musk indicated his intent to commit $15 million at either price.
I'm certainly interested in investing alongside visionary entrepreneurs and managers. It's served Amazon.com (NASDAQ:AMZN) investors well, letting Jeff Bezos create a moat-busting retail and web service operating model.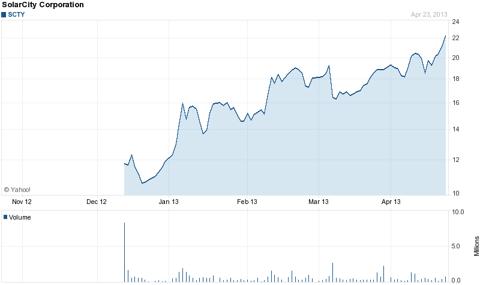 Valuation:
So, at a $1.8 billion valuation, what are the investment theses that could make SolarCity a winning, long-term investment as its operating model gains traction?
Investment Thesis #1: Shift towards resourcefulness
In the post-2008 financial crisis world marked by high unemployment, low wage growth and other economic headwinds, I have noticed an increased desire among my peers (late 20's, college educated) to be resourceful. It's trendy and likely to be etched into the social fabric of my generation, even more so if a product or service saves money and promotes energy conservation. If, or rather, when, this new generation of resourceful consumers become homeowners, I expect SolarCity to install more mobile power plants.
Investment Thesis #2: Shift towards environmental consciousness
Investment Thesis #2 only works if Investment Thesis #1 is cost competitive. Being resourceful, of course, means doing more with your resources. Because SolarCity's value proposition can be clearly modeled, value is easily quantified and measured over the life of the contractual relationship with SolarCity.
One such example was illustrated in the Annual Report:
A Maryland homeowner sought a solar energy solution to reduce high summertime electricity bills and ultimately decided to lease a solar energy system from us. Over the 20-year term of the contract, he will pay us $29,746 and is projected to create a net savings of $8,305 compared to his projected utility bills. The solar energy system is expected to offset 240,024 pounds of greenhouse gas emissions over the contract term, the equivalent of planting approximately 130 trees. The solar energy system components, including panels, inverters and labor, cost approximately $18,276.
And to quote CEO Lyndon Rive to further drive home the value proposition:
When you choose to install a SolarCity solar system for your home, you are taking the first step towards regaining control of your energy costs without making any changes to your current lifestyle.
I think the last part is key: "without making any changes to your current lifestyle." SolarCity is providing a painless solution to a growing customer problem: expensive (and dirty) energy.
Investment Thesis #3: Ancillary beneficiary of new housing starts
Housing starts are showing significant signs of recovery from the 2009-2012 trough. In March 2013, new housing starts were running at a seasonally adjusted rate of 1,036,000, 46.7% higher than the 706,000 seasonally adjusted run rate in March 2012 (Source: census.gov). This is important because new home buyers are being educated about the SolarCity value proposition by the homebuilders, and provided the option to install a solar system.
SolarCity counts the following homebuilders / building suppliers as channel partners to help scale the business: (1) Taylor Morrison; (2) Pulte Group (NYSE:PHM); (3) Toll Brothers (NYSE:TOL); (4) Home Depot (NYSE:HD); (5) Shea Properties.
Additionally, Tesla and Honda Motors (NYSE:HMC) are partners in the electric vehicle segment, representing another opportunity for SolarCity to upsell customers through vehicle charging stations and other ancillary offerings to increase its moat as an energy provider for all its customers' energy needs, including transportation.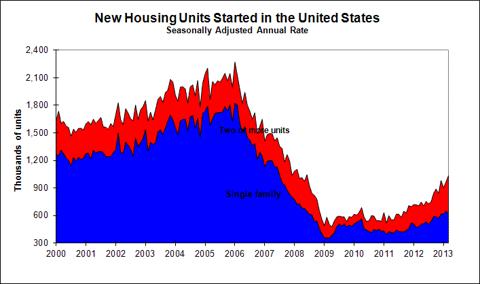 Investment Thesis #4: Moat-like, reliable and recurring cash flow
Warren Buffett likes business models that operate like toll bridges. It's easier for a toll bridge-like business to be successful: toll bridges sell products and services that consumers need, like getting across a body of water. As part of installing the solar system, SolarCity is compensated by selling the energy generated by the solar system to customers at a lower rate than the customer would pay to the traditional utility.
Two types of agreements are available to customers: (1) SolarLease or (2) a power purchase agreement. The SolarLease calls for a pre-determined monthly payment and it includes a production guarantee by SolarCity. Alternatively, under the power purchase agreement, SolarCity charges the customer based on energy use.
Generally, the contracts are set for 20 years, but because the solar systems have a 30 year life, SolarCity expects to sign customers up for the remaining life of the system, thereby further spreading the cost of the solar system across a longer productive cash flow period.
It's fair to say that consumers need energy. And demand for energy is inelastic. According to the S-1 filing, SolarCity indicated residential utility rates in its top markets doubled over the past 20 years, while usage did not similarly abate.
Moreover, the cost of solar panels continues to decline as the supply/demand balance continues to be in a glut.
Therefore, it appears like there is significant pricing power in this model: the ability to be cost competitive as electricity prices are increased by traditional utilities, and while the initial capital investment is reduced while generating high quality cash flow over a long, 20 - 30 year period.
What about risk?
To properly assess any investment, the analyst must also assess risk in the operating model. I see three, real risks in the model:
Tax incentives disappear: The model currently relies on a 30% tax credit for qualified expenditures on solar installations (which is assigned to SolarCity), and is scheduled to be reduced to 10%, effective January 1, 2017. With the sequestration in effect, one must ascribe at least some possibility to the risk that the tax credits be amended. However, as the business scales up, the recurring cash flows from its growing customer base should help SolarCity reduce the reliance on such tax incentives.
Additional reporting burden / regulatory risk: As a corollary to the tax incentives described above, SolarCity is also subject to additional reporting requirements around calculating, recording and reporting the fair market value of the solar systems installed, which drives the reimbursements received by the US Treasury Department as part of Section 1603 of the American Recovery and Reinvestment Act of 2009 ("ARRA").
The company is subject to a document subpoena by the US Treasury, along with other participants in the solar energy installation business, requesting certain documents with respect to the 1603 grant program. These sorts of document requests are fairly commonplace when dealing with federal grant programs, especially when dealing with fair market value provisions.
No allegations have been made with respect to improper application of management's fair market value calculations, but a slight discount may be warranted should SolarCity need to reimburse the Treasury Department and/or fund investors.
Is the operating model a moat?: SolarCity's distributed energy generation operating model is unique to the energy business, but can it be copied? Sure, it could. But SolarCity has significant first mover advantage and brand equity in the industry, and I expect that the idea of distributed energy generation will be embraced by consumers once they understand the value proposition being offered.
From my recollection, it took quite some time for mobile phones to become mainstream, and then for customers to cut the fixed line cord. Is it possible distributed energy generation will follow the same fact pattern?
Conclusion:
SolarCity offers investors a compelling value proposition. Because of that, SolarCity's operating model has the potential to be disruptive to an entrenched utility sector as the business scales out its distributed energy generation capability across the country and internationally.
To be sure, it's hard to recommend shares that have seen such a sharp rise in price in less than six months, but there may be another way to play SolarCity while waiting for a better entry point.
To my peers, the resourceful-minded people looking for a job they can get behind, visit the careers page at the SolarCity website or become an affiliate. SolarCity is planning a land grab for customers and to be the preferred home energy provider in the marketplace. Be a part of it.
Disclosure: I have no positions in any stocks mentioned, and no plans to initiate any positions within the next 72 hours. I wrote this article myself, and it expresses my own opinions. I am not receiving compensation for it (other than from Seeking Alpha). I have no business relationship with any company whose stock is mentioned in this article.