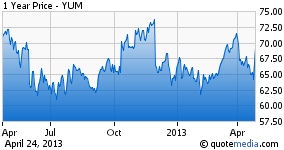 Shares of restaurant company Yum Brands (NYSE:YUM) are trading higher Wednesday after the company's first quarter earnings report Tuesday night. The company, which has seen intense pressure on its China unit due to avian flu concerns, is powering ahead thanks again to its United States segment.
In the first quarter, same store sales took a big hit in China. In the region, same store sales dropped 20%, compared to gains of 1% in other international markets and 2% in the United States. This huge decrease caused operating profits to drop 41% in China. In the United States and Yum International markets, the company saw increases of 5% and 19% respectively.
In the first quarter, Yum Brands opened 380 new restaurants in. Yum Brands International was responsible for 147 of these new units in 44 countries. Yum Brands remains committed to its continued expansion in China, despite worries of avian flu and chicken products at its KFC units. In China, the restaurant giant has over 10,000 locations made up of:
Traditional Restaurants: 5480
KFC: 4387
Pizza Hut Casual: 895
Obviously with a huge base of restaurants, including over 4000 KFC units, Yum Brands is impacted by any bad news in China. The company has a huge installed base of restaurants and will be in a prime position to once again capture sales once avian flu concerns have minimized.
Back in January, I highlighted the potential of sales at Taco Bell once again. After recommending shares several times, I pointed out the launch of the Cool Ranch Taco, in partnership with Doritos (NYSE:PEP). The taco is a follow up to the hugely successful Doritos Locos Taco.
In that January article, I discussed how the tables had flipped and the company once seen as an international play was now a play on the American economy. Another highlight of that article was the discussion of a break-up of the company into domestic and international separate companies.
Doritos has also returned the favor by offering several Taco Bell inspired flavors to its lineup of over 100 different flavors of chips. This great partnership has seen increased sales at Taco Bell locations and has created the greatest product launch in the company's history. Since March 2012, over 375 million Nacho Doritos Locos Tacos have been sold at Taco Bell locations.
The strength of Taco Bell and the new Doritos Locos tacos has greatly helped this unit. Yum Brands has refranchised 100s of Taco Bell units to free up cash for other areas of expansion. The strength of the brand and increased same store sales has helped the company get top dollar out of its already existing units and also sign new unit agreements.
Shares trade high compared to sales for a restaurant company, but this is due to the huge weakness in Chinese sales. Analysts on Yahoo Finance expect Yum to post earnings per share of $3.05 for fiscal 2013 and $3.75 in fiscal 2014. Revenue is expected to increase slightly (1.2%) to $13.8 billion in 2013, before returning to double digit growth of 12.2% ($15.5 billion) in fiscal 2014.
The opportunity to get into this once great company remains. Shares are still trading below $70 and sit back from their fifty two week high of $74.75. I believe in the long term efforts of this company and think the avian flu concerns are overblown and will be only a short term impact on shares. Investors also get a growing dividend that currently yields 2% and will continue to grow as the company rewards shareholders.
Disclosure: I have no positions in any stocks mentioned, and no plans to initiate any positions within the next 72 hours. I wrote this article myself, and it expresses my own opinions. I am not receiving compensation for it (other than from Seeking Alpha). I have no business relationship with any company whose stock is mentioned in this article.