"But it ain't about how hard ya hit. It's about how hard you can get it and keep moving forward." - Sylvester Stallone in Rocky
Throughout the Fiscal Cliff drama in December last year, I sent out numerous tweets and wrote various articles calling U.S. equity averages the "Rocky Balboa stock market." The analogy there related to market resiliency throughout the negative narrative, and various intermarket trends which then indicated no reason to be bearish on stocks. Much of this changed late January as the deflation pulse began to beat. U.S. stocks went from being Rocky to the honey badger, not caring at all about the direction of inflation expectations and leadership by defensive sectors which are usually a leading indicator of falling markets.
Our ATAC models used for managing our mutual fund and separate accounts for the most part played the deflation trade nicely, however the next fat pitch may be upon us some time in the next two weeks with enough confirmation. What is the next fat pitch? Take a look below at the price ratio of the SPDR S&P Emerging Markets ETF (NYSEARCA:GMM) relative to the S&P 500 (NYSEARCA:SPY). As a reminder, a rising price ratio means the numerator/GMM is outperforming (up more/down less) the denominator/SPY.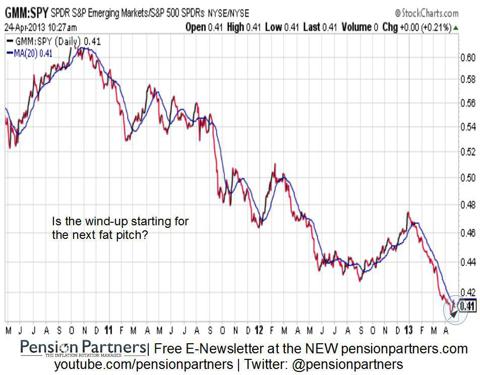 Note that the ratio peaked Jan. 2nd this year, and has underperformed in an unrelenting way as the cyclical trade within markets behaved corrective while absolute price in U.S. averages kept pushing higher. Some minor stabilization may now be underway, and an uptrend could soon occur. Why would this be the case when it is more and more clear that the bond market had this right given weak economic data? There are a few theories as to what could cause overseas averages to rally. The first is based purely on time. There are leads and lags within markets, and the extent of time under which emerging markets have underperformed might make overseas stocks more prime to rotational leadership.
The other theory relates to the Bank of Japan and the carry trade. With massive monetary easing under way, it could very well be the case that money is favoring emerging market yield since there is no yield in the U.S. and in Europe. If that's the case, then Japan's actions could conceivably cause a QE-like effect on emerging markets themselves. This in turn means that reflation happens overseas as the U.S. deflation pulse slows or potentially gets challenged by SuperBen and the League of Extraordinary Bankers through even more stimulus.
Either way, this trade could be a major one if it soon materializes. Rocky might start fighting overseas...
Disclosure: I have no positions in any stocks mentioned, and no plans to initiate any positions within the next 72 hours. I wrote this article myself, and it expresses my own opinions. I am not receiving compensation for it (other than from Seeking Alpha). I have no business relationship with any company whose stock is mentioned in this article.
Additional disclosure: This writing is for informational purposes only and does not constitute an offer to sell, a solicitation to buy, or a recommendation regarding any securities transaction, or as an offer to provide advisory or other services by Pension Partners, LLC in any jurisdiction in which such offer, solicitation, purchase or sale would be unlawful under the securities laws of such jurisdiction. The information contained in this writing should not be construed as financial or investment advice on any subject matter. Pension Partners, LLC expressly disclaims all liability in respect to actions taken based on any or all of the information on this writing.