In 1920, people in Europe debated which country would be the next great world power. The top choices were the United States and Argentina; in 1957, an article in Foreign Affairs predicted the Soviet Union would become the dominant economic force; In the 1970s, it was Germany; in the 1980s, everyone agreed that Japan would run the world. Today looks like China /India will dominate this century. Of 1 billion people in India, less than 5 million work in manufacturing. If China is the world's factory, India is the world's back office. In spite of the slowdown in the world economy, China has shown an insatiable appetite for raw materials, and it has been the main motor of the boom in commodities and cargo shipping.
In his new book, The New Paradigm For Financial Markets, George Soros wrote that a 60-year period of credit expansion based on the US exploiting its position at the centre of the global financial system and its control over the international reserve currency has come to an end. As the result, a significant part of the monetary reserves currently held in US government bonds would be converted into real assets. This would reinforce and extend the current commodity boom.
The above 2 reasons, combined with high yield, make shippers one of the hottest investment classes. However, it should not be treated as a safe fixed income alternative for following 4 reasons:
1. Higher Payout Ratio
Most of those high yield shippers' payout ratios are greater than 100%. In other words, they pay out more in dividends than they earn. Those companies' financing strategy, such as Nordic American Tanker Shipping (NYSE:
NAT
), is to pay out earnings as dividends and then go to the equity markets for more capital. Followings are shippers with market cap of more than $1 billion:
| | | | |
| --- | --- | --- | --- |
| | | | |
| | | | |
| Tidewater Inc. (NYSE:TDW) | | | |
| Frontline Ltd. (NYSE:FRO) | | | |
| Kirby Corporation (NYSE:KEX) | | | |
| Seacor Holdings Inc. (NYSE:CKH) | | | |
| Nordic American Tanker Shipping (NAT) | | | |
| Diana Shipping Inc. (NYSE:DSX) | | | |
| Teekay Corporation (NYSE:TK) | | | |
| DryShips, Inc. (NASDAQ:DRYS) | | | |
| Alexander & Baldwin, Inc. (AXB) | | | |
According to Reuters DryShips (
DRYS
), which had earlier raised $500 million in a similar offering announced in January, on May 8 said it would offer common stock, its third such offering since November, and hopes to raise up to $475 million.
Diana Shipping Inc. (
DSX
), another double digit yield shipper, on May 7 was offering 6 million shares of its common stock to the public at $16.85 per share..
2. Volatility
On May 20 2008 the Baltic Dry Index reached its record high level of 11,793. Then on Dec 5 2008, the index had dropped by 94%, to 663 points. Though this Friday it had recovered some lost ground, back to 2194, base on Bloomberg.
3. Lack of Credit
Credit crunch means the reduction of letters of credit, historically required to load cargoes for departure at ports. Heavy debt load is also a problem for shipping companies.
4. Underperform
As you can see from the chart, over the last 12 months both iShares FTSE/Xinhua China 25 Index (NYSEARCA:
FXI
) and iShares MSCI Emerging Markets Index (NYSEARCA:
EEM
) had better results than the top 2 shippers: Tidewater Inc. (
TDW
) and Frontline Ltd. (
FRO
), and the only shipper ETF: Claymore/Delta Global Shipping (NYSE:
SEA
).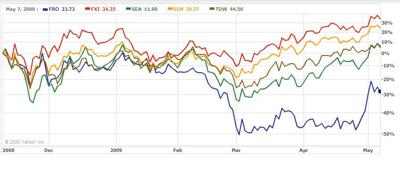 One of the hottest debates these past few weeks is how much further the bull can run. The average bear market rally has risen more than 43 percent, and there are lots of investors sitting with large amounts of cash, so there might be still room to go higher. However, many believe a pullback is inevitable. When it happens, shippers would be hit hard again due to its volatility. With many shippers bounced back more than 100% over the last few weeks, I gradually reduce my positions in shippers.
Source: data is from Yahoo Finance as of May 08, 2009.
Disclosure: I have long positions in EEM and ESEA.