Pharmaceutical stocks can be an excellent bedrock in an equity portfolio. These stocks, particularly the large cap names, often exhibit defensive qualities. Many pharmaceutical companies are also highly cash generative with stable earnings and as such are able to pay regular attractive dividends to investors.
Despite this there has been some negative sentiment around certain pharmaceutical companies and much of this is borne from "patent cliffs" which threaten the revenue streams of companies. Coupled with this is a perceived lack of new drugs coming on to the market place.
Patent Cliffs
Patent Cliff is a term used to describe the phenomenon of drugs approaching their patent expiration date. Once their expiration date has passed there is likely to be a steep decline in sales as generics enter the market place and undercut the price.
AstraZeneca (NYSE:AZN) is probably the best example of a company facing the dreaded patent cliff. In 2014 the patent expires on Nexium (gastro reflux drug) which was responsible for nearly $5bn of revenue in 2010. Two years later the patent on Crestor, a cholesterol lowering drug, expires and this product generated $6bn of revenue in 2010. These two drugs alone accounted for around 30% of AstraZeneca's entire revenue. Arimidex, whose patent expired in 2011, saw revenues halve the following year, and if this fall in revenue is replicated in Nexium and Crestor, revenues will fall considerably.
Pfizer (NYSE:PFE) and Lilly (NYSE:LLY) have also suffered fall in sales on key drugs following expiration in patents. Revenue from Pfizer's cholesterol drug Lipitor fell from $2.6bn in Q3 2011 to $749m in Q3 2012 and Lilly's Zyprexa saw sales revenue decline by around 65% year on year.
Poor Product Pipeline
With patent expirations fast approaching for certain blockbuster drugs developed in the 1990's it is important that pharmaceutical companies are able to bring new blockbuster drugs to the market place to bolster their revenues. However, there has been a lack of new drugs hitting the market place, which has spooked investors. Often there is also a low correlation between R&D spend and new drugs, and so companies cannot simply increase R&D spend in order to guarantee new drugs.
These headwinds have caused investors to question future earnings potential and as such has potentially created interesting buy in opportunities. AstraZeneca currently trades on a P/E of 10.4x. GlaxoSmithKline (NYSE:GSK) a peer UK pharmaceutical company to AstraZeneca trades on 19.5x earnings, highlighting that the stock may be cheap. Lilly and Pfizer currently trade at 16x and 14x earnings respectively, which is below the S&P 500 P/E of 18x.
These stocks may have been punished too severely by investors and there are certain macro tail winds that could help these businesses grow revenue, despite patent cliff issues.
Aging Population
Throughout the world life expectancy is increasing. Very simply, the older you are the more healthcare goods and services you require.
Growing Population
Estimated global population for 2050 is 9 billion - an increase of around 40% from the current population level. This is likely to increase demand for healthcare significantly.
Improving Living Standards
Emerging markets' 'middle class' sector is growing at a significant pace. This group of people are now able to demand and strive for a better standard of living. This is likely to be reflected in their demand for more healthcare, which should relate to top line sales growth for pharmaceutical companies.
Change in Dietary Habits
We are currently witnessing a shift in dietary habits where western diets, which are protein and fat heavy, are being adopted by the eastern world. The likely outcome of this is an increase in obesity and diabetes, which could provide a huge opportunity for pharmaceutical companies specifically targeting these diseases.
Increased Spending on Healthcare
As nations develop, their expenditure on healthcare is also likely to increase. Typically emerging market countries spend a smaller proportion of their GDP on healthcare. As emerging markets develop their outlay on healthcare should increase.
Healthcare Spend as a Percentage of GDP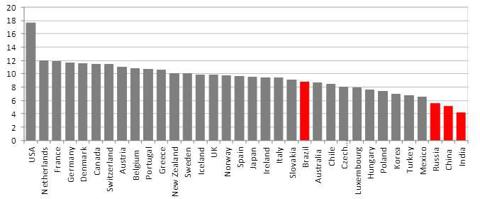 Source: WHO "World Health Statistics 2012"
These are some of the macro drivers that should support the healthcare sector over the long term.
Balance Sheet Strength
Coupled with the positive macro environment is the balance sheet strength many pharmaceutical companies possess. These businesses are cash rich and this provides firepower to improve drug pipeline either by investing in R&D and growing organically, or by going on the acquisition trail and purchasing small and mid-cap businesses with attractive products. Pfizer and Merck (NYSE:MRK) have accumulated around $10bn and $13.5bn in cash and cash equivalents respectively.
Global Footprint
The large cap pharmaceutical companies possess global footprints; Pfizer alone currently operates in over 180 countries worldwide. As with many industries the ever growing emerging markets are likely to become more and more important markets for companies and a greater proportion of revenue will be derived from these countries. By having a presence there already there will be less costs involved in supplying to these markets, and brand awareness will already be apparent.
Summary
There is no doubt that patent cliffs threaten future revenue streams for certain pharmaceutical companies. However, it seems this could be priced in already, and there are other positive macro factors, which create opportunities for companies to grow revenues despite these headwinds. Strong balance sheets and a global presence underpin companies such as Pfizer, which at a current P/E of 14x looks attractive.
Disclosure: I have no positions in any stocks mentioned, and no plans to initiate any positions within the next 72 hours. I wrote this article myself, and it expresses my own opinions. I am not receiving compensation for it (other than from Seeking Alpha). I have no business relationship with any company whose stock is mentioned in this article.