Contrary to conventional wisdom, mining costs for gold producers are not spiraling out of control. Yes, the last 10 years has indeed been inflationary for miners. In the decade leading up to 2011, costs rose 256%. Apparently, that's a trend that investors and analysts are carrying forward in their extrapolations. In reality, the cost curve has started bending lower.
Escalating costs: Yesterday's papers?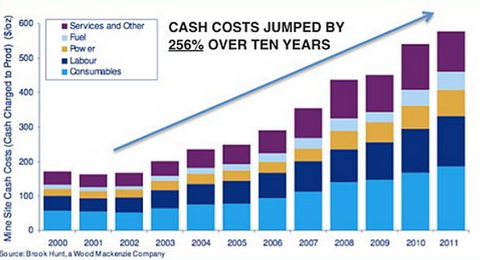 To get an idea of just how much the worm has turned, I interviewed Tracy Thom, VP of investor relations at Allied Nevada (NYSEMKT:ANV), a firm that is in the midst of constructing a large new gold mine in Nevada. The project, called Hycroft, has a budgeted cost of $1.243 billion. Thom confirmed that costs on many key items have indeed been declining. At current and trending levels, Hycroft should be able to come in at or even under budget. In fact, so far costs are tracking low enough to allow $97 million to be put back into contingency.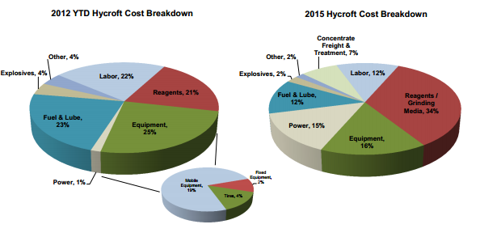 One key aspect of the Hycroft project is labor cost. Its budget calls for 1.2 million man hours of construction at $100 an hour. AVN is particularly pleased with the quality of the workforce. Many of these workers came from the City Center project in Las Vegas. Labor and construction conditions are slack enough in Nevada today that quality construction laborers are able and willing to move to remote parts of the state for work. There has been very little overtime, and on average hourly costs have been tracking at $93 to $95 an hour. The project chief is confident that the 1.2 million man hours estimate will be met or even beaten.
To date, about $700 million of the project has been built or contracted. Concrete costs have come in under budget. One big-ticket item critical to mining operations and constantly used up are spare tires. During the mining inflation of two years ago, a black market for tires emerged. The spot price would be $50,000, but availability was so lacking that firms often paid up to $70,000. The PPI chart for truck tires hasn't yet reflected this, but in practice the market has returned back to the spot price. There has been no recent push through of higher prices. The same can be said for mining machinery. The cancellation of some big coal development projects has taken the heat off of equipment costs as well.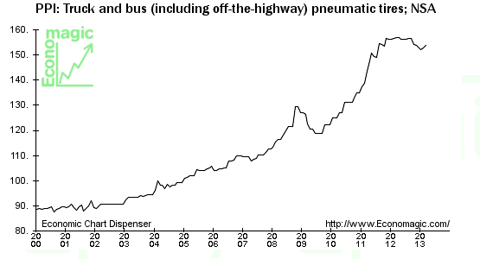 Allied Nevada uses North American steel and cement for quality reasons, but overcapacity in China is helping with prices in the U.S. as well.

In the last few weeks, steel rebar prices have plunged further in the global market. On April 22, Bloomberg reported:
"The contract for October delivery on the Shanghai Futures Exchange declined by as much as 1.2 percent to 3,605 yuan ($584). Futures lost 4 percent last week, the biggest weekly decline since Feb. 22."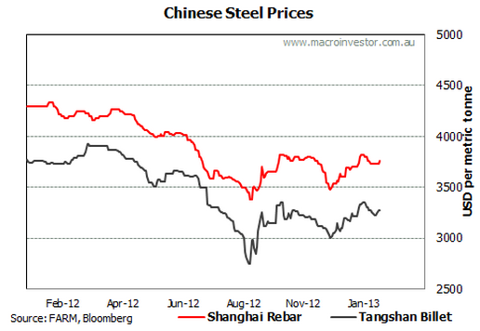 The race to the production finish line for Hycroft now involves filling in the "bits and pieces." This would be the electrical wiring, plumbing, concrete piping, etc. Reinforced concrete pipe prices have dropped substantially so far this year. Copper prices are in a steep correction as well, on the order of 20% in the last six months.
source: construction.com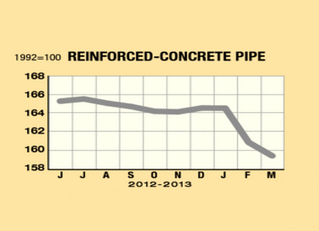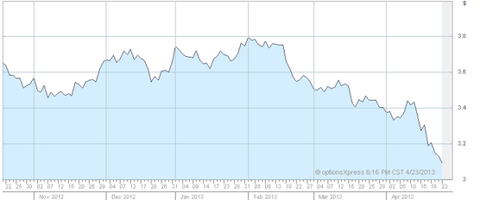 Fuel prices make up a good part of costs fr open-pit mining operations. Diesel prices, as reported by the EIA, year-over-year are down about 7%. Last year, ANV hedged 300,000 gallons of fuel at $100 using the WTI benchmark. As the hedge has rolled off, the company now has the luxury of buying or hedging at 11-12% lower prices, or even playing for lower prices still as the market is in backwardization.
WTI prices: April 23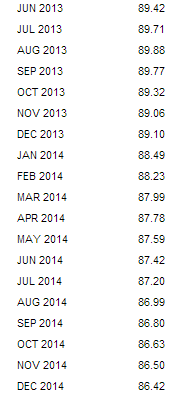 Incredibly Mr. "Market" has all but thrown in the towel on this industry. The analysis that is being done (if any) is very short sighted. Allied Nevada's stock price has been as abused as much as any in the sector. At the April 23, closing price of 10.68, the total enterprise value (net of debt and working capital) of $958 million is well below the value of the brand new, state of the art plant and mill. The 2015-2024 mine plan calls for 552,000 AU equivalent at $146 cash cost (with silver credit). This cash cost is based on higher input costs than what we are currently witnessing. The 42 million ounces of reserves and resources are being valued at nada, nothing, zero. As an investor here, you get that for free. [For more on Allied Nevada]
The real picture emerging is for this project, coming in below budget and on time, and with the benefit of lower material and labor costs across the board. Further, if the long lines seen globally to buy gold are any indication, ANV's product will be well supported in price, in effect putting this company and its stock in the best-of-both-worlds zone. Maybe it's time to wake up and smell the roses about the extremely depressed valuations in this industry?
Disclosure: I am long ANV. I wrote this article myself, and it expresses my own opinions. I am not receiving compensation for it (other than from Seeking Alpha). I have no business relationship with any company whose stock is mentioned in this article.