How's this for a nice throwback - Short Chipotle Mexican Grill (NYSE:CMG).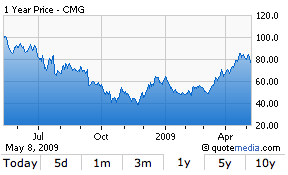 On my blog, I have written plenty about CMG's ridiculous valuation in late 2007 and early 2008. I was never actually able to short CMG shares, as I could never find any available, but that was ok - my initial call on October 31, 2007 was a bit early, and I would have probably covered as shares rose from $130 to $150. However, my thesis was eventually vindicated as shares fell from $150 to about $40 over the course of 2008.

Now shares have recovered back to about $80, and armchair analysts are once again labeling CMG shares as too expensive. Though company results have been impressive over the past few quarters, there appear to be some cracks under the surface that will cause a slip-up going forward.

Two articles below are worth reading: The first, at Zachstocks, is a general overview on the bearish CMG case. The second is another piece at Seeking Alpha about recent insider sales of CMG shares.
"Chipotle - A Tasty Short Opportunity" at Zachstocks.
"Why are Insiders Losing their Taste for Chipotle" at Seeking Alpha.