(Note: a number of links are translated from China media by Google or Bing, these links may take longer to open so please be patient)
Opening Comment- Amazing Similarities and Noteworthy Differences
Looking at the history to date, it is amazing but not surprising to see the similarities that have brought both Nasdaq-listed Kandi Technologies (NASDAQ:KNDI) and Tesla Motors (NASDAQ:TSLA) from entrepreneurial inception to their current domestic Electric Vehicle (NYSE:EV) manufacturing leadership positions. I say "not surprising" since successful, brilliant "Founder/Disrupters" in new innovations, no matter what nationality or culture; have an innate way of conceptualizing, developing and instituting a "total solution" in successfully bringing their end product to market. But what is most interesting; though in the same EV space, even if they were in the same country, their target markets are huge, but totally different. So different that they are clearly not and unlikely ever will become competitors. This is a point that intelligent partisan investors who favor the potential world-wide trillion dollar EV industry need to understand when looking at these two companies as existing or possible investments.
If you found this article, what you likely already know is that TSLA has $100 billion potential ten years out. What you don't know is; so does KNDI. Now many who access this article will maybe read the first few paragraphs and then move on to other less productive things, particularly when they see the length of this presentation. My target with this article is the one percent of intelligent investors, analysts or investment funds who can afford to take twenty minutes in the "off chance" my bold claim above has even a 10% possibility. If you are a "junky" for back up documentation on claims; good, so am I and you will get your "fix" by the end of the article.
In this article my intention is to fairly draw out the amazing similarities (and there are many) as well as noteworthy differences in pretty much a "head to head" comparison format of these two incredible young companies. But let me clearly disclaim; as a former 40 year Wall Street pro who has followed both of these companies from the first day they publicly traded, my personal advocacy at this time and with this writing is for the all but unknown Wall Street underdog, KNDI. My high respect for the accomplishments of both company's operations are somewhat equal, but my investment bias has to be with KNDI based solely on the current 59-1 fully diluted market cap differential at this time. (KNDI- $122 million, TSLA-$7.2 billion)
December 20, 2011, I published a Seeking Alpha article titled: Wall Street Match Up: Kandi Technologies Vs. Tesla Motors . For the unknowing; both companies trade on the Nasdaq Global Market and both unquestionably are leaders in Electric Vehicles in their respective home space; TSLA in the US and KNDI in China. Due to Tesla's very high profile in the US with many analysts, hundreds of media pundits and an eloquent and charismatic CEO, I don't believe I have to rehash in depth Tesla's exceptional accomplishments leading to its US domestic sector top position in this writing; but will throughout show similarities and comparison of the two companies, both pro and con. On the other hand, still unknown but likely not for long, KNDI, who has never had analyst coverage, minimal institutional holding and a low key CEO, requires me to more extensively cover its extraordinary accomplishments. Accomplishments, which if fully exposed and explained, could require hundreds of pages, but I will spare you of that at this time and stick with developments within the past twelve months.
Since my first series of KNDI articles published in Sept. 2010, KNDI has risen from barely a footnote in the China EV hierarchy to its current unquestionable position of dominance as will be clearly evidenced by all at the end of this report.
As I allude to above; the purpose of that article was not to denigrate Tesla , but to point out the incredible "disconnect" in stock market cap between these only two pure EV manufacturing stock plays available to US investors. Since my Dec. 20, 2011 writing, based on current prices, the stocks in both companies have performed well, with Tesla's exceptionally well, based on its Monday closing at $50.19 up from $27.90, or up 80% carrying a fully diluted market cap of over $7.2 billion (includes all options and warrants) and Kandi at $3.58 up from $2.89 or 24% with a diluted market cap of $122 million. There is no question; both companies have fundamentally outperformed skeptics over the past 15 months. While not traveling the same path over this time, prior to the April 1st surprise guidance by Tesla for Q1-13, both stock were up almost exactly the same percentage (36 and 37%) as you can see from this recent comparison Chart (Kandi does not give advanced financial guidance):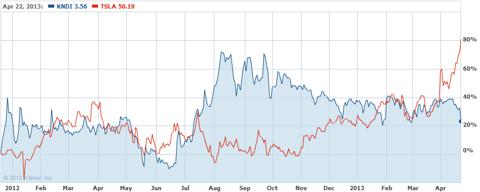 (Chart courtesy of Yahoo Finance)
I must admit when I published the 2011 article, while having much respect for Tesla and its CEO, Elon Musk, I was still skeptical about its long term potential and its "priced to perfection" market cap. I now feel that my skepticism of its long term viability has been pretty much been alleviated, though I still feel its current share price is richly based to continuing perfection.
Alternatively, Kandi, in spite of some "bumps in the road" beyond its control having to do with China's quirky EV subsidy policy has been operating its business to perfection; while its stock is being all but ignored. However in all fairness, prior to last month's trifecta of incredible accomplishments (which still has had little effect on its stock price), the lethargy in the stock might have been understandable due to ignorance of the vast majority of US investors. The three events were as follows;
March 25- JV with China s top passenger automaker, Geely Auto (0175.HK) (OTCPK:GELYF) listed on the Hong Kong SE with over 9 billion fully diluted shares outstanding, enticed Kandi into a 1 Billion rmb ($164 million USD) 50-50 Joint Venture whereby Geely will affectively turn over their ten+ years of EV research and development, top level EV licenses, and their current stable of small EV's to the JV named "Zhejiang Kandi Vehicles Co., Ltd." Geely's Chairman will chair the board of directors and KNDI's CEO will run the JV Company.
April 3-Kandi s 273 million rmb ($43.2 million USD) purchase and start of production in China's first recently completed "state of the art, built from the ground up" pure EV manufacturing facility with 1st stage annual capacity of 100,000 EVs, expandable to 300,000 per year.
April 1- "Blow-away 2012 financial results, strongly attributable to sales of 3,915 EVs
Prior to the above events, some market disrespect could be argued by those not familiar with the company and China culture. After all, KNDI did announce a letter of intent in Q4 2012 that was entered into with China Aviation Lithium Battery Co. (OTCQX:CALB) a quasi-public 70% owned division of PRC State Owned giant "Aviation Industry Corp of China" (OTC:AVIC) which called for initial delivery of 5,000 EV s to be purchased from Kandi by years end; and through no fault of KNDI's, the sale was not completed by year end. (Although 2800 EV's were sold by KNDI in the quarter, 3915 for the year).
What Happened To The 5000 EV Order?
While the Company never published a notification addressing this question, China media and sources close to the company explained that it was the intention of CALB to purchase this first tranche of a previously announced $125-150 million, 20,000 EV order from Kandi for use in a "turnkey" 36 month EV leasing program in the City of Hangzhou (pop. >10million) by year's end. This program allows the lessee to pay a flat monthly sum of 800-1,000 rmb ($129-$150 USD) depending on the EV and have all expenses covered to include permit, license, tax, insurance, maintenance, free parking, and unlimited free battery exchanges for the term of the lease. As previously announced, CALB who is also the battery manufacturer for the Kandi EV's, was to sell the batteries to China State Owned electric utility giant State Grid (Fortune Global 500 #8, covering 88% of the land mass and 1 billion population). State Grid (SG) in turn would dually use the batteries both in a Quick Battery Exchange program designed by and for Kandi's patented Side Slide EV's and when not being used in EV's to be used for "Grid Stabilization" in a modified "Vehicle to Grid" (V2G) program called "Battery to Grid" (B2G). The first phase (battery sale) by CALB to SG was apparently completed.
As part of the overall agreement, CALB was to have the exclusive right to purchase all 20,000 of the EV's from Kandi by the end of 2013, put them in a recently organized leasing company owned by CALB, and lease the cars in Hangzhou under the above described program; all 20,000 to be purchased by the end of 2013. CALB announced this program first, naming KNDI as the provider as well as projecting 2012 and 2013 revenues as early as July 18,2012; as linked above, conservative KNDI, didn't announce this program until August of 2012. Only after very receptive consumers began signing up for a lease, as you can see from this EV Times article stating; "…with thousands of applications submitted in just a few days".
With all this in mind, but also knowing that the PRC EV subsidy program implemented in 2010 was set to expire Dec. 31, 2012, CALB informed KNDI they wanted to push through 5000 cars into the program before the subsidy program expired. The announcement of this intended feat raised much fanfare in Hangzhou including press and TV coverage of the local politicians lauding this "great accomplishment". Because of all this public exposure in China, Kandi as a US traded company had no choice under SEC Rule FD but to announce this contract in the US and start building the EVs. However, shortly after this was announced, CALB's Board of Directors came to the conclusion that this project plus others on their slate would require a major fund raising so as with any normal China listed company, they voluntarily halted their stock for an intended 30 days to recapitalize on October 15, 2012. But what was supposed to take 30 days ended up taking three months; not being completed until January 15, 2013; thereby missing the subsidy window which closed on Dec. 31.
This of course left Kandi with a duel dilemma of having made more than half the cars and the embarrassment of having announced the 5000 EV sale by year end which would not come about. From a US investor point of view, blame could be placed on Kandi for not announcing the reason for the failure to deliver. But in the Chinese culture, it is not considered "good taste" or wise to publicly shame your contra-party for only delaying their end of a contract; particularly if that party is controlled by the National Government. But rather than lament this unfortunate situation, the company took advantage of an option provided by CALB's delay and took away their exclusivity and successfully opened up the Hangzhou leasing opportunity to three new outside leasing companies. CALB is absolutely still involved, but as can be seen by this announcement, three new leasing companies were added in January. In the short run, the above failure to perform by CALB likely hurt Kandi's credibility and its stock price. But in the longer run, now having four companies compete for the limited 20,000 EVs for the current leasing program should assure a much quicker roll-out with a very good chance it will all be done over the next 12 months.
As of the submission of this article for publication on April 21, a press release in China by Hong Kong SE listed Sinopoly announced they had just entered into a contract with KNDI whereby they will be purchasing 2000 EV's from KNDI, with 100 immediately and the balance over the year. While you may never have heard of Sinopoly, but for a point of reference, Forbes 8th wealthiest man, Li Ka-Shing purchased over 10% of their stock last year and is now their largest outside shareholder.
Certainly no public company is immune to these "bumps", but fickle investors certainly treat companies different. For example; TSLA had a few of its own over just the past few quarters; a 12% guidance miss in Q2 of 2012, followed by unit sales missis of around 40% in each of the last two quarters in 2012, mostly attributable to supplier delays and of course the late filing of its last 10K. By its current price, all seems forgotten and forgiven as it rightfully should.
OK, This is the New Year, Why Hasn't the Hangzhou Roll-out Started?
Simple answer; because the new PRC EV subsidy program has not yet been formally implemented. As you can see from the below articles this situation which is affecting all potential EV producers in China should soon be alleviated with a new three year expanded program to cover 25 cities up from five.
China to resume electric car subsidies - BYD chairman

HONG KONG, March 25 | Mon Mar 25, 2013 4:51am EDT

(Reuters) - China will resume subsidies for electric car buyers as early as next month, the chairman of BYD Co Ltd (OTCPK:BYDDF) said on Monday, part of government efforts to promote environmentally friendly vehicles.

"The previous subsidy was for 2010 to 2012, so it terminated on Dec. 31, 2012. Now, the government is setting up standards and they should be announced in April or May," Wang told reporters on the sidelines of a company event in Hong Kong…"

China to extend subsidies for new energy cars

Updated: 2013-03-13 09:39

Officials from China's auto industry are seeking to expand a subsidy program for electric cars, across 25 Chinese cities. During the on-going two sessions in Beijing, China's Minister of Industry and Information Technology, Miao Wei, announced that "the subsidies for new energy cars will be extended by three years…

…China's Minister of Industry and Information Technology, Miao Wei noted that the central government will step up investment in clean energy cars and extend subsidies for the promotion of electric vehicles…

Miao said, "It should not be a problem to extend the policy. It's good news that more and more private buyers are opting for new energy cars…"

Wan Gang, CPPCC member, Ministry of Science & Technology, said, "We should make more efforts in the area of technology innovation and we also need to open up new markets, including buses and private cars.
Let's Start Comparing TSLA to KNDI
Founders- Both Companies were founded in 2002-2003 period by very wealthy entrepreneurs who even today are their respective companies Chairman/CEO and largest shareholder and each take token salaries of approximately $32,000 a year.
Elon Musk (age 41) Chairman/CEO of Tesla owning approximately 30%, co-founded Zip2, a privately held provider of Internet platform solutions for media companies and local e-commerce merchants in 1995 which was sold to Compaq's Alta Vista Division in 1999 for $307 million. In 1999 he co-founded x.com which merged later that year with Confinity and coined the name PayPal for the combined company. PayPal went public in early 2002 and sold out to Ebay later that year for $1.5 billion with Musk owning 11.7% at the time of sale. He co-founded TSLA with four others in July 2003. As the largest financier with over $70 million invested in 2008, a downsizing was required due to the economic turndown at that time and Musk was elevated to his current CEO position. Simultaneously with running TSLA, he also is the CEO and founder of Space X and and founder/Chairman of another recently public company, Solar City (SCTY)
Hu Xiaoming (age 55) Chairman/CEO and largest shareholder of KNDI owning 43% spent the first third of his working life as a member of Government in Zhejiang Province along with the new President of China, Xi Jinping. In late 1984 Hu left Government service to take "Factory Executive" positions at Yongkang Instrument Factory to include; Director of the Yongkang Mini Car Factory and then on to become Chairman and General Manager of Yongkang Vehicle Company. This laid the groundwork for his interest in developing Mini-electric cars. He was then tapped to the top position of General Manager of Wanxiang Electric Vehicle Developing Center and Wanxiang Battery Company, divisions of Wanxiang Corp., China's largest Automobile components company (who recently purchased failing US based A123). Shortly after leaving Wanxiang and founding Kandi Investment Group in 2002, his services were requested by the PRC Government to rejoin Wanxiang as Chief Scientist of a Special PRC Project coded the 863 Plan with responsibilities to research and develop a future plan for Electric Vehicles in China for the PRC. He held this position until 2005 after which he returned to quickly develop Kandi Investment Group, where today he still holds 100%, into a Zhejiang Province based billion dollar conglomerate ranging from appliances, to metal doors, to real estate, leasing, chemicals, health and fitness devices, electric bicycles, off-road recreational and farm vehicles, and mini-cars. The latter two divisions were spun off to become the public company, Kandi Technologies in 2007 which today also includes all aspects of four wheeled EVs both for export and sales within China. Mr. Hu personally owned 4 invention patents, 7 utility model patents and 13 appearance design patents, which he donated all to Kandi Technologies in 2012.
The differences are few, but obvious; it's the similarities that are noteworthy.
Founders-Both men built their own fortunes prior to starting these companies and took and are still taking large risks with their own capital even now to the benefit all shareholders despite they own less than half the stock.
Musk, though having also raised outside capital, put considerable up-front cash to start TSLA; even today he is offering to a personal guarantee to buy back TSLA EVs in the future if needed.
Hu put up all the capital to start KNDI and since the start of the company through today is a personal guarantor of its bank debt, not because he has to, but because it reduces the interest costs on the borrowed capital.
Unique to these two disruptive innovators in this new Industry, both realized the future need for EVs; but without a solution to re-energize the battery in minutes, not hours, the market would be extremely limited. So simultaneous to developing their vehicles, they both developed unique solutions to solve this problem.
Tesla with its proprietary chain of "SuperCharger Stations" which provide free fast charges to provide three hour drive time extensions in 30 minutes.
Kandi conceptualized, developed, patented and sold China's dominant electric utility State Grid and its PRC owner on its Quick Battery Exchange technology first patented in 2003 which not only allows a two minute or less automated or manual battery swap for a full charge, but affords State Grid the opportunity to also use the surplus fully charged batteries which were charged during non-peak hours, to re-inject the electricity back into the "Grid" during peak hours. (B2G) This ability is a major ingredient in the development of a true "Smart Grid".
In TSLA's case, the SuperCharger Station with free access is an add-on cost option in the 60kw Model S sedan and included in the cost of the 85kw. Currently there are five stations in operation on the west coast and three on the east located some 200 miles apart along the two major Highway corridors. TSLA claims it will now be rapidly expanding this network over the entire US with five more stations coming on line this month. The stations are Solar Powered with technology and panels provided by SolarCity another Elon Musk company that recently came public. Claims by TSLA reveal that the cost of providing this free charging is net positive to TSLA due to its ability to re-inject excess stored power back into the Smart Grid which falls under the category of Vehicle to Grid (V2G). There is no question the addition of the SuperCharger stations has been a boom to TSLA EV sales and a net positive as well for SCTY.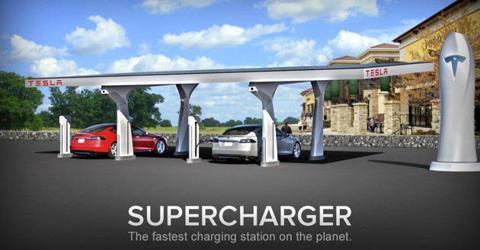 TSLA SuperCharger Station
KNDI's solution using QBEX stations owned, serviced and supplied by China's State Owned utility, State Grid, unquestionably has to be considered the best solution for China since it not only gives the EV owner (or leasing company) the ability to have or provide a fully charged current state of the art battery each time it is exchanged, but it also eliminates the cost of the most expensive item in an EV, the lithium battery (which is owned by the Grid); thereby decreasing the initial purchase price of the KNDI EV by some 35%. This also has an added byproduct to the owner at time of resale. Since EVs are direct drive with no transmission and few moving parts, there is little reason to expect a well maintained KNDI EV to depreciate much with the expensive battery taken out of the equation. But this "total" solution has not come without sacrifices to KNDI and its shareholders.
KNDI sells its EV's mainly in two formats; QBEX without a plug; and without QBEX and just a plug as TSLA does. What makes KNDI's two minute or less exchange possible is it's also patented Side Slide battery compartment which is located under the rocker panels between the front and rear wheels. As you can see from this video; robotically the physical battery exchange for both sides only takes around 30 seconds. But even better; temporary manual QBEX stations can be set up in a matter of hours after which a manual exchange only takes around two minutes. And to eliminate the EV inevitable fear of running out of juice while stuck in traffic, a toll free dial up mobile solution is provided by State Grid which will also swap out the battery in two minutes once on location as you can see in this news video clip of the mobile unit in action.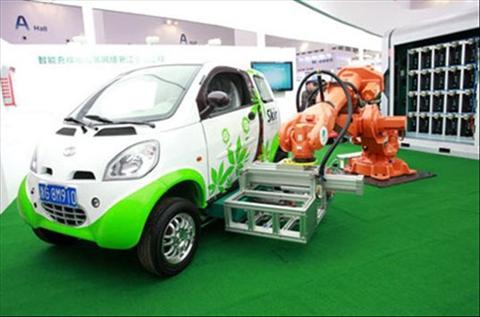 KNDI KD5011 EV at State Grid Booth- Hainan EV EXPO
KNDI's CEO made the decision a few years ago to "sell" its unique concept to the PRC Government and its State Owned Enterprises as the "right" solution for China to hit its 2008 self-proclaimed goal in being the World's leader in EVs by 2015. No question, what KNDI has developed here is a text book case of a "Disruptive Innovation". By its name alone, one should infer that this was going to cause disruption to the status quo who doesn't like change. For if KNDI were successful in its mission of making QBEX the Standard for EV charging, it could require all major automakers billions of dollars in retooling their EV's which to date have primarily been internal combustion engine (NYSE:ICE) cars that were converted to electric. It took all of the political capital, brilliance and cunning of KNDI CEO Hu, to succeed on this mission; and succeed he has.
As I wrote in a my last Seeking Alpha article Sept. 28, 2012 titled; "PRC 'Policy Paper' Favors Kandi Technologies EV Program For All Of China" which got little coverage (and no stock reaction) at the time due to other news, KNDI's mini-EVs and its QBEX became China's EV "Golden Child". For brevity here, I am not going to dig deep into what happened as it can be read in my prior article, but as the title implies, KNDI's "total" EV solution of a small "Peoples EV" for the masses, powered by its proprietary QBEX program put into a leasing and rental concept also designed by KNDI, was ordained by the PRC Government and State Grid as the "Preferred Mode" for EV's throughout all of China.
Supply Chain Vertical Integration- Both Founders would be the pride of any business school professor in the way they have vertically integrated their supply chain. A safe, but usually expensive way to significantly increase profit margins and assure a steady flow of finished products delivered on time.
TSLA not only assembles its EVs, but also makes its own complete powertrain, which it has been able to sell modified versions to likes of Toyta (NYSE:TM) and Daimler allowing early generation of fast cash flow while developing its own line of EVs. No question, very strong credibility builders. TSLA also makes its own battery packs.
KNDI took the vertical integration a few steps further when they acquired certain EV specific divisions from a larger China conglomerate which make EV, motors, air conditioners, controllers and generators in late 2012. These Divisions were conglomerated into a nearby, offsite wholly owned subsidiary of KNDI called Yongkang Scru (YS). In Q1, 2013, YS has now begun making these integral parts for KNDI's stable of EV's, leaving less than 15% of the simple low cost EV's future sales revenues outside of KNDI's top line. This still gives KNDI a significant advantage over TSLA who still must rely on numerous outside vendors for all the "bells and whistles" on its luxury sedans. In Q4, YS made its first significant revenue contribution to KNDI by providing some 12% of KNDI's record $26+ million in sales for the quarter; however, this was from a liquidation sale of inventoried non-EV generators KNDI received in the acquisition. YS will continue to sell to outside manufacturers in addition to internally providing KNDI with its needs. As EV sales volume begins to pick up, YS's contribution should easily allow KNDI's gross margins to well exceed 30% with net to earnings over 20%.
High Profile Strategic Partners and Collaborations- Both companies have early-on partnered up and collaborated with globally recognized names which add impressive credibility to these young start-ups. In TSLA's case, due to its insatiable need for early capital, they also impressively enticed these partners to be early investors in the Company. KNDI, due to its historically profitable legacy business generating sufficient cash flow to develop several EV models, paired with the fact that several of its strategic partners are government or quasi-government entities, elected to protect its independence and not seek equity partnership investors.
TSLA- As mentioned above, high profile partners include Toyota, Daimler along with Panasonic who is TSLA's lithium battery cell provider. Each of became early shareholders of TSLA. In addition, TSLA has a collaboration with Freightliner for its new electric van which uses TSLA batteries.
Aside from TSLA having acquired Toyota's abandoned Fremont, California's Nummi plant in 2010 and its investment in TSLA's stock, Toyota tapped TSLA for the powertrain and battery used in its new RAV-4 EV which began sales in early 2012. To date this EV can only be purchased in California. While well received as you can see from this article, there remains some question as to whether Toyota will mass manufacture the vehicle for all of the US.
Daimler's initial relationship with TSLA has ended with the change-over from their second to third generation "Smart for two" EV which some 2000 sold. Daimler's new third generation Smart for two is not using the TSLA drivetrain. However, Daimler's Mercedes Benz division is breathing some new life into the relationship with TSLA providing the drivetrain for its new Mercedes B Class Electric Drive.
KNDI's Partners and collaborations while not immediately recognizable to most US investors are unquestionably A+ Rated in its immense China target market. While it is great for KNDI to have such named partners from a credibility point of view, what's of most importance is their contribution to the partnership is complementary in enhancing and expanding KNDI's overall business throughout China. Kandi's partners extend from the PRC Government through its State Owned Enterprises like State Grid and Aviation Industry Corp of China, both Fortune Global 500 companies; to some of the most prosperous, populace and EV friendly Provincial Governments like Zhejiang, Shandong and Hainan; to direct automaker competitors like Zoyte Auto a multi-billion dollar auto and auto parts maker who's Model EV2008 was the first EV approved in China by the Ministry of Industry and most impressive, China s #1 passenger car maker, Geely Auto. (link to Geely March PowerPoint)
A very important issue, which is likely "foreign" to US investors, is China's territorial rules regarding sales of EV's by China automakers in China. Effectively; "If you don't have a major manufacturing facility in the province, you cannot participate in the local subsidy programs". Since the local EV subsidies usually make up around half of the total EV subsidies, this is a point to not take lightly.
While I did mention State Grid earlier in this report, it is important to expand on the sheer magnitude of KNDI's accomplishment of partnering up with SG. To put the mass of this operational partner in perspective, it is equal in size to three times the total of all of the US Electric Utility Companies combined.(SG Promo Video in English) It is unimaginable to comprehend a better partner than the Electric Utility company anywhere in the world if you are going to attempt to develop Electric Vehicles. KNDI signed its first Joint Venture agreement with State Grid in the City of Jinhua on October of 2010 when KNDI was a fledgling, almost unknown EV maker in China. (8K) This was the beginning of SG's roll out of KNDI specific QBEX stations in Zhejiang Province. Short of two years later, an agreement was signed on July 16, 2012 where SG would directly participate with KNDI in a 20,000 Hangzhou EV Leasing program by purchasing and providing the necessary batteries to not only cover all of the EV's but an additional amount sufficient to have charged batteries ready to service QBEX customers. As mentioned above, SG would use these spare batteries collaterally in their Smart Grid, V2G program.
Partners, Aviation Industry Corp of China and its subsidiary CALB has already been covered in the early part of this writing.
Local Governments of Zhejiang Province (Ranked #5 by GDP per capita in China) and the cities of Jinhua and Hangzhou have agreed to join the PRC and provide an approximate equal amount of subsidies (when they resume) as provided by the PRC for both the outright purchase of KNDI EV's as well as provide subsidies to the leasing companies who purchase the KNDI EVs for the 20,000 EV Hangzhou (Zhejiang Province) leasing program which enable all of the free features afforded to the lessees. In August of 2012, at the 2012 Green Expo, KNDI and the City of Hangzhou unveiled the program. Here is a TV news clip on the event where for the first time, KNDI presented their two newest EV's, a 5 door and a van. An exceptionally good and easily understandable China review of this program can be found on this translated China Auto Network article. Hangzhou is also the first city to approve and assist in developing, KNDI's innovative CarShare program requiring KNDI to build and deliver 100,000 additional EV's within the City over the next four years. Specifics will be discussed in the CarShare section of this report in Part 2 of this article.
KNDI's two current manufacturing facilities are in Zhejiang Province where current annual capacity in Zhejiang is 130,000 EV with its existing facilities expandable to as many as 600,000 annually as will be explained later in this report.
Shandong Province, which has emerged as one of the most populace and affluent Provinces in all of China, and its City of Weifang has invited and KNDI has accepted an invitation for KNDI to the following on July 23, 2012:
In order to gain market position for Kandi EVs in Shandong province and receive the support from the local government, upon the invitation of Weifang Development Zone, Kandi Vehicles has discussed and executed the framework agreement with Weifang Development Zone on July 13, 2012 after extensive discussion and negotiation between the parties. The main provisions of the framework agreement are as follows:
The Project is invested by Kandi Vehicles. The annual revenue of the Project is expected to be approximately RMB3 billion ($500 million USD) when it reaches its full capacity.
Weifang Development Zone will nominate the Project as one of the key projects to be supported in Shandong Province and will try to receive support for this Project under the provincial government's preferential policies.
Weifang Development Zone agrees to provide Kandi Vehicles 500 mu (approximately 333,300 square meters) construction land for project use at a favorable price.
Upon the completion of the Project, Weifang Development Zone will work actively to gain national, provincial and municipal supportive policies for the EV industry, and fully promote the use and acceptance of Kandi EVs in Shandong province. In principle, the government will have a special supportive policy for no less than 20,000 EVs every year.
The Project will receive local government tax incentive and preferential treatment.
The entire project is expected to be completed within 2 years as soon as Kandi Vehicles obtains the land-use right.
Hainan Province, while the smallest Province in China by land mass, it is China's southernmost province located on a peninsula that juts into the South China Sea; therefore it has been "coined" the Hawaii of China and is a major tourist destination point. Hainan has dedicated itself to be the "showcase for Green environment in China". It was the recent site for this year's host Country China's "2012 Global Conference On New Energy Vehicles" which began January 10, 2013. Approximately 160 auto companies from China and oversea attended the conference, and over 40 new-energy vehicles were showcased at the conference. In addition, about 1,000 top industrial executives and government officials from all over the world took part in the business forum and around 100 mainstream media and press including Reuters, Bloomberg news and CCTV reported throughout the conference. This world conference prominently showcased KNDI to the World of EVs by having is CEO, Hu Xiaoming deliver the opening keynote speech. (Link to the Translated Speech) And Mr. Hu was selected for good reason in that KNDI had just recently on been invited and accepted November 5, 2012 a very similar expansion offer from Hainan Province as they received from Shandong Province. Details as follows:
Having conducted months of thorough due diligence and rounds of negotiation since Kandi Technologies was invited to Hainan by both provincial and city governments, the Company has reached this Framework Agreement with Wanning City. Some of the main contents of the Agreement include the following:
The Hainan manufacturing facility will be built by Kandi. When fully completed and reaching its ultimate production capacity, the facility is expected to generate up to RMB 3 billion of annual revenue;
The Wanning City will list this Kandi project as a top priority and apply for various preferential policy supports from the province government in Hainan;
The Wanning City will provide Kandi up to 500 mu (or about 82 acres) of land at a favorable price to build the manufacturing plant;
Upon the initial investment by Kandi, Wanning City will work actively to gain national, provincial and municipal supportive policies for the EV industry, and will fully promote the use and acceptance of Kandi EVs as well as its business model in Hainan province. In principle, the government will have a special subsidy policy for no less than 20,000 EVs every year;
Kandi will receive favorable tax incentives and rebates from Wanning City;
Kandi agrees to complete the construction of the manufacturing base within two years of obtaining the favorable land-use rights.
Sept. 28, 2012, Zoyte Auto and KNDI announced collaboration on a recently approved mini-EV which would be manufactured by KNDI, the JNJ6290EV which is almost identical to KNDI's KD5011 lithium battery car with the only difference being this EV is slightly faster than the KD5011. While this EV can be used in the Hangzhou 20,000 EV program, any of these cars sold by KNDI in this or any other program would only require KNDI to pay 300 rmb ($50 US) per car to Zoyte as their share. Zoyte, who has a dealer network, would additionally be allowed to purchase the car at a dealer discount to market within its own network.
Part 2- This article will continue on in Part 2 opening with # 1 domestic passenger automaker Geely Auto selected KNDI as a 50-50 Joint Venture partner to lead Geely's entrance into the China EV market, and then continue on with more than a dozen head to head comparisons with TSLA to include financial.
Disclosure: I am long KNDI. I wrote this article myself, and it expresses my own opinions. I am not receiving compensation for it (other than from Seeking Alpha). I have no business relationship with any company whose stock is mentioned in this article.