This is the 3rd edition of the weekly series called The Weekly Dow (for 1st and 2nd edition, click here and here). This week, we will look at the five highest-profit margin stocks in the Dow Index Industrials Index (NYSEARCA:DIA). Remember though that high-profit margins are a blessing and a curse. On one hand, companies that deliver high profit margins usually means they are a) delivering true value add that consumers recognize and will pay up for, b) managing operating expenses well to drive results in the bottom line, and c) are able to funnel internally generated profits and cash flows toward maintaining a lead and generating future growth. On the other hand, when you have high profit margins, it can be difficult to sustain those types of margins going forward as you become bigger and bigger. Look no further than what happened to Apple (NASDAQ:AAPL) as an example of this concern (click here for Editor's Pick article on Apple's margin issue).
The 5 Highest Net Profit Margin Stocks
As of April 23, 2013, the 5 stocks with the highest 2012A net profit margins are Microsoft (NASDAQ:MSFT) with 31.4%, Pfizer (NYSE:PFE) with 27.9%, Merck (NYSE:MRK) with 24.8%, JP Morgan (NYSE:JPM) with 24.0%, and Intel (NASDAQ:INTC) with 24.0%.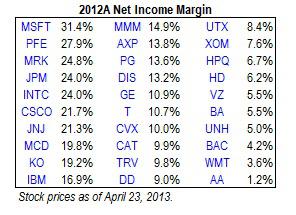 Microsoft: As a software company, the net margins for Microsoft are not surprising (typically software companies will have 65-70% gross margin and 25-30% net margins). Recently, ValueAct Investment made a $2 billion investment in Microsoft. Note however, the move by Microsoft into lower margin consumer product hardware (Surface tablet), could negatively affect overall margins.
Pfizer and Merck: Pharmaceutical drug makers are similar to software companies, where they too invest significant R&D to develop products that, if successful, will command strong margins (as the reward for the risk of investing in R&D). The constant concern for Pfizer and Merck is can they continue to develop new drug products in their pipeline, that will replace existing drugs as they come off patent protection.
JP Morgan: JP Morgan is one of the best-performing banks. Its size and diversified revenue stream (mortgage, corporate loans, credit card, advisory, trading, wealth management) helped it navigate the financial crisis with resiliency. Having said that, financial companies are one of the most difficult sectors to truly analyze. There's just so many assumptions that go into the financial assets (products they've invested in) on their balance sheet. If any of those assumptions are wrong (like appropriate default rates for MBS products in 2007-2009), then look out for significant write-downs on those asset values.
Intel: Intel's high margin is primarily due to its dominate position in microprocessor units, or MPUs, with over 80% market share. Intel's margin story is similar to Cisco (NASDAQ:CSCO), which also dominates its market (switches and routers) and has 21.7% net margins. The concern on Intel is as PC demand slows and consumers switch to tablets/smartphones, will Intel eventually be as dominant in mobile chips as it has been with PC chips.
Dow Jones Operating Metrics
Besides looking at current net profit margins, it's helpful to look at what analysts are projecting for margins going forward. For example, Microsoft's net margins are expected to decline from 31.4% to 29.9% from 2012-2014. Also, companies with current low margins like Alcoa (NYSE:AA), are projected to increase their margins from 1.2% to 3.6% from 2012-2013.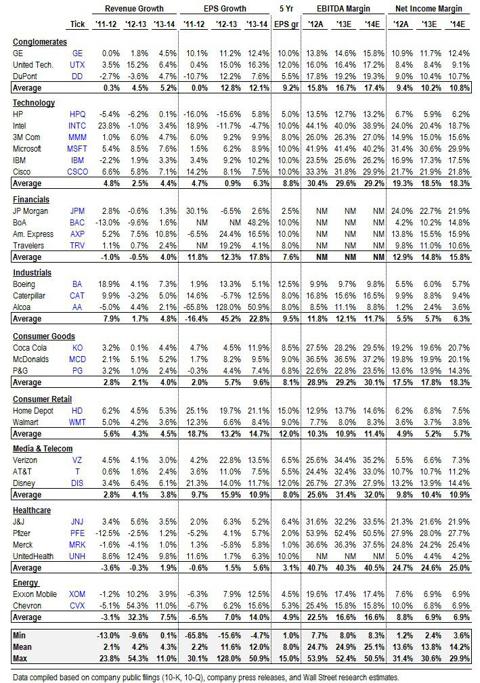 Dow Jones Valuation Multiples
As of April 23, 2013, the Dow Index average multiples are the following: 13.8x 2013E P/E, 12.3x 2014E P/E, and 2.4x 2013E P/E-to-Growth. The average dividend yield is 2.6%, with an average dividend payout ratio of 36.2%. The average P/B is 3.5x.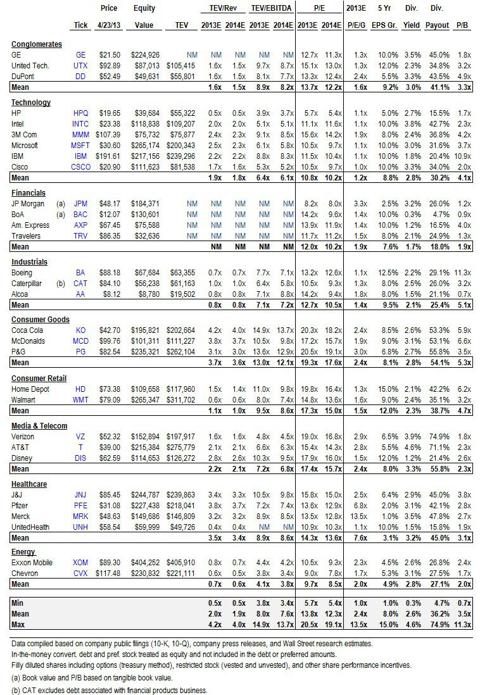 Note: The Dow Jones Industrials Index includes Verizon (VZ), AT&T (T), General Electric (GE), United Technologies (UTX), DuPont (DD), Exxon (XOM), Chevron (CVX), Johnson and Johnson (JNJ), Pfizer , Merck , Coca Cola (KO), McDonald's (MCD), Proctor & Gamble (PG), Hewlett-Packard (HP), IBM (IBM), Intel , Microsoft , Cisco (CSCO), 3M (MMM), Boeing (BA), Caterpillar (CAT), Alcoa , Home Depot (HD), Wal-Mart (WMT), Disney (DIS), UnitedHealth (UNH), American Express (AXP), Bank of America (BAC), JP Morgan and Travelers (TRV).
Disclosure: I am long AAPL, AA, MCD. I wrote this article myself, and it expresses my own opinions. I am not receiving compensation for it (other than from Seeking Alpha). I have no business relationship with any company whose stock is mentioned in this article.