The apparel store industry has been booming since 2009 (SPDR Retail ETF is up 237% from $21 to $70). Most companies in the industry are quoted at all-time highs and it seems that these companies still have a lot of growth in store. If I was to buy one apparel store company today, which one would it be? One should not forget that the apparel store industry is very competitive and that fashion trends cycle quickly. One mistake could result in fewer customers and a drop in earnings. The industry is cyclical and very sensitive to economic slowdowns.
To minimize the risk on actual capital loss, I only want to own a major player with a strong track record in earnings and dividends growth.
I have selected 4 big apparel store companies to start my search: Ross Stores (NASDAQ:ROST), Gap (NYSE:GPS), Limited Brands (LTD) and Nordstrom (NYSE:JWN). All four have market capitalization above $10 billion and are American.
To start my thesis I will compare the four companies by their latest quarterly figures, current valuation, profitability, efficiency, dividend history and balance sheet strength. Then I will make a projection for future earnings for all four companies and will conclude with which one I would buy and why.
Last quarter figures



Notice that Gap is clearly the strongest performer as it has made its EPS grow by 72.09% compared with the same period last year. Nordstrom comes second with an increase in EPS of 27.27%. Limited Brands performed 'worst' with an increase of 19.83%.
Current valuation



The reader should note that Limited Brands has no book value (in fact it has a negative one) and no free cash flow but is paying a 2.48% dividend to its shareholders. Not a healthy situation. Limited's extra dividend payouts ($4 in total last year) have especially been good for its board, as they own 7% of Limited's stock, but has destroyed value for its normal shareholders.
Also notice that Ross Stores has a rather high valuation compared with its peers, it has a price-to-book ratio of almost 8 and a price to free cash flow ratio of 32.
Profitability



Ross' profitability (ROA, ROE and ROI) is remarkably stronger than its peers. Net profit margin is almost the same for all companies but Limited Brands has the highest gross margins.
Balance Sheet Strength



(click to enlarge)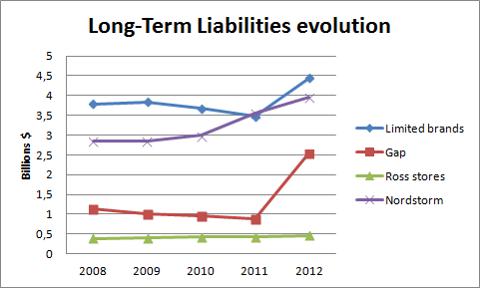 As seen above, Ross Stores has the least amount of debt (Debt/eq = 0.08) and has been able to keep its long-term liabilities beneath 500 million dollars for four consecutive years. Gap's long-term debt has been decreasing year over year but in 2012 it booked capital lease obligations of $986 million, which made its total long-term liabilities increase to 2.5 billion. Its balance sheet remains strong though with a current ratio of 1.70. Limited Brands' debt remains high as it currently has $4.5 billion long-term liabilities.
Efficiency
(click to enlarge)



Ross Stores is clearly much more efficient than its competitors when it comes to revenue/employee and net income/employee. It only has 16.000 employees and reported almost $10 billion in revenue (comparison: Nordstrom has $12 billion in revenue, $2 billion more than Ross, but needs almost four times more employees to achieve it).
Dividend history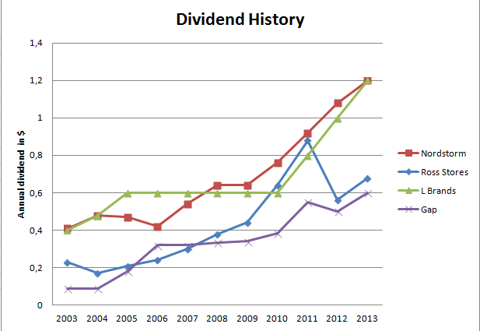 *I have excluded the special dividends payed out by L Brands. Only normal quarterly payments are included
In 10 years, Gap's dividend increased 58% annually.
L Brand, Nordstrom and Ross's dividend increased +-20% annually.
Payout ratios:
Ross: 15.88%
Gap: 21.07%
L Brands: 192.43% (=unhealthy)
Nordstrom: 29.93%
Notice that Gap and Ross still have a payout ratio way below 30%, indicating significant room for dividends to grow in the future.
Projected earnings growth
For this part, I have used the consensus expected earnings growth for our four companies to get an idea of future EPS.


As seen above, Gap (+57%) and Nordstrom +(60%) would have most upwards potential if all companies would quote at the same P/E ratio in the future (in this case 12). This will probably not be the case as growth will slow down for some companies and prospects will stop looking as great as they look now. Though, this gives us a proper look on which company is cheaper today.
Year-to-date stock performances
(click to enlarge)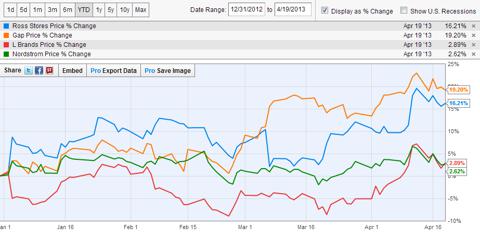 The strong performance of Gap during its Q1, has clearly reflected into an higher share price. The stock gained almost 20% since the beginning of the year. Remarkable: Nordstrom (which made its EPS grow 27% during Q1) gained only 2.62%.
Conclusion
Unlimited Brands has a very weak balance sheet and is neither cheaper nor more efficient than its peers.
Ross seems the most effective company with very strong profitability figures and a very strong balance sheet. Which is reflected in a remarkably higher valuation compared to its peers.
Gap and Nordstrom on the other hand have both decent growth figures, decent profitability, a respectable balance sheet (Nordstrom has a Debt/Eq ratio > 1, but has $1.28 billion in cash so this will not be a problem) and are both priced at a very reasonable valuation (around 12 times earnings).
If I had to buy one of these right now, I would buy Gap as it is seeing higher growth figures, less debt, a higher profit margin and a lower payout ratio than Nordstrom.
Disclosure: I have no positions in any stocks mentioned, and no plans to initiate any positions within the next 72 hours. I wrote this article myself, and it expresses my own opinions. I am not receiving compensation for it (other than from Seeking Alpha). I have no business relationship with any company whose stock is mentioned in this article.
Additional disclosure: The opinions in this document are for informational and educational purposes only and should not be construed as a recommendation to buy or sell the stocks mentioned or to solicit transactions or clients. Past performances of the companies discussed may not achieve the earnings growth as predicted. The information in this document is believed to be accurate. All the project earnings in this article are not accurate. They are a result of the assumptions of other analysts. Under no circumstances should a person act upon the information contained within. I do not recommend that anyone act upon any investment information without first making an analysis yourself or without first consulting an investment adviser.