Sandisk (SNDK) is one of the biggest memory companies in the world with a dominating presence in NAND memory. The company is a vertically integrated memory producer that is present in all parts of the NAND memory supply chain from chip production to retail sales. Sandisk also has one of the strongest patent portfolios in the technology industry, with over 4,400 patents. The technology industry is increasingly using NAND memory, which is improving the investment case for SNDK. The shift towards mobile devices has increased the demand for flash memory tremendously. With the PC industry also starting to use more NAND memory, the upward trend for SNDK is set to continue. NAND memory prices have increased by ~30% in the last few months, even as demand is set to outpace supply growth. Samsung (OTC:SSNGY), which is the world's largest producer of NAND memory, is seeking to source supplies from Toshiba (OTCPK:TOSBF) for its new S4 smartphone. SNDK's stock has fallen after the recent quarterly results, giving an opportunity for investors to invest in the stock.
Why I like Sandisk
1) Industry Consolidation - The memory industry has seen the exit of numerous companies in the last couple of decades, and only 4 companies with meaningful capacities are left. In DRAM, there are only three big companies, of which two are Korean (Samsung, Hynix) while the other one is American (Micron (NASDAQ:MU)). In NAND, the market is dominated by Sandisk - Toshiba and Samsung with Micron and Hynix having minor capacities. The number of companies in the memory industry has continued to decline since the 1990s with the exit of Intel (NASDAQ:INTC), Texas Instruments (NYSE:TXN) and most of the Japanese conglomerates. The last few years have been even more brutal for the industry with the bankruptcy/ takeover of some of the biggest remaining players like Spansion, Qimonda and Elpida.
2) Memory Market is on a cyclical upswing - The memory industry goes through periodic up and down cycles. After a tough last two years, the memory market seems to be on a strong upswing with both DRAM and NAND prices rising. The sales of tablets and smartphones are surging, leading to a growing demand for flash memory which is used by these computing devices.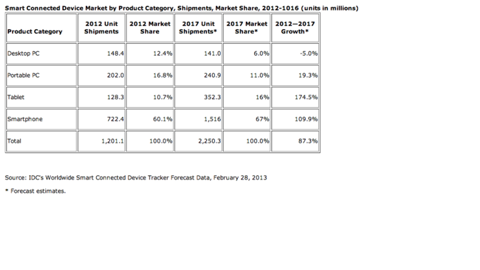 3) Enterprise and Consumer Solid State Drive [SSD] Adoption - Sandisk is one of the biggest players in the SSD industry, and is growing strongly as consumers and enterprises increase their adoption of solid state memory products. SNDK's sales to this segment more than tripled in the current quarter.
Starting with the specifics of the first quarter, I'm happy to report that combined sales of Client and Enterprise solid state drives tripled year-over-year. For the client market, we have begun revenue shipment of our new 19-nanometer SSDs to the retail and B2B channels. We are also in various stages of OEM customer qualifications with our 19-nanometer Client SSD, and we expect to begin revenue shipments late in the second quarter.
4) Beneficiary of the Apple (NASDAQ:AAPL) - Samsung rivalry - Apple has a very awkward relationship with Samsung. Samsung is Apple's biggest competitor in smartphones and tablets, while at the same time, is Apple's biggest component supplier. Apple is already trying to shift its application processors from Samsung to TSMC (NYSE:TSM). Currently Toshiba-Sandisk is the only major supplier of NAND memory apart from Samsung. Micron is more of a DRAM player rather than a NAND supplier.
5) NAND prices are going up - NAND memory prices have been going up sharply in the last 6 months, as major suppliers are not building capacity fast enough to meet demand. The memory industry is seeing more discipline due to fewer players. The price increase for NAND memory chips have climbed by 6-12% in April
In addition, the fast-growing tablet market in China plays another major consumer of total NAND flash memory, the observers pointed out. China's local white-box tablet manufacturers are aggressively sourcing additional NAND flash chips, acknowledging the market will boom in 2013, the observers said.According to DRAMeXchange, early April contract prices for 64Gb MLC chips remained high at US$5.34 on average, while those for 32Gb MLC chips rose 6.1% to US$3.14. Prices for 32Gb TLC parts jumped 12.4% to US$3.62 on average in the first half of April.
6) NAND Memory shortage - Sandisk-Toshiba is the world's second largest NAND memory producer and will benefit from the increasing adoption of Solid State Drives in consumer devices. The increasing demand for tablets and smartphones is boosting the demand for NAND memory. The prices for NAND are already up in Q412. Samsung is reportedly buying memory from its competitors due to the memory shortage.
Samsung Electronics reportedly has expanded the purchase of memory products from outside, including the purchase of mobile DRAM chips from Elpida Memory as well as NAND flash and eMMC devices from Toshiba.Samsung's own supply of memory products is already falling short of demand, including that for its Galaxy-series smartphones and tablets, industry sources have claimed.
7) One of the largest spenders on NAND memory - There are not many companies that have the capacity to build semiconductor fabs that cost $4-5 billion these days. Sandisk along with Toshiba are amongst the top 10 semiconductor spenders in the world. Both the companies invest exclusively on building NAND fabs unlike Samsung, Hynix and Micron, which spend money on both NAND and DRAM memory.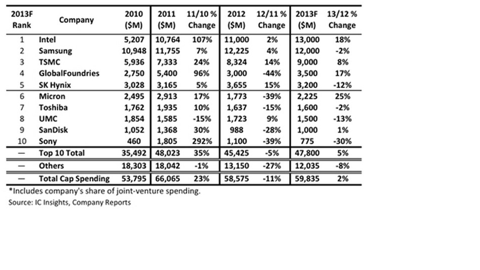 8) Patent Power - Sandisk has one of the most powerful patent portfolios in the technology industry. The quality of SanDisk's patents is ranked ahead of industry heavyweights like Qualcomm (NASDAQ:QCOM) and Microsoft (NASDAQ:MSFT). IEEE Spectrum has ranked Sandisk at No.4 in its patent portfolio scorecard.
Company (Patent Pipeline score)
1. IBM (4707.2)
2. Samsung Electronics (3976.5)
3. Google (3538.5)
4. SanDisk (3168.9)
5. Qualcomm (2745.8)
6. Abbott Laboratories (2377.2)
7. Johnson & Johnson (2343.0)
8. General Electric (2210.1)
9. DexCom (2200.6)
10. Microsoft (2086.7)
SNDK made over $100 million from royalties and patent license in the current quarter.
Our license and royalty revenue was over $102 million, reflecting a seasonally strong Q4 for flash sales and also benefiting from higher one-time payments from system licensees, partially offset by a continuing decline in royalties related to the card market.
9) Strong Balance Sheet and Cash Flows - Sandisk increased its gross cash and marketable securities in Q1 by almost $500 million to nearly $6.2 billion, bringing net cash to over $4.2 billion. The company generates a significant amount of revenue from patents. These are very high quality revenues which go directly to the bottom line without any major corresponding costs. The company will keep generating strong free cash flows as long as the NAND memory industry keeps growing. With IDC projecting strong growth in tablet and smartphone shipments in the next 5 years, SNDK should keep growing at a rapid pace.
10) Margin Improvement - Sandisk's gross margins have been improving in the last few years, and they are expected to reach 43% (midpoint of 42-44% guidance) in 2013, as the company rapidly reduces costs. The company is already moving production to the 19 nm process node from 24 nm node and plans to move to the 1Y node by the end of the year. The company is expanding bit capacity through productivity improvements.
We have decided not to add new wafer capacity in Phase I of Fab 5 during the remainder of 2013. Instead, concentrating our efforts on completing the remaining 19-nanometer transition, beginning the 1Y nanometer transition and making continued improvement in fab productivity.
Risks
a) Stock Performance - Sandisk has climbed from ~$5 during the depths of the Lehman crisis to ~$52 now, driven by the company's improving performance. The stock now trades at 10% below its all time peak of ~$58 reached in early 2013.
b) Supply growth constrained - Sandisk is limiting increase in NAND memory capacity to keep pricing in check. The stock fell after the recent quarterly results, as analysts were disappointed that the company was not increasing capacity. Management said that SNDK's bit growth capacity will be 30-40% lower than the growth expected for the broader industry in 2013. However, I view this development as a positive one because it shows the memory industry is becoming more intelligent and disciplined. During the previous peaks, memory companies would go overboard in their capacity expansion leading to huge losses during downturns.
c) Technology Risk - The reduction in process geometries which leads to cost reduction and bit growth is becoming more complex and capital intensive. The shift from the 19 nm process node to 1Y node and 1Z node is expected to be highly capital intensive. The technology roadmap towards 3D memory technology is also hazy at this point of time. Other competitors in the semiconductor industry like Intel , Samsung and TSMC are much larger and spend more on R&D. If SNDK fails to keep up with technology developments, then it might get priced out of the memory industry.
Valuation
SNDK is not expensive with a P/S and P/B ratio of 2.5x and 1.7x respectively, with a forward P/E of ~12x. The company has seen a rapid growth in sales and earnings in the last 5 years, but valuation multiples are still cheap. The recent pullback in stock price provides a good opportunity for investors to get into a secular growth story.
Summary
I think that Sandisk will continue to benefit from the technology industry shift towards mobile devices. The consolidation of the memory industry is helping reduce the cyclical nature of the industry. Sandisk is one of the strongest memory companies with a strong patent portfolio and presence across all parts of the memory supply chain. Sandisk also has a strong presence in Solid State Drives which are seeing increasing adoption by Enterprises and retail consumers. The usage of SSDs will keep expanding in the next 5 years, which should benefit Sandisk. I think that investors should look to start building a position in SanDisk, taking advantage of the recent stock pullback.
Disclosure: I have no positions in any stocks mentioned, and no plans to initiate any positions within the next 72 hours. I wrote this article myself, and it expresses my own opinions. I am not receiving compensation for it (other than from Seeking Alpha). I have no business relationship with any company whose stock is mentioned in this article.