Verizon (NYSE:VZ) shares have charged this year and are up 23.6% YTD and 43.34% in the last 52 months. With 94 million retail customers and counting there is no reason to doubt that Verizon is here to stay but, can it stay and/or move past its current valuation?
On a fundamental comparison to Sprint (NYSE:S) and AT&T (NYSE:T), we can easily see Verizon's shares are the current fan favorite.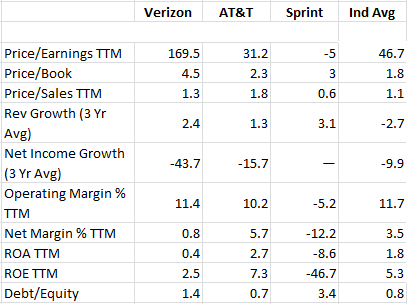 All Article Data Compiled from Morningstar.com
As of right now, Verizon's P/E alone is 5.43 times AT&T's even though its net margin, ROA, ROE and D/E all pale in comparison.
And unfortunately, digging in a little deeper, the following graphs show quite the opposite trends that one would expect to find from a stock on such a strong run:
Net Margins and Operating Margins Under Pressure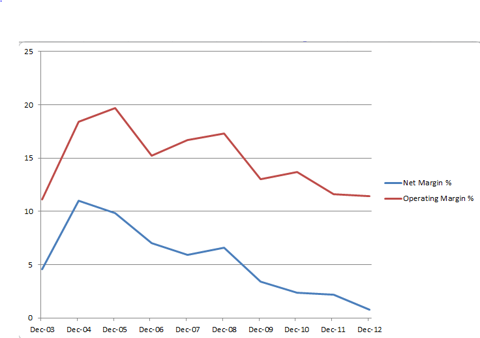 Required Capital Spending Pressuring Free Cash Flow

Lower Returns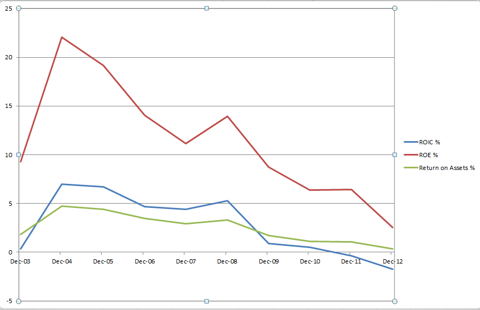 Declining Book Value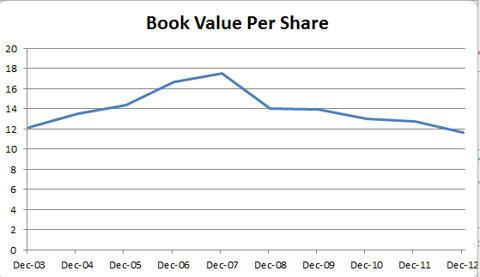 Weakening Capital Structure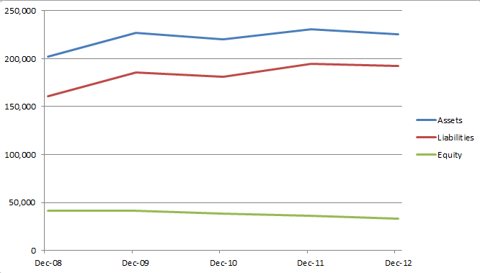 Bottom Line
Verizon shares seem to have gotten a little too far ahead of themselves based on fundamentals. I like the company's future and the dividend but would not be surprised if shares were to pullback from where they currently trade.
One Positive: Dividend per share has increased steadily since 2004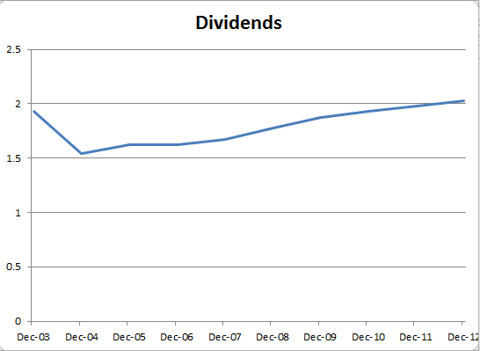 Disclosure: I have no positions in any stocks mentioned, and no plans to initiate any positions within the next 72 hours. I wrote this article myself, and it expresses my own opinions. I am not receiving compensation for it (other than from Seeking Alpha). I have no business relationship with any company whose stock is mentioned in this article.