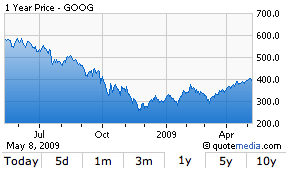 Google (NASDAQ:GOOG) revealed in its 10K that CPC pricing declined 14% YoY compared to Street back of the envelope estimates of a 10% YoY decline. Google attributed the decline to FX impacts as well as advertisers lowering bids on keywords due to the economy.

It is difficult to quantify which of the two had a greater impact on the CPC growth rate, however, the latter of the two is more important and has a direct impact on Google's business model.

From Google:
We believe advertisers managed their advertising costs in response to the general economic downturn….Specifically, we believe that as a result of the general economic downturn, advertisers, in aggregate, have lowered their bids for keywords in response to a decrease in the sales they are able to make per paid click.
The key here is whether this is a cyclical or secular change. If it is cyclical, then this is a positive for Google as advertisers will likely adjust pricing upward as/if the economy recovers. If this is a secular change then this adjustment to Google's model is a negative and will impact Google's growth multiple leading to a decline in the stock's valuation.

Initially, I was inclined to write-off the 14% YoY decline as a cyclical event and nothing more. Supporting this is commentary coming out of Time Warner (NYSE:TWX) and New York Times' (NYSE:NYT) (About Group) earnings conference calls that CPC pricing on their respective search businesses actually increased YoY. This was surprising to me given that both Google and Yahoo! (YHOO) reported CPC declines in 1Q09.

Nonetheless, what gives me pause is the precedent secular decline in other ad mediums, namely radio and newspapers. Pricing for those two mediums will likely never recover.

In Google's case, a permanent deflationary scenario in pricing cannot be ruled out, I believe. My Google model and several other Google models on Wall Street have CPC pricing rebounding in 2010. That assumption, I admit, can turn out to be wrong. Given that volume (search queries) has turned out to be relatively resilient in this recession and that Google owns the volume game now, pricing is the one metric I believe should get more scrutiny.