Company Name:
Publicly traded since September 2005
images
Company Background & Description:
Horizon Lines has provided container shipping and logistics solutions since 1956 and accounts for approximately 38% of marine container shipments between the continental U.S and the three Jones Act markets, Hawaii (market includes Guam and Micronesia), Alaska, and Puerto Rico. The company also leases and operates terminals in Hawaii, Alaska and Puerto Rico. In addition, the logistics services Horizon provides include rail, trucking and distribution (though the logistics segment is not currently profitable).
Horizon is currently the only shipping company providing a single comprehensive service to all three contiguous Jones Act markets. Horizon benefits from a competitive advantage by having the ability to serve customers with shipping and logistics needs in multiple markets.
This enables Horizon to negotiate larger volume discounts with inland shippers and enhances operating efficiencies.
Horizon utilizes a proprietary information technology system, HITS, that was introduced in 2000. This tracks information relating to booked shipments and shipments in transport, and also utilizes an online booking system that accounts for approximately 50% of total bookings. This system generates cost savings for customers, which builds strong customer loyalty as it enables better service to customers with complicated shipping and logistics requirements. Horizon also implemented radio frequency ID tracking in 2007 enabling real time shipment tracking throughout all stages of transit.
Horizon currently has 21 ships in its possession with a total carrying capacity of 44,656 TEUs (twenty-foot equivalent units). 16 of Horizon's 21 ships are American made and Jones Act eligible; 13 are owned by Horizon and 3 are chartered, with charters expiring in January of 2015. The remaining 5 ships are transpacific with charters expiring between November 2018 and April 2019. Horizon also owns 5,397 containers of various size and type, and leases 15,393.
Of the approximately 40 Jones Act vessels in operation today, Horizon controls 16; the remaining vessels are distributed amongst Matson (Alexander & Baldwin which serves Hawaii), Sea Star (Puerto Rico), and T.O.T.E. (Alaska).
Horizon Lines is an attractive investment opportunity primarily because it is a Jones Act shipper. The Jones Act, also known as the Merchant Marine Act of 1920, is a federal statute that regulates maritime commerce in U.S. waters and between U.S. ports; it also contains provisions regarding seamen's rights. Jones Act shippers must utilize U.S. built ships, deliver to Jones Act ports, be majority owned by a U.S. corporation, and the crew must be a minimum of 75% U.S. citizens. Foreign repair work of U.S. flagged vessels is also limited to 10% foreign built steel weight, restricting ship-owners from refurbishing ships at overseas shipyards.
There are currently only a few U.S. shipbuilders which construct a very small portion of the world's ships. Generally the only ships commissioned with U.S. shipyards are those used in U.S. shipping. The cost of construction at a U.S. shipyard is approximately double that of international shipyards and the time to delivery is in excess of 3 years.
Current Operations:
A significant portion of Horizon's cargo is non-discretionary items and other goods vital to the recipient economy. While this does not completely insulate Horizon from cyclic downturns, it does mitigate the severity.

Investment Thesis:
Strong cash flow generation capability:
Horizon generates attractive free cash flow relative to its current capitalization with an average 11.5% EBTIDA margin over the past 5 years. Historical capex is between 2% and 4% of sales, with estimated maintenance capex at 2% of sales.
Revenue and cash flow protected by barriers to entry:
Horizon is a Jones Act certified shipper. The process to become a Jones Act shipper is capital and time intensive. It takes a significant capital investment to purchase American made ships (at approximately twice the cost of foreign built ships), and the lead time is at least a couple years after a builder is located. The Jones Act serves to protect Horizon from the current surplus of shipping capacity worldwide (though due to the current downturn there is excess capacity in Horizon's trade lanes) by preventing foreign (and non Jones Act domestic) shippers from entering their primary markets.

While Horizon's cash flow margins are not exceptional, they are fair. Cash flow is relatively stable, and the protection provided by the Jones Act makes the company's cash flow more attractive and valuable than unprotected cash flows.
Attractive cargo mix:
A large portion of Horizon's cargo is non-discretionary items (~44%), helping to mitigate volume declines in economic downturns like the current.

Horizon is solely a shipper to the U.S. and its territories. Domestic shipping, while cyclical, is more stable than international shipping.
Customer concentration/mix:
No single customer accounts for more than 8% of sales and the top ten customers account for 33% of sales.

Horizon has a long history with its top ten customers. The company has received multiple service awards, exemplified by their 99% customer retention rate. The average relationship length is 31 years, with the compound annual growth in revenue from the top ten customers exceeding 10%.
Significant pricing power:
Over the last 3 years unit revenue per container has increased 6.7% on average.

In Horizon's most competitive market (Puerto Rico) the company has 3 primary competitors and commands 33% of the market share.
Management and employees have a vested interest in Horizon's success:
Management and employees own 8.6% of the outstanding stock.
Investment Risks:
Antitrust investigation into pricing practices in the Puerto Rico trade lane:
Mitigating factor:

The investigation is still underway so any commentary would be speculative; however, the overhang of uncertainty has been a suppressor of Horizon's stock price. Given that Horizon has good relations with the majority of its customers and provides a valuable service, a substantial fine seems to be a low probability. Even with this uncertainty, the significant margin of safety implied at the current trading price compensates investors for the risk.
Further deterioration in trade lane economies and volume declines beyond current expectations:
Mitigating factor:

Horizon's current plan accounts for 2.5% deterioration in volume compared to the 3.4% volume decline seen in 2008. Even though this is an extraordinary recession, Horizon has an extensive operating history in these trade lanes and knows the economics so declines in excess of 4% seem to be low probability events.

The U.S. Federal Reserve and other world banks are using everything in their power to combat the global recession. The Fed in particular has been engaging in quantitative easing and implemented numerous programs to increase credit flow and stimulate the economy. The Obama administration is also implementing an aggressive spending plan expected to begin in 2009 with maximum spending achieved in 2010. The estimated amount of spending targeted at Horizon's end markets is $10.6 billion (Alaska $1.0 billion, Hawaii $4.6 billion, Guam $48 million and Puerto Rico $5.0 billion). While the expenditures do not guarantee an increase in spending or shipment volumes, it will mitigate the rate of volume decline.
Financials
Historical Financials (in millions except per share data):
Projected Financials (in millions except per share data):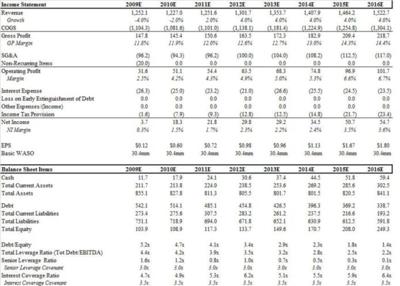 Valuation: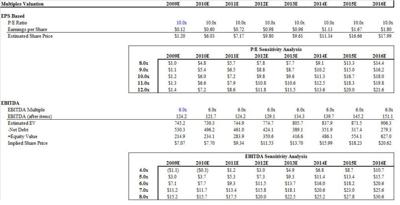 Is it possible to "kill" this company?
Jones Act abolished:

This would pose a significant issue for Horizon Lines as it would open 3 of their 4 primary trade lanes to foreign and non-Jones Act shippers. Due to the current surplus of worldwide shipping capacity this would push down rates in Horizon's trade lanes and reduce profitability.
Mitigating Factor:

It seems highly unlikely the Jones Act would be abolished. It has been in place since 1920 and currently enjoys broad support in Washington. After the events of 9/11, support was further solidified as the Jones Act helps to ensure national security.
Investment Rationale:
Based on the current market capitalization of approximately $182mm ($5.99/share as of May 10th), and using a conservative equity value of $306mm (based on the DCF implied valuation), Horizon Lines appears to be an attractive investment. The current market cap is approximately 60% of estimated equity value, and at the current price provides a 40% margin of safety. The margin of safety is the most important aspect of an investment and in this case a 40% discount seems appropriate given the conservative equity valuation. An investor purchasing Horizon at or below $6 per share offers good prospects of long term appreciation with low risk of permanent impairment of capital.
Horizon Lines has a veteran management team with over two centuries of combined experience, and 28 years experience on average. While this is likely the most severe recession since the great depression, Horizon's management is intensely focused on cutting costs and reducing leverage. Horizon's performance is likely to decline further as the economy struggles, but this decline is more than reflected in the current market price, offering an investor a substantial margin safety and decent prospects of long term capital appreciation.
An alternative investment would be Horizon's convertible debt (essentially a busted convert at this point) with a conversion price of $37.13 (26.9339 shares per $1,000 in principal) and maturing in 2012. Horizon's convertible recently traded at 56 percent of par, offering a 24 percent yield to maturity. Though there is little chance of conversion, the convertible still offers an attractive return while providing further security by being higher in the capital structure.
Supplementary Charts & Information: