In today's modern world of investing, every investor can check their portfolio online and make instant online or mobile trades and choose from so many trading vehicles, that it is hard to even make a decision. There are usually a multitude of ways in which investors can realize their desired investing strategies. The emergence of ETFs based on virtually any asset class, region and risk appetite definitely has helped broaden the selection of options available to average investors. We may take this affluence for granted. However, investing has not always been so easy and flexible. Let's step back into history for a while and imagine for a moment a scenario, although a bit extreme, that we could only choose one stock to buy and hold just that one ticker in our portfolio. Which stock would you choose?
My selection is simple and I didn't have to hesitate even for a second. Within the US publicly traded stock symbols, I would hold Berkshire Hathaway [(NYSE:BRK.A)(NYSE:BRK.B)]. I will explain the main reasons below.
1. Healthy diversification
Warren Buffett's Berkshire Hathaway is an actively managed investment fund with zero management fees. It is very broadly diversified in comparison with any single stock. Why not just buy a broad index fund or an ETF, you might ask? Well, for two reasons, at least. Broad index funds are passive, not actively managed. And those funds that are actively managed usually either have high management fees or under-perform the broad market. Some actually do both at the same time.
Warren Buffett's style of diversification calls for picking the best winners, not necessarily loading the portfolio with dozens of titles just for the sake of false sense of security from illusionary diversification. Numerous studies show that depending on the number of asset classes and other factors, 4-20 titles will actually provide you with the same diversification and volatility protection as 100s of stocks. Warren Buffett once said: "diversification is protection against ignorance, it makes little sense for those who know what they're doing". If you invest in too many opportunities, the top few performers which are your best picks, will be dragged down by the mediocre returns of the 100s of titles and such portfolio will have a minimal chance to beat the broad market. Of course, if the ultimate investing goal for you is to keep up with the broad indexes and not risk any major outperformance or underperformance, then a portfolio consisting of many titles or diversified ETFs, such as the S&P 500 (NYSEARCA:SPY), is likely to achieve precisely your goal.
Berkshire is balanced also from an asset classes' point of view. Most of the companies it holds have low price-to-book value and lots of hard assets which are reasonably priced. It has an abundance of free cash ready to be deployed if an interesting opportunity emerges. Part of the cash is in bonds and Treasuries. Part is used as a safety net should Warren Buffett's trades go against him, especially his very profitable insurance selling in forms of special long-term options deals, selling puts on major indexes, and other smart and safe techniques, which in the long run provide Berkshire with excellent returns even on the cash reserves it holds.
2. No management fees
In a low-growth economy and low-returns bond and stock market, management fees, which usually stay flat, can easily eat 25-50% of all your gains. Berkshire doesn't charge any fees. This can save you anywhere from 0.2 to 2%, based on how high various fees of other funds or investment vehicles are. Obviously, single stocks don't carry any management fees. On the other hand, they don't meet the minimum diversification requirement of holding at least a few different titles.
3. Long history of market outperformance
Berkshire Hathaway averaged an annual growth in book value of 19.7% for the last 48 years compared with 9.3% return of the S&P 500 with dividends included. This is a very impressive performance and although I am convinced that in the earlier decades it was easier to find truly undervalued stocks and opportunities to make abnormal returns. In the last ten years, it has been harder and harder to find such sweet deals which would be large enough to be materially interesting for Berkshire. However, I still think Berkshire will be able to outperform the S&P 500 index, although not by such a high margin.
The stock performance of Berkshire in the last ten years beat the S&P index by approximately 20% if dividends were included in the S&P 500's performance below: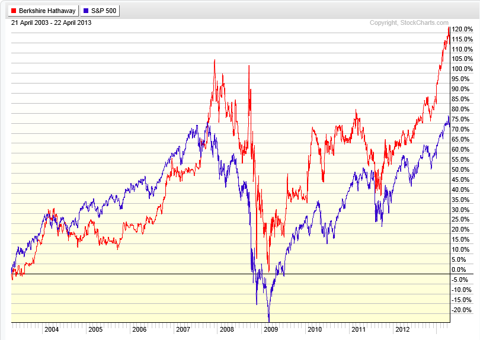 Berkshire's 2012 underperformance of the S&P 500 was only the ninth in the 48 years of Buffett's management. In the last five years, for the first time in history, Berkshire has underperformed the broad S&P market, if you include the dividends, which are not included in the blue S&P chart line below. Dividends included, it is currently a very close tie in the 5-year race. Since Berkshire rallied ahead of the S&P in the last four months, it is winning by a small edge over the S&P.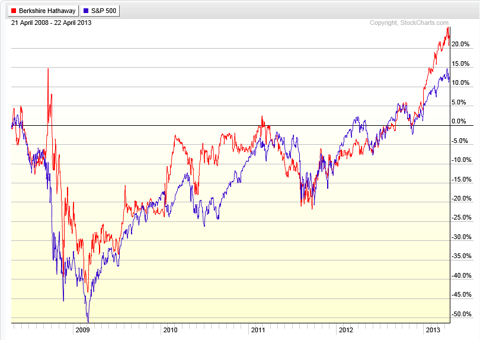 Despite the fact that BRK has only barely beaten the broad market in the last 5 years, I am confident it will outperform again once the current four-year rally slows down a little bit. Investors flock to Berkshire when times are tough. It outperforms in periods of higher volatility and on the way down. So, for example, if the broad market falls by 20%, Berkshire would likely drop by less, probably by around 15%. This is caused by the fact that Berkshire has low beta, low volatility. Its 0.71 beta is lower than the S&P 500's beta of 1. So another way of looking at the Berkshire's performance in the past five years is to say that it achieved the same results as the broad market but with significantly lower volatility and risk.
4. Management
A long-term personal commitment of the managers is another great benefit of Berkshire. For Warren Buffett, Berkshire Hathaway is a primary investment vehicle. Most of Mr. Buffett's personal wealth is directly invested in this company and tied with its success.
Together with Warren Buffett, Charlie Munger, another Ben Graham value investing student, is managing Berkshire. Although Warren Buffett has not named his potential successor, he has over the years hand-picked some of the greatest investment talents who now work in the Berkshire team. All of the many potential candidates are excellent investment managers, for example Todd Combs and Ted Weschler, both of whom have been recently given more responsibility and trust in managing a larger part of the Berkshire portfolio. They also substantially outperformed the S&P index and Warren Buffett himself in 2012. Or Tony Nicely, manager of Geico, Ajit Jain of insurance operations or Matt Rose from the railroads business.
Moreover, Berkshire tries to purchase entire companies or significant stakes in order to directly control the management or manage the companies by Berkshire managers. This gives much higher control to Berkshire over the fate and performance of its companies.
Future challenges and risks:
When we talk about the one company that we would be willing to bet our entire future well-being on, we have to talk about future challenges and risks.
1. Too big to outperform
There are concerns that as Berkshire's net value grows larger every year and more importantly, as it currently generates $1B cash every single month, it will be having a hard time finding large enough great deals to pursue. Managing larger sum of assets could mean sometimes having to accept the second best deals, and not only the best investment opportunities that can be found. This could lower the returns on the new investments made in the future. It's simply getting harder and harder to find large elephants as Warren likes to call these large opportunities, because every other hunter easily spots them too.
2. Berkshire could miss the emerging markets' outperformance
BRK is more focused on domestic US economy than even the average S&P 500 benchmark. This poses a certain risk that if in the future decades the emerging markets, or simply the average "world" grows at a faster rate than the US, then the Berkshire portfolio is likely to underperform the world indexes or the S&P 500. On the other hand, international stocks do possess higher risk and volatility so potential Berkshire underperformance would be countered by significantly lower volatility of the portfolio.
3. Current valuation: Berkshire stock has 36% price premium over its book value.
Personally I am not concerned, however, it is fair to list this argument as well and provide an explanation why I am convinced Berkshire is not overvalued. The companies which Berkshire now owns entirely and which are now integrated as its subsidiaries are valued at book value. If these companies traded independently as their competitors, many would be trading substantially above their book value. Not to mention the fact that Buffett's businesses are very often some of the best performers in their fields so they would even deserve to trade at a slight premium over the price-to-book value of their competitors.
The companies where Berkshire owns just a share and which continue to be publicly traded, should be valued at their actual prices. If you look at some of the largest Berkshire holdings, their current price-to-book values are significantly higher. Let's see the list of top 5 BRK holdings and their current P/B ratios:
These top five holdings of Berkshire Hathaway all have much higher price-to-book value than the entire BRK. Therefore, it is safe to say that the assets held in BRK are undervalued relative to their value outside of this holding structure. The discrepancy will either remain the same, or even increase over time. In fact, Warren Buffett is well aware of the fact that the real intrinsic value of the BRK holdings is much higher than their book value. He also clearly stated this fact, however, didn't disclose by how much exactly. He recently increased the maximum book value at which Berkshire will be purchasing its own shares to 1.2, or 20% above book value. Knowing Warren Buffett likes to have a margin of safety in his investments, Buffett must be convinced that the intrinsic value of the enterprise is higher than 1.2 multiple of book value. At the current 1.36 P/B ratio, Berkshire is still a great buy.
Conclusion
Berkshire Hathaway has experienced a steep rise in its stock price in the last 4 months, gaining 19.3% year-to-date, easily outperforming the S&P 500's 10.5%. This trend indicates that investors are looking for very safe dividend paying stocks as a yield replacement from low yielding Treasuries. Most of the top BRK holdings fit this definition perfectly and their prices have been in a meteoric rise since the start of 2013, helping the BRK rise with them. I am convinced this trend will continue and Berkshire is very well positioned to capitalize on it. Berkshire Hathaway is definitely the one stock which I would buy if I could only own one stock.
Disclosure: I am long BRK.B. I wrote this article myself, and it expresses my own opinions. I am not receiving compensation for it (other than from Seeking Alpha). I have no business relationship with any company whose stock is mentioned in this article.