Market Recap:
The market has started out the week on a positive note with three decent days on the back of solid earnings from a number of companies along with decent economic data from the housing industry and a rally in European markets. Earnings, so far this week, have been pretty solid. We got very good reports from Ford (NYSE:F), Netflix (NASDAQ:NFLX), Coach (NYSE:COH), Dupont (NYSE:DD), and Discover Financial (NYSE:DFS). All companies beat expectations and had decent to solid outlooks for the rest of the year. Housing data was solid as New Home Sales beat expectations at 417K, an increase over last month's reading of 411K. The Fed has also pumped over $6B into the market with their Permanent Open Market Operations, which has also helped the market's upside. The market did not show as much strength on Wednesday as Durable Goods Orders dropped over 5% in the month of March.
The Dow Jones (NYSEARCA:DIA) has risen over 1% percent already this week, along with the S&P 500 (NYSEARCA:SPY).
Stocks To Trade:
Today, we are looking at bullish positions in Baidu (NASDAQ:BIDU) and Nike (NYSE:NKE) as well as a bearish position in Hewlett-Packard (NYSE:HPQ).
BIDU is one of our Top Picks for Earnings Season, and we believe that the stock has solid upside out of this coming quarterly report. The main reason we like BIDU is that the company has a good amount of growth potential with solid value that has been created out of the 25% correction in price over the last six months. Currently, BIDU is sitting with a 13 future P/E. We look for value under 15. Price/sales sit at over 8, which is high. The reason we see value in P/E over price/sales is that BIDU operates with high margins, which has been a reason for its correction. Recently, BIDU has shown trouble with its margin due to rising competition, leading to higher traffic acquisition costs (TAC). If competition is higher, BIDU has to pay more for business. Yet, we believe that the growth prospects are still very strong, and with the stock at such cheap valuations, it could be ready for a reversal. What are those growth catalysts?
China is expected to see 300M smartphones shipped this year, which will mean a lot more Chinese citizens using their smartphones to search the web, many using BIDU. Further, the company has built its own mobile operating system as well as moving into Brazil. The company's growth in China is mostly in mobile, but it has lots of potential if it can be successful in other markets.
This quarter, BIDU is expected to see 21% growth in earnings and over 40% growth in sales. Earnings trail due to higher TAC as well as expansion projects. The market, though, is definitely expanding for BIDU. While competition is definitely prevalent from Qihoo 360 (NYSE:QIHU) and Sohu (NASDAQ:SOHU), there is more than enough of the pie to go around for multiple companies in the Internet business in China. While the company is losing some market share in China, new markets will help make up for the business as well as the amount of traffic rising despite market share declining as more Chinese citizens get on the web and now start to access it on their phone.
We believe the stock will have a great report, and we like buying a small portion before and adding if the report is strong.
Trade: BIDU, Long
Entry: Portion before earnings, average in after.
Another stock we believe will continue to be strong moving forward is Nike. NKE has done very well since their last earnings report, and we do not see any reason to expect a slowdown. It's important during times when the market is swinging up and down wildly to own some low-beta names, stocks that will move with less volatility than the general market. NKE holds a beta of 0.88, meaning it moves about 4/5 of the rate of the market. During downturns it will be less impacted. During upturns it will have less volatility as well, but it's better to be safe during these tough to predict periods in the market. In the company's last quarterly report, NKE reported 9% growth in sales and beat earnings expectations. Further, the company grew its future orders by 11% in the USA. Growth in established markets shows very strong demand for products, solid marketing/product interest, and more potential upside in sales/share prices.
Since that report, shares have been very strong. Can they continue in that way? Earnings are not until June, so the stock will unlikely see any major dips/increases that will likely move things drastically. Expectations are solid for the coming quarter with earnings expected to increase over 25% year/year. Nike is benefiting from solid demand in the mid-teens section as well as their move into yoga pants. The company is a good competitor for Lululemon (NASDAQ:LULU). What's great is that there is still value in shares.
NKE's price/sales is 2.2, which is under a key benchmark at 3.0. Under 3 shows value. Future P/E sits at 20, which is not great value but does not show overvaluation either. Additionally, with a low beta name and solid growth prospects, valuations should be a bit higher. With a great quarter on its back and the future prospects looking good, we like NKE as a name to hold right now. Additionally, a recent bond offering from NKE piqued our interest. The interest was so high that the yields were the lowest of any security with a 10-year and 30-year maturity offered yet this year in corporate bonds. NKE got great financing for cheap. That capital will be great for new investments and should not hurt cash flow.
Trade: NKE, Long
Buy Point: Now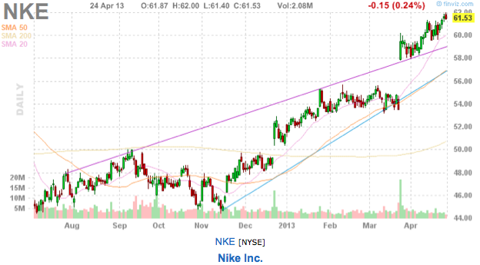 One stock we are not a fan of right now is Hewlett-Packard. The problem for HPQ and Dell (NASDAQ:DELL) is that the PC market is going to be stagnant for many years and may never go back to the way it used to be. Growing economies will buy new PCs and businesses will replace old ones, but a lot of businesses are moving away from classic PC business and customers are as well at an even faster pace. Here is what Barclays sees:
We are lowering our 2012-2016 PC forecasts due to weak macro conditions, confusion around Windows 8, ongoing cannibalization from tablets, and an elongation in replacement cycles," Reitzes writes in a research note. He now sees 2012 PC unit growth down 3% from a year ago; his previous forecast was for flat units. For Q4, he now sees a 6% year-over-year decline; his previous outlook was down 1%. The new forecast suggests 2% sequential growth; below the previous five-year average of 5% sequential growth.
The problem for PCs is that new PCs have to have better equipment to compete, so they last longer. Technology is also better. Tablets are easier to use, and phones are mini-PCs now. Companies like Apple (NASDAQ:AAPL) and Samsung (OTC:SSNLF) have moved completely towards tablets and phones with much less attention to an industry that is dying slowly. HPQ, though, does not have these same type of offerings. Can you name the HP tablet? Didn't think so. The Slate has gotten underwhelming reviews, but it is priced cheaply. The company is trying to get in on the lower-end of the market. Has it helped?
Expectations are for earnings to drop over 10% this year as sales drop nearly 6%. 2014 should not get a lot better. Sure, the stock is a value play with 5.5 future P/E and 0.3 price/sales, but HPQ is priced that way for a reason. There are no near-term catalysts. What HPW needs to do is to find the "next best thing." Interactive TVs, interactive clothing, interactive whatever and dedicate resources there. They have missed the boat on tablets and phones, and they cannot become a stock you want to own until something changes fundamentally. Until then, continue to avoid HPQ.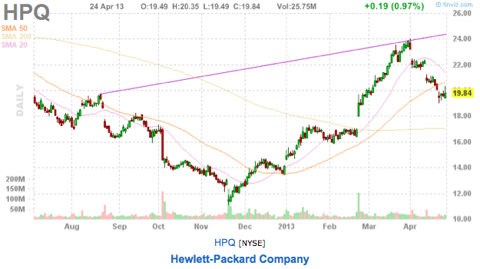 Market Outlook:
The market showed some weakness on Wednesday after some weak earnings, but the drop in Procter & Gamble (NYSE:PG), which did not have a great earnings report, heightened the DIA's drop. Right now, the market looks to be mostly reacting to developments in the marketplace, range bound between support and resistance. For Thursday, we would expect more of the same. Look for the market to stay fairly reactionary to earnings Thursday morning and what happens in afterhours as well as how data develops Thursday. The key reports to watch are Initial Jobless Claims; earnings from 3M (NYSE:MMM), ConocoPhillips (NYSE:COP), and Dow (NYSE:DOW); and Great Britain GDP. With a lot of solid earnings out, we would not expect any big corrections but be careful.
Charts courtesy of finviz.com.
Disclosure: I have no positions in any stocks mentioned, and no plans to initiate any positions within the next 72 hours.
Business relationship disclosure: The Oxen Group is a team of analysts. This article was written by David Ristau, one of our writers. We did not receive compensation for this article (other than from Seeking Alpha), and we have no business relationship with any company whose stock is mentioned in this article.