AK Steel (NYSE:AKS) has recently released its quarterly results. The company reported a net loss of $9.9 mln or $0.07 per share. Analysts (estimates sourced from Yahoo! Finance) expected a loss of $0.07 per share. The fact that AKS has beaten estimates did not help the stock. AKS finished the day of the earnings release with a miniscule gain of 0.34%. Certainly, this is not what AKS investors were hoping to see. The stock is down more than 35% year-to-date. The days when it was trading above $70 seem long gone now.
The present looks bleak for the company. There are two main factors that influence the revenue of AKS. These factors are the quantity of sales and the selling price. The average selling price for the first quarter of 2013 was $1062 per ton of steel, which is a 5% increase from the fourth quarter of 2012. In the first quarter of 2013 AK Steel sold 1.29 mln tons of steel, compared to 1.4 mln tons in the fourth quarter of 2012. This is an 8% decrease. As a result, net sales were 4% lower than in the fourth quarter of 2012.
The company states two factors that would drive future sales. It expects further increase in domestic automotive production. AK Steel also expects to gain a bigger part of the automotive market share. AKS makes 86% of its sales in the US, so domestic automotive production has a big influence on the company's results. Automotive market brought 45% of the 2012 revenue to AKS.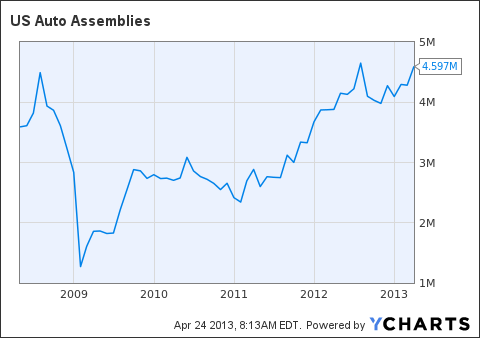 US Auto Assemblies data by YCharts
The next source of hope for the company is the housing market. The more new houses are built, the bigger the demand for electrical steel. Currently there is a strong uptrend in the housing starts.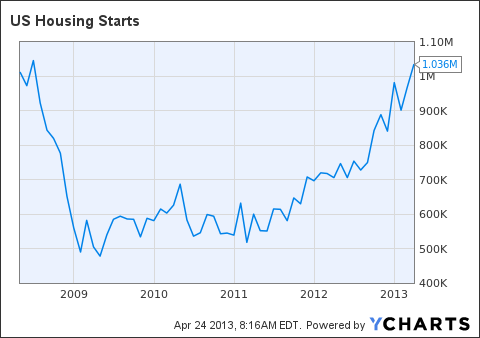 US Housing Starts data by YCharts
In its earnings call, AKS presented positive news about its pension contributions. The company made a downward revision on both 2014 and 2015 figures. AKS would have to pay $55 mln less in pension contributions during these two years.
There is also news regarding the second quarter results. AKS states that maintenance outage costs would be $21 mln in the second quarter. This is not the news you want to hear when the company is losing money.
As you can see, there are both positive and negative factors that influence AKS. In my opinion, this earnings release would neither lift the stock nor make it move lower. AKS is a very low priced stock, so you can expect a lot of volatility. A thirty cent move is a 10% move now. Investors with high risk tolerance can add AKS to their portfolios, if they believe the automotive and the housing stories. All others would have to wait before more positive news come from the company.
Disclosure: I have no positions in any stocks mentioned, and no plans to initiate any positions within the next 72 hours. I wrote this article myself, and it expresses my own opinions. I am not receiving compensation for it (other than from Seeking Alpha). I have no business relationship with any company whose stock is mentioned in this article.