In an excellent article, Don Dion recently described a series of reasons why emerging markets have not provided investors with shelter in the current bear market. He dissects the now-dismissed notion that was popular in the early to mid-2000s that emerging markets were 'de-coupling' from the U.S. and thus would not be too sensitive to a meltdown in the U.S. and other developed markets. In a nice turn of phrase, he suggests that rather than being de-coupled, emerging markets have become 'unhinged.'
The lack of de-coupling is not the whole story. Not only are the correlations between emerging markets and developed markets not low, but the Betas between emerging market funds and the developed markets tend to be high. This means that emerging markets will often amplify the swings in the U.S. I have been surprised that nobody is pointing out that even as many pundits were promoting 'de-coupling,' the statistics never supported this idea. Back in May 2006, I wrote an article that demonstrated these effects. The table below (from the original article) tells the story:

As of May 2006, ADRE (an emerging markets ETF) boasted a Beta of 183%, meaning that this fund tended to move 1.83% when the S&P 500 moved 1% (either up or down). This suggested that emerging markets tended to amplify swings in the U.S. markets, as opposed to off-setting such swings (the idea of de-coupling). Most investors know that tech-heavy indexes like the NASDAQ 100 amplifies swings in the S&P 500 (see QQQQ above), but people thought emerging markets were different. Note also the very high volatility of emerging markets relative to the S&P 500.

Note that in the years since I wrote the original article, ADRE and ADRA have retained Betas greater than 100%. Further, note that the volatility in these funds has remained much higher than the S&P 500. The volatility drag associated with these levels of volatility is impressive. ADRE has a positive average annual return, but the cumulative return over the three year period is negative due to the very high volatility. As one would expect with a high-Beta asset, ADRE rose faster than the S&P 500 when the S&P 500 was going up, and then amplified the losses when the S&P 500 was collapsing in 2008.
The one thing about the article from May 2006 that I wish I had included was projected volatility for these ETFs. Fortunately, Quantext Portfolio Planner (QPP) can be run using any historical data inputs, so I have gone back and calculated the projected volatility using all default settings and three years of data through April 2006 (as in the original study). The results are shown below: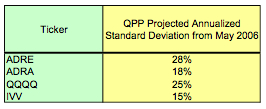 QPP users can easily verify these numbers. The projected volatilities from 2006 for ADRE and QQQQ are remarkably close to the realized value over the next three years. The projected volatility for ADRA was low compared to the actual outcomes, as was the projected volatility for the S&P 500. Note that the projected volatility was much higher in all cases than the volatility over the previous three years had been—and this was a recurring theme in my analysis prior to 2008.
How do emerging markets and Asia look today? The projections from Quantext Portfolio Planner are shown below (using all baseline settings and three years of data to initialize the model):

The first thing to note is that QPP is projecting lower risk (lower annualized standard deviations) for emerging markets (NASDAQ:ADRE) and tech stocks (QQQQ) than it did three years ago, though we are seeing slightly higher projected risk for Asia (NASDAQ:ADRA). As we would expect, emerging markets, tech, and Asian markets are projected to provide higher returns in coming years than the S&P 500. The next thing to notice is that Betas for emerging markets (ADRE) and tech (QQQQ) have gotten substantially lower.
When we compare the correlations between these asset classes to their values from three years ago to the most recent three years, we note that correlations have substantially increased:

It is important to understand what it means that correlations have gone up and Betas have come down.
From 1990 through 2000, only 20% of funds flowing into mutual funds went into foreign-focused mutual funds. By 2007, the flow of money into foreign funds was twenty times higher than the flow into domestic funds (John Bogle provides these stats in Enough (2009).). Foreign markets, and emerging markets in particular, became very much 'in vogue.' Every financial pundit was raising his or her estimate of the ideal allocation to emerging markets. Everyone must remember the basic narrative. The BRIC countries had emerged as economies that were internally self-sustaining and were no longer highly dependent on the U.S. or on the rest of the developed world. Further, as the citizens of these countries expanded into a middle class, their demand for products combined with their rapidly increasing wealth led to limitless opportunity for investors.
These arguments were used to justify why traditional historical metrics of valuation in emerging markets were no longer relevant. There are certainly elements of this story that are true, but the statistics never supported the degree of hype. There was another important element too. In periods of low volatility, investors become more aggressive and look for ways to boost return. Emerging markets fit the bill perfectly. The whole de-coupling argument, combined with a period of historically low volatility, created the perfect environment for a speculative run-up in emerging markets.
After the collapse in 2008, investors are no longer so indiscriminately excited about the prospects for emerging markets, so Beta has come down. On the other hand, we have witnessed a sea change in investor perception with regard to foreign allocations. We know that investors have historically suffered from 'home team bias' in their investment selections. As higher international allocations have become mainstream, it is not surprising that correlations have increased. The projections suggest that the diversification benefits afforded by emerging and developed foreign markets are now even lower than they were a few years ago—and this is not too surprising, given the discussion above.
Does any of this mean that we are suggesting that emerging and other foreign markets are unattractive? Certainly not. Note that our projections suggest that Asia and emerging markets have expected returns substantially higher than that of S&P 500. What investors must remember is that these higher returns come with commensurate risks and also do not provide substantial diversification benefits.
The broader conclusion, looking back to May 2006, is simply another demonstration of the degree to which investors will chase performance and disregard the basic quantitative information that can guide better decisions. Over time I have also come to understand that most investors are broadly unfamiliar with what measures like Beta and correlation really tell them—and the unfounded belief in de-coupling is a powerful illustration of this.