Since my last article on January 8, 2013, which cautioned investors about MetLife (NYSE:MET), its shares are up about 5%. Although this is in line with competitor Prudential Financial (NYSE:PRU), it significantly under-performs the Nasdaq insurer index and AIG (NYSE:AIG) and Principal Financial Group (NYSE:PFG), two other competitors (see graph). Despite this weak growth in the past four months, MetLife's common stock is still a risky investment due to regulatory uncertainties, untested geographic expansion in a number of countries, sluggish economy, and increased threat from competitive products.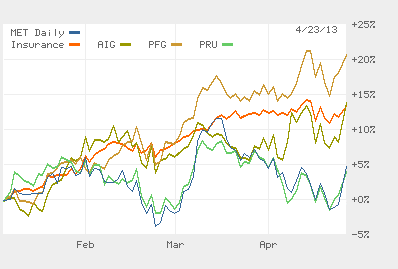 Fundamentals and valuations
It is difficult to compare MetLife with other insurance companies as each one has specific characteristics in terms of products and geographies. For example, Principal Financial has a disproportionately large retail asset management business while AIG has a preference for industrial and commercial underwriting and MetLife is the largest life insurer in the group. Regardless of this, most insurance companies goals are the same -- to spread risk across a larger population and/or longer time period and to invest the premiums they receive. Following is a table comparing key fundamental and valuation measures of these four companies.
| | | | | |
| --- | --- | --- | --- | --- |
|   | MET | AIG | PRU | PFG |
| Market capitalization | $41.3B | $60B | $27B | $10.4B |
| Enterprise value | $59.1B | $50.7B | $13B | $8B |
| Net profit margin | 1.90% | 11.20% | 0.60% | 8.90% |
| Operating margin | 2.20% | 14.20% | 0.80% | 10.40% |
| Price to earnings (NYSE:PE) '13 | 6.8 | 11.3 | 7.1 | 10.5 |
| PE-to-growth | 0.9 | 0.7 | 0.7 | 0.8 |
| Beta | 2 | 3.5 | 2.4 | 2.8 |
| Price to book value | 0.6 | 0.6 | 0.7 | 1 |
| Price to sales | 0.6 | 0.9 | 0.3 | 1.1 |
| Cash flow from operations (NASDAQ:CFO) | $17.2B | $3.7B | $20.9B | $3.1B |
| Price-to-CFO | 2.4 | 16.2 | 1.3 | 3.4 |
| Dividend yield | 2.9% | nil | 2.9% | 2.7% |
| 1-year total return | 6.6% | 26.6% | -1.7% | 27.0% |
Source: Capital IQ, Thomson Reuters, author's estimates.
A quick look at the table tells the investor two things. First, shares of insurance companies are volatile as they have betas over one. Second, insurers generate significant cash flow from operations that can be used for dividends, share repurchases and acquisitions. AIG's low level of cash from operating activities is particularly notable together with its relatively high PE ratio and lack of a dividend payment. From a valuation and fundamentals standpoint MetLife seems to be in line with the group.
Business environment and new developments
The insurance business varies from quarter to quarter and even from year to year as it depends on a number of factors including:
stock market performance - currently positive

interest rates - neutral as low interest rates makes capital cheaper but returns from fixed income investments lower so the impact is a wash.

inflation - relatively low, which is a positive as future liabilities do not rise quickly.

currency exchange rates - a weak U.S. dollar generally improves foreign results for U.S. companies.

regulatory climate - the regulatory climate seems negative but overall the competition in the insurance industry is healthy so it is more media hype than a negative.

certain company specific exposures such as catastrophes (Sandy) - difficult to say but overall catastrophes is positive for this industry as governments, businesses and individuals are better prepared to deal with them.
Overall, the current low interest rate environment with a relatively tame inflation is favorable for insurers as most premiums are paid in the past and high inflation (which is currently lacking) will usually disproportionately increase current and future liabilities.
The combination of these complex factors influencing insurers makes their shares susceptible to real and accounting gains and losses, which leads to high volatility from quarter to quarter. For example, in its most recent Q4 of 2012, MetLife recorded derivative losses of $855 million and a $752 million after tax charge related to deferred customer acquisition costs [DAC]. Similarly, in Q4 of last year, AIG recorded $1.3 billion of charges related to Sandy, while Prudential had the benefit of $78 million from a legal settlement and $48 million from favorable DAC reversal and Principal Financial was positively affected by a $30.5 million derivative adjustment.
The insurance market in the U.S. is maturing so even the core operations of these companies are threatened. As the largest company as measured by enterprise value, MetLife seems most susceptible to secular decline in the insurance business. This is already evident in MetLife's decision to voluntarily pull back from the variable annuities business. Also, the company is affected by decline in the group life business, which has been damaged by the persistently high unemployment rate. AIG, Prudential and Principal Financial are also suffering from the sluggish economy and low interest rates which makes their group offerings and fixed income products unattractive and less profitable, respectively.
In order to offset the negative trends in the U.S., MetLife recently made significant overseas acquisitions and entered into partnerships with foreign companies. Most notably, in Feb. 2013 it acquired Provida, the largest private pension fund administrator in Chile from BBVA with an asset management business in Ecuador, for $2 billion or about 11 times earnings. Similarly, Principal Financial acquired in Oct. 2012 Cuprum, another large Chilean pension provider at a slightly higher price of 12 times Cuprum's trailing earnings.
These deals will certainly contribute to earnings but there are issues such as whether private mandatory-pension plans in Latin America will be viable in the future due to their weak performance and high fees. This was questioned in this study performed by the U.S. Social Security Administration. Also, overseas expansion often does not go according to plan. For example, recently, MetLife announced its withdrawal from the bulk annuities business in the U.K., which have worried market participants there that MetLife could eventually sell its assets in the U.K. to a vulture fund with low returns.
On the positive side, MetLife is creating new products such as group legal plans. These plans, recently introduced by MetLife, allow employees to benefit from enrolling in legal plans that cover such legal costs as will and estate planning, civil law, real estate, traffic and criminal offenses, and debt matters. And in India MetLife has partnered with Punjab National Bank to offer life insurance in a joint venture.
MetLife's competitor, Principal Financial recently acquired a majority stake in Claritas, the Brazilian asset manager, bought 100% of AFORE (a Mexico-based pension and investment funds administrator), and obtained the coveted qualified foreign institutional investor license in China. And AIG, while selling most of its overseas operations, is partnering with PICC (People's Insurance Company of China) and HSBC to sell its insurance products in China and Europe, respectively. Finally, Prudential recently bought the individual life business from The Hartford.
Conclusion
The current business and regulatory environments offers both opportunities and challenges for MetLife as well as its competitors. MetLife has clearly voiced its disagreement about increased regulatory costs and lack of long-term visibility for large financial institutions. However, increased regulation will likely also help established companies such as MetLife as the barriers for new entrants will rise. In addition, there are benefits of being designated as a significantly important financial institution or 'too big to fail' as customers know that the company is conservative and will likely survive any financial stress.
It seems like the insurance companies are trying to grow internationally and domestically through acquisitions and to expand their services in benefits and asset management. However, international expansion can be costly and the asset management business is already competitive in terms of products and prices. With a secular decline in annuities and a group insurance market that is likely to remain weak, investors in MetLife and the insurance sector in general are better served to wait if/when the dust settles.
Disclosure: I have no positions in any stocks mentioned, and no plans to initiate any positions within the next 72 hours. I wrote this article myself, and it expresses my own opinions. I am not receiving compensation for it (other than from Seeking Alpha). I have no business relationship with any company whose stock is mentioned in this article.