Exxon Mobil (NYSE:XOM) is the world's largest company, by market cap. It has varied business lines, excellent financial health, and is investing in the future to meet global energy demand.
Business Lines
Exxon has three separate business lines, each of which operate in their own unique field. Exxon's upstream business line explores for and extracts crude oil and natural gas. Its downstream line, which is refining and marketing, refines crude oil into marketable products such as petroleum, gasoline, kerosene, and fuel oil. Exxon also has a petrochemical line which produces chemical products that are derived from petroleum such as paint, ink, and dye.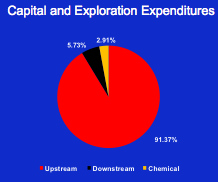 Source: Company filings
As you can see, the vast majority of Exxon's capex comes from its upstream business line.
Oil and Gas Reserves
Proved Reserves: Exxon has 7.152 billion barrels of total crude oil reserves. 4.663 billion of those are developed crude oil reserves, and 2.489 billion barrel of undeveloped crude oil reserves.
Exxon has 74.091 trillion cubic feet of total proved natural gas reserves, of which 50.257 trillion cubic feet is developed reserves.

As you can see, Exxon's proved reserves have been steadily increasing. Its reserve replacement ratio, which measures the amount of proved reserves added compared to the amount of oil and gas produced, remains healthy at above 100%.
Financials
After rebounding from the global economic recession in 2008 and 2009, Exxon's Profit Margin, Return on Assets, Return on Total Capital, and Return on Common Equity have all been steadily increasing across all boards.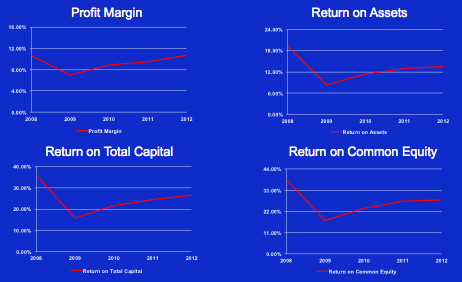 Additionally promising, Exxon has been decreasing its Total Debt to Total Assets ratio and Total Debt to Total Capital ratio.
Long and Short-Run Energy Outlook
According to the U.S. Energy Information Administration the price forecasts for gasoline, diesel, and heating oil are mostly flat to down over the next 16 months. The price forecasts for West Texas Intermediate and Brent Crude are both projected to be down in the short run. This should be offset by the slight projected increase in natural gas prices.

The long-run energy outlook looks better for Exxon, with prices projected up. Industrial, Commercial, and Residential energy consumption are all projected to be much higher over the next 25 years, according to the U.S. Energy Information Administration.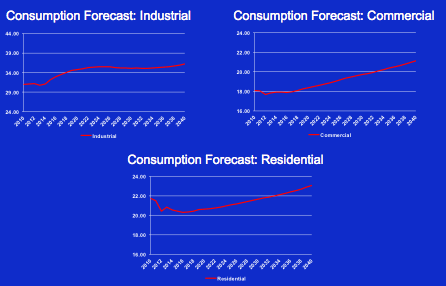 Future Projects
Exxon has at least four major projects that it is currently working on to meet global energy demand.
Kearl Project
The Kearl Project is a joint ventures to extract oil sands
Began producing in 2012
It has a 29% stake with Imperial Oil Limited, 70% of controlled by Exxon Mobil
Covers 48,000 acres in the Athabasca oil sands deposits in Alberta, Canada.
Hebron Project
Join venture to extract heavy undersea crude oil
Exxon has a 36% controlling stake
Crude oil is priced off of Brent Crude index, there are 700 million total reserves worth estimated $77.8 billion
This project is expected to produce in 2017, when it is estimated to produce 150K barrels per day
Kashagan Project
Field discovered in July of 2000-estimated 13 billion barrels of recoverable reserves. It is expected to start production in 2013.
Group of partners including Exxon Mobil, Shell, Total, and ConocoPhillips
Exxon Mobil has the largest stake among the group at 16.8%
Exxon Mobil- Rosneft SCA
This expanded access to Russian offshore and artic fields in Black Sea and Kara Sea
There is an estimated 36 billion barrels of recoverable reserves
Shows the Exxon advantage in drilling technology
Summary
As you can see, Exxon Mobil is a fantastic company that has diverse business lines, and is investing in future products to meet global energy demand. While many see Exxon Mobil as a pure oil play, it is much, much more than that.
Disclosure: I have no positions in any stocks mentioned, but may initiate a long position in XOM over the next 72 hours. I wrote this article myself, and it expresses my own opinions. I am not receiving compensation for it (other than from Seeking Alpha). I have no business relationship with any company whose stock is mentioned in this article.