The Swiss franc (NYSEARCA:FXF) has started another weakening phase, putting an exclamation point on the currency market's refusal to go along with the shrill, recent headlines claiming another deflation cycle has begun.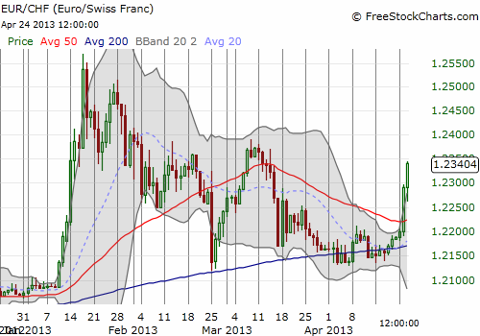 The franc is starting another weakening cycle
This move comes on the heels of Swiss National Bank President Thomas Jordan once again reaffirming his commitment to maintaining the 1.20 floor against the euro. According to Bloomberg BusinessWeek, Jordan used very strong language in asserting the necessity of this intervention:
"The exchange rate target is 'indispensable,' Jordan said…The cap is the only option 'to avoid a deflation spiral and a destruction of the economy.'…

'All reasonable countries accept that what we did is legitimate,' Jordan said. "They see that we have reacted to an excessive over-valuation' of the Swiss franc."
Ever since China reported GDP growth that missed expectations at "only" 7.7% two weeks ago, everything that goes down has somehow indicated deflationary pressures. The misguided headlines reached a climax for me when a one-day sell-off in iShares Barclays TIPS Bond (NYSEARCA:TIP) last Thursday prompted this headline in Marketwatch "TIPS dive as investors dump inflation hedges" and the following description:
Investors dumped their holdings of Treasury Inflation-Protected Securities Thursday as a selloff in the $883 market gathered steam following a weak auction of 5-year notes.
Not only has TIP already more than recovered those losses, the current bounce is reaching to reverse a similar loss on April 8th. If you look closely, you will see that these relatively large drops have occurred from time-to-time in TIP BOTH on the way up and on the way down.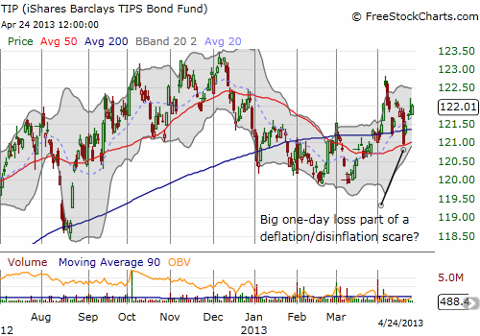 iShares Barclays TIPS Bond has churned a lot lately....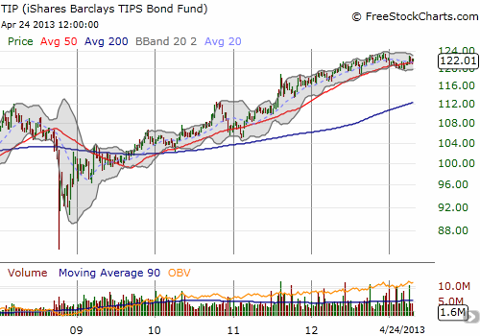 ...yet TIP remains light-years away from the last deflation scare in 2008-2009
The only reason why last week's drop was even notable was that it came three days after traders and investors puked up gold and silver in a historic sell-off that capped weakness that was accelerating recently (see "Gold And Silver Enthusiasm Soar To Historic Levels In The Wake Of Collapsing Prices" for my description of the buying opportunity in the sell-off).
The nervousness is understandable. Most commodities put in tops in 2011 and have been trending lower ever since. The sell-offs have alternated in speed and timing from commodity to commodity. Impatience is bound to lead jumpiness which in turn can lead to all out rushes to just run from the water torture. I will continue to argue that scares over deflation and related, steep sell-offs in commodities need to be bought. A great recent example is the recent rush for the exits in Freeport-McMoRan Copper & Gold Inc. (NYSE:FCX). On April 18th, FCX added to deflation fears by breaking to fresh 4-year lows in the wake of reduced guidance for cash flow. At the time, I tweeted that it seemed ridiculously cheap, and I loaded up. FCX has bounced nicely since then even as copper prices remain in a funk. FCX is still trading at just 1.5 times sales and book value with a forward P/E of 6.6.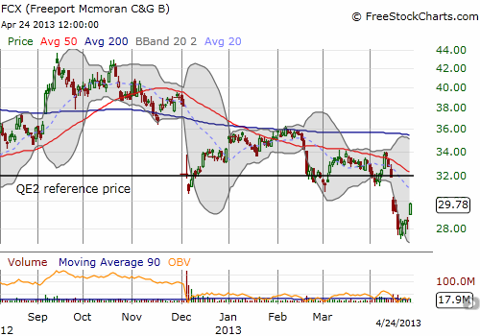 FCX is bouncing nicely so far off 4-year lows. However, it remains a broken stock based on previous support levels.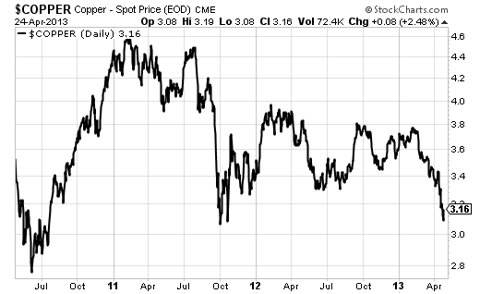 Copper adds to deflation fears as it trades near 2011 lows
Source: StockCharts.com
While copper is moribund, iron ore has also weakened again. On Tuesday, April 23rd, iron ore with 62-percent iron content dropped to $136.40/tonne, a near 3-week low. The low for 2013 occurred about 5 weeks ago at $132.90. These levels remain well above the lows of last year when iron ore quickly plunged below $90. Yet, demand from China appears to remain strong. Just two days ago, Platt reported the following:
China imported 32.17 million mt of iron ore from Australia in March, up 12% year on year and up 27.5% from February, data released Wednesday by the General Administration of Customs showed. Australia remained the top supplier of iron ore to China, accounting for 50% of total imports in March, compared with 45% in February…

…China, the world's largest importer of iron ore, imported a total of 64.55 million mt in March, up 2.7% year on year and up 14.4% from February, the General Administration of Customs said earlier this month.
Numbers like these likely explain why the Australian dollar (NYSEARCA:FXA) remains resilient. Technically, it should be MUCH lower if deflation fears were truly taking hold (of course, one could argue the currency would be much HIGHER without deflation fears). Against the U.S. dollar, the Australian dollar has fallen back yet again from the downtrend from 2011.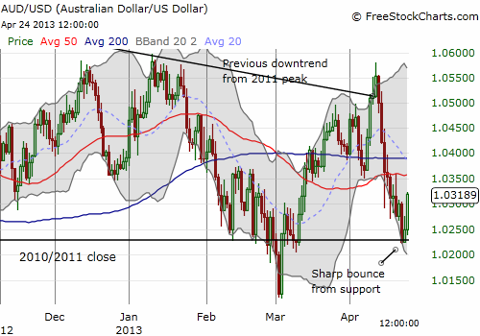 Australian dollar maintains downtrend from 2011 but still trades above parity and 2010/2011 closing levels
The resilience is seen most keenly in trade against the Japanese yen (NYSEARCA:FXY), the typical preferred currency for "safety" from deflation.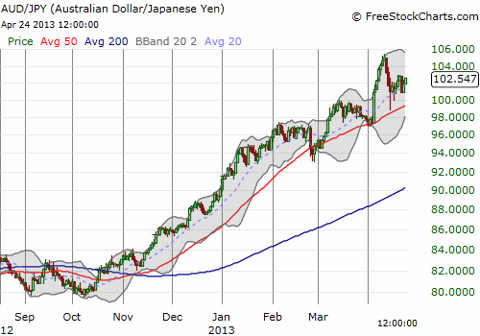 A dip, but far from deflation against the Japanese yen
The Japanese yen is of particular interest because it has experienced bouts of strength when deflation/slowdown fears have taken root in acute moments of fear. Each episode has passed and generally led to an even weaker yen. As a trader, the volatility represents opportunity on either side of the fence. Setting stops to enter trades on swift swoons can create quick profits if a trader is disciplined enough to exit almost as quickly as the entry. Otherwise, buying the dips remains the general principle for the yen currency pairs. Zooming into intraday trading shows how buying or even accumulating on dips has recently led to profitable trades.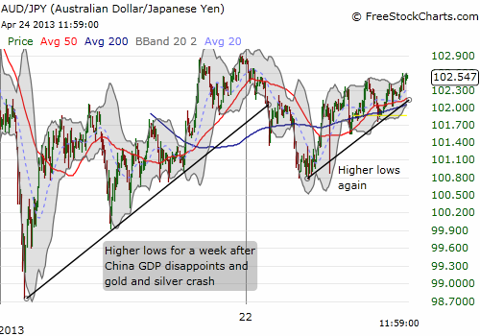 Trademark of trend trading: higher lows. Rest after the pattern breaks and then try again on next swift sell-off...
Source for charts unless otherwise stated: FreeStockCharts.com
Having said all this, it remains very possible that the headlines of deflation could get loud enough to create a self-reinforcing loop. It might only take one more big sell-off in some important commodity, like copper or especially iron ore. Perhaps it will be another data point suggesting an economic slowdown that gets over-extrapolated into outright deflation. So I am definitely far from saying it is time to buy the bargains aggressively. However, knowing that central banks globally have decided to get proactive about fighting even the whiffs of deflation (even the Reserve Bank of Australia has joined the game), I remain predisposed to buy into swift sell-offs driven by deflation fears. (As I type, the yen is rapidly gaining strength again…time to end here and prepare for fresh accumulation).
Be careful out there!
Disclosure: I am long FCX. I wrote this article myself, and it expresses my own opinions. I am not receiving compensation for it (other than from Seeking Alpha). I have no business relationship with any company whose stock is mentioned in this article.
Additional disclosure: I am also long GLD, SLV. In forex, I am net short Japanese yen and looking to reopen long Australian dollar positions.