Introduction
Nokia (NYSE:NOK) disappointed with its Q1 results as sales dipped more than expected. Personally, I found it especially concerning that sales of its Asha phones (which throughout the last year has been one of the few bright spots for Nokia) declined from 9.3M to 5M units.
However, much has been written about the quarterly earnings, and instead I will like to take the opportunity to take a slightly longer-term view by assessing Nokia's strategy.
How Nokia can create value for its shareholders
I think there are two general types of strategies which Nokia could succeed with.
Strategy 1: The market share strategy - This strategy is based on maximizing sales of Lumia and Asha phones. In order for this strategy to be considered a success, both Lumia and Asha phones need to obtain at least 30M unit sales on an annual basis within 1-2 years.
Strategy 2: Cost focus - Instead of generating profits by lots of sales, Nokia focuses on minimizing costs, while maintaining a decent average selling price on its phones.
In my opinion, it is relatively obvious that the management team prefers strategy 1, as Nokia has a product at every single price point, so that it can serve the most amount of consumers possible.
Low price range: Asha feature phones.
The low/mid price range: Lumia 520.
Mid range: Lumia 6xx and 7xx.
High end: Lumia 920.
Some will probably argue that Nokia is doing both strategies at once (minimizing costs and maximizing sales), as it has succeeded with reducing its operating expenses through a restructuring. As you can see in the below graph OpEx has indeed gone down by quite a bit.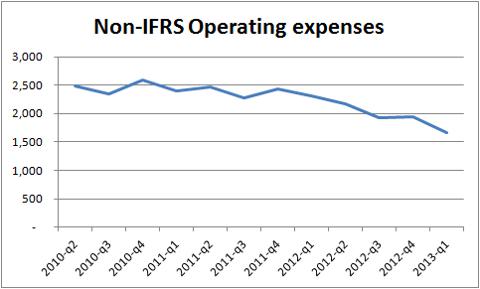 However, the problem with that argument is that OpEx hasn't gone down by enough to fully compensate for the decline in revenues. In 2010-Q2, OpEx accounted for 25% of revenues and in the last quarter, it accounted for 28%.
To further back up my theory that Nokia is using strategy 1, below is a quote from CFO Timo Ihamuotila.
So, first of all on the Smart Devices gross margin question, so the most important driver for Smart Devices profitability that we will be able to grow the top-line, so we are very quite pleased with the Windows Phone 8 gross margin performance now becoming to healthy levels, but we will focus more on gaining share and growing top-line than on the gross margin percentage. Of course, that needs to be in a reasonable and healthy level to business, but still we need to be able to grow that business, and that will be our at most priority.
Does the strategy make sense?
It seems to me that brand-strength is the real differentiator in the smartphone market currently. At this point, Apple (NASDAQ:AAPL), Nokia, HTC, BlackBerry (BBRY) and Samsung (OTC:SSNLF) are all capable of producing quality phones. But Apple and Samsung dominate their competitors as they managed to produce quality phones before their competitors and thus obtained some kind of "first-mover advantage."
The most "obvious" way to break that dominance is for Nokia to produce a phone that is significantly better than the Galaxy and the iPhone, however, that is definitely easier said than done.
Instead, Nokia hopes that their strategy can succeed in a different way. By dominating the low-end of the market, Nokia hopes that it will create a familiarity with Nokia's brand among those consumers, which means that if/when they choose to upgrade to a more expensive phone, they will be more likely to choose a Lumia-model over a Samsung phone for instance.
Fans of Apple often criticize that strategy as they believe that Apple easily could increase its market share by reducing the price of the iPhone. But they believe (and rightly so) that gaining market share for the sake of market share is pointless as it is the bottom line that matters. But here is the key difference between Apple and Nokia: Apple doesn't need to sell phones for any other reason than profit as it already has a lot of loyal consumers in the high-end (where gross profits are made).
Nokia on the other hand, doesn't need to generate any noticeable profit through its low-end phones in order for the strategy to be considered a success. In fact, as you can see in the below diagram, that is actually the case as the money it earns on its Asha feature phones are peanuts compared to the market value of the company.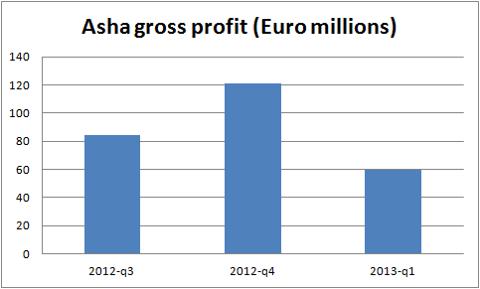 Source: My own estimations
But my problem with that strategy is that I don't believe Asha owners are significantly more likely to buy a Lumia phone as the interface is quite different from the UI of W8. Nokia's management once thought that most former Symbian owners would upgrade into the WP UI, however, as you can see in the below graph, that didn't turn out as well as expected.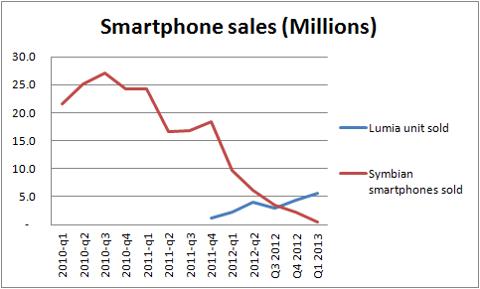 The same thing could possibly happen to Nokia once again in the near future. I can't rule out that Nokia will obtain Lumia sales of 10M within 1-2 years, however, I think it will come at the expense of lower gross margins as Nokia won't be able to obtain the required brand value, and thus will elect to reduce prices.
Where does that leave Nokia?
Given my below assumptions;
Nokia manages to increase Lumia sales over the next year at a somewhat steady rate (so that it ends at 8.3M in Q1 2014)
Average selling price decreases from euro 182 to 177
Average production cost decreases from euro 150 to 147 (scale advantages),
then Nokia will obtain just a small increase in smartphone gross profit (as you can see below).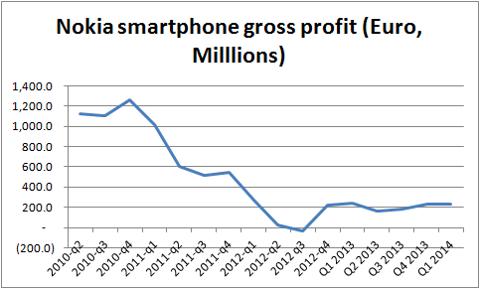 If Nokia manages to do better than I expect by selling 10M Lumia phones in Q1 2014, then gross profit only increases by a further 50M Euro, which won't be enough to justify any noticeable jump in the share price.
Therefore, I don't really see any potential catalysts coming from its "devices and services" division (mobile/feature phones and smartphones). Nokia is priced at mediocrity and in my opinion that seems quite fair.
Disclosure: I have no positions in any stocks mentioned, and no plans to initiate any positions within the next 72 hours. I wrote this article myself, and it expresses my own opinions. I am not receiving compensation for it (other than from Seeking Alpha). I have no business relationship with any company whose stock is mentioned in this article.