Qualcomm (NASDAQ:QCOM) posted Q22013 results last night that seemed to have delivered, but the stock dropped 5-6% in after hour trading. I've always liked Qualcomm and may enter a buy position in recent weakness, but let's first look and understand the risks that analysts have become concerned about.
Business Overview
Qualcomm makes semiconductor chips (QCT business) and collects license royalties related to 3G/4G patents (QTL business). Let's look at QCT and QTL business quickly:
QCT (equipment): 65% of sales, 30% of EBT (earnings before taxes), gross margins of 18-20%.
QTL (license): 35% of sales, 70% of EBT, gross margins of 85-88%.
Recently, growth in QCT (equipment) has outpaced QTL (license), with Q22013 QCT growth of 27.2% y/y compared to QTL of 18.2% y/y.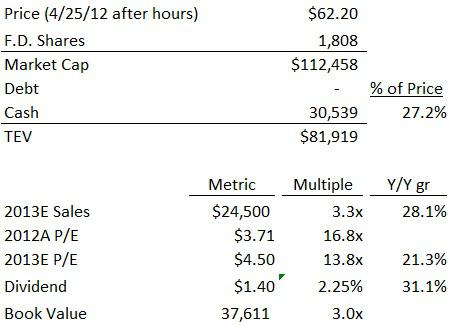 In terms of valuation, the Company trades at 3.3x 2013E TEV/Sales, 13.8x 2013E P/E, 3.0x current P/B, and pays a 2.25% dividend yield (31% payout ratio).
Good Top Line Growth, but Declining Margins
If you look at the Q22013 earnings transcript, you'll see that analysts repeatedly asked about gross margins declining. If you look above at the table, you'll see that top line revenue is expected to grow 28%, but EPS is only expected to grow 21% (slower than top line). By the way, these are based on the Company's own 2013 full year projections, not analysts' projections. Analysts worry why there is not more operating leverage and higher profit growth associated with the strong top line growth.
Specifically in the earnings call, analysts worried about weak Q32013 guidance of 17% for the QCT business (equipment side, not license side), compared to historical margins of 20%. Analysts worry about increasing competition and lower ASP as affecting margins. However, Management states that they still believe full year 2013 QCT margins will be 18.5-20.5%, with ASPs and margins ramping up in the 2H of 2013.
The QCT margins, we said for the full year, as you may recall, that we saw 18.5% to 20.5% margins for QCT throughout the year. We are seeing spending increase into the last half of the year so 17% at Q3 is still going to be consistent with that outlook. And in fact, we recommitted to the margin outlook.
Growth in Developing Markets a Good and a Bad Thing
Penetration of smartphones in developed markets like the U.S. has driven growth in the past, but the future of smartphone growth will come from developing markets (China, India, Latin America, etc.). Developing markets are good, because it will help expand the overall smartphone pie. However, it could also be a bad thing, where smartphones (and the chips that go into the phones) will have to be priced at lower price points, in order to fully penetrate the lower income developing countries.
Ehud Gelblum - Morgan Stanley

So additional volumes is bad for gross margin?

George Davis - EVP and CFO

Those additional volumes were bad for gross margin.

Ehud Gelblum - Morgan Stanley

Okay, so your lower end chips have lower gross margins than your higher end ones do?

Steven Mollenkopf - President and COO

Yes, that's correct. In fact, I think what you saw between what we would have guided at the beginning of the quarter and the end of the quarter is probably a little bit stronger units and more units coming out of the developing regions versus the developed regions. And so I think that those things do move around. We've talked about it ebbing and flowing between developed world and emerging world, and this is one that is probably a little heavy on the emerging world side.
3G versus 4G/LTE Licensing Fees
Qualcomm's patents have a stranglehold on 3G, but less dominance for 4G/LTE. On the developed markets front, there are concerns that as we transition from 3G to full 4G/LTE, Qualcomm will earn less licensing fees related to 4G/LTE than 3G. Qualcomm earns 5% royalty for 3G, but just 3.25% for 4G/LTE.
You may recall that we made a public statement several years ago at the time, based on sort of our current patent position, which frankly I think has improved over time, that we expected to charge about 3.25% for single mode LTE, just for the essential patent portfolio. And as you know, we generally license generally our whole portfolio, not just the essential portfolio. So that 3.25% was just for the essential patents.

So while it's possible over time, we can see a bit of a step down in the rate as we transition to more single mode LTE. I think we feel very good about the position that we're in terms of the agreements we've signed and the potential impact of that. There's obviously other things in the agreements that could have somewhat of an offsetting effect in that as well in terms of the total royalties paid, but we'll have to see how that plays out over time.
Note however, that a full transition to 100% 4G/LTE network is still a 1-2 years away (in developed countries, even longer in developing countries that still adopting 3G). Even if you offer 4G/LTE now, you still need to backward integrate and offer 3G compatibility. Qualcomm will continue to benefit during this 3G/4G transition, but just keep in mind of the potential effects (years from now) on Qualcomm's licensing fees when 4G fully replaces 3G.
Samsung Making Own Chips
There's a concern that Samsung (OTC:SSNLF) may follow the path of Apple (NASDAQ:AAPL) and design and build its own chips. If that's the case, then the current Snapdragon chips that power Samsung S3 and S4 will obviously take a big hit. It's all rumors now, but it's a big overhang on Qualcomm's stock.
Collecting China Royalties
Qualcomm has difficulty collecting royalties from China manufacturers and service providers. Until the company resolves this issue, the upside for developing markets is somewhat limited if you cannot capture all the benefits of the China market.
On China licensing, I think I can probably break it into two parts. I think generally we feel very good, as I said, that we're continuing to add licensees to the base and grow the number of licensees in China. I feel very good about the compliance efforts we have there. So I think we are confident we're collecting reasonably well on the sales there.

The one exception that's pretty well understood, I think, is we have had some struggles with local Chinese companies necessarily paying all the royalties they owe on TDS CDMA units. And although we have a large number of company [unintelligible] for TDS CDMA given the political sensitivities there, that continues to be an issue for us.

And we've got a number of strategies in place to try to address it, but at the TDS CDMA volumes grow at China Mobile, there will be a gap, to some extent, between what we're collecting on and maybe some of the numbers you're seeing come out of China, unless and until we're able to resolve the situation.
Conclusion
For a company that is growing EPS at 21% but only trading at 13.8x 2013E P/E, there seems to be some value there. Add to that the net cash balance nearly $17 per share before tax considerations (27% of share price) and a 2.25% dividend yield, there seems to be some downside protection on the stock as well.
However, like what's happening to Apple (see "Lessons Learned from an Apple Bull" article), there's concern that the growth and margin story that has driven Qualcomm's performance in the past, may be under attack and at a turning point going forward. Really, it boils down to whether you believe the slowdown in Q3 is a blip, or a longer term trend. Management seems to believe it's a short term blip (by keeping and raising their full year guidance), but Wall Street seems to think otherwise. If you take a position in Qualcomm (which I might as well), just make sure you pay attention to the longer term concern on margins (competitive products driving down margins, lower ASPs from developing markets, 3G to 4G transition, etc.). Best of luck everyone.
Disclosure: I have no positions in any stocks mentioned, but may initiate a long position in QCOM over the next 72 hours. I wrote this article myself, and it expresses my own opinions. I am not receiving compensation for it (other than from Seeking Alpha). I have no business relationship with any company whose stock is mentioned in this article.
Additional disclosure: I also own AAPL, which makes me a bit gun shy to establish a position in QCOM as well, given margin concerns.