Yum Brands, Inc. (NYSE:YUM), with a market cap of $30.94B, is a quick service restaurant company based on a number of system units, including KFC, Pizza Hut, and Taco Bell. YUM took another hit with a new strain of bird flu in China while it was trying to recover from controversy over its chicken supply where unapproved levels of antibiotics were given. Despite a swift and decisive effort with "Operation Thunder," the sales in China are still down 30 percent so far in April.
Good Profit, Missed Revenue

YUM reported Q1 earnings of $0.70 per share, beating analysts' expectation of $0.60. However, revenue came in at $2.54B, which was below analysts' prediction of $2.56B. Same-store sales increased 2% in the United States but dropped 20% in China. China's sales remain a concern as 40% of YUM operating profit comes from China.
Weakness in China, but Expansion Continues

Currently, YUM remains as the largest Western fast-food chain in China with about 5,300 locations. The company is expected to open another 700 restaurants in 2013. The management is confident to overcome the bird flu issue, which happened before in 2005 causing 40 percent sales decline. The management expects its EPS growth to return to double-digit rate in 2014 and beyond. However, after 11 years of double-digit growth, YUM is expecting its EPS to decline in the mid-single digits for 2013 due to its issues in China.
Positive End from Taco Bell

For the U.S. division, same-store sales increased 2%, including growth of 6% at Taco Bell (represents 60% of U.S. profit) and decline of 1% each at Pizza Hut and KFC. Taco Bell continues to be successful building on its Doritos Locos Tacos and Cantina Bell platforms. The management expects U.S. profits to grow in line with the ongoing growth model of 5%. Restaurant margin increased 2.4% percentage point mainly due to refranchising and sales leverage at Taco Bell.
Operation Thunder
In late February, Operation Thunder was launched to address consumer perceptions related to the safety of YUM's chicken in China. The initiative includes the specific enhancement to work with YUM's suppliers to eliminate 1,000 small and less modern chicken houses (highest risk). An aggressive quality assurance program was also launched while KFC brand continues to build around value and innovation. The management remains confident about its sales recovery in China as it had gone through SARS, Sudan Red, and previous avian flu situations in the past.
Analysts' Calls and Estimates
On April 24, 2013, Barclays reiterated equal weight rating for YUM with a target price of $69 (up from $67). However, due to bird flu problem, most analysts remain skeptical about the management's full-year forecast. A strong Q4 is expected to meet the target.
Analysts currently have a mean target price of $71.64, suggesting 4.36% upside potential based on the closing price of $68.65 on April 24, 2013. Analysts, on average, are estimating an EPS of $3.05 with revenue of $13.76B for 2013, which is 0.90% higher than 2012. For 2014, analysts are projecting an EPS of $3.75 with revenue of $15.45B, which is 12.20% higher than 2013.
Fundamentally, YUM's key stats will be compared to its peers in the restaurant industry, including McDonald's Corporation (NYSE:MCD) and Domino's Pizza, Inc. (NYSE:DPZ), to see where it stands.
| | | | | |
| --- | --- | --- | --- | --- |
| | Yum Brands | McDonald's | Domino's Pizza | Industry Average |
| Cap Size | $30.94B | $101.30B | $2.90B | N/A |
| Closing Price (April 24, 2013) | $68.65 | $101.02 | $51.43 | N/A |
| Beta | 0.85 | 0.38 | 1.25 | N/A |
| Revenue Growth (3 Year Average) | 8.0 | 6.6 | 6.1 | 4.4 |
| Operating Margin, %, ttm | 16.8% | 31.2% | 16.8% | 17.0% |
| Net Margin, %, ttm | 11.7% | 19.8% | 6.7% | 10.6% |
| ROE | 80.3 | 36.8 | N/A | 32.1 |
| ROA | 17.9 | 16.0 | 23.5 | 12.4 |
| Debt/Equity | 1.4 | 0.9 | N/A | 0.9 |
| P/E | 19.0 | 18.6 | 26.7 | 31.1 |
| Forward P/E | 16.6 | 15.5 | 18.2 | 14.3 (S&P 500's average) |
| Projected Dividend Yield | 2.09% | 3.09% | 1.57% | N/a |
Source: Morningstar and Google Finance
Comparing to MCD, YUM has higher revenue growth (3-year average) and stronger ROE and ROA. However, MCD, with the lowest volatility (beta of 0.38) has highest margins with lowest debt/equity ratio among 3 companies while offering the highest dividend yield. YUM also generates a strong operating cash flow of $2.29B with a levered free cash flow of $910.25M. From the valuation perspective, YUM's current P/E of 19.0 is below the industry average of 31.1 and is slightly above its 5-year average of 18.7.
Technically, the MACD (12, 26, 9) indicator is showing a bearish trend, but the MACD difference continues to converge. The momentum indicator, RSI (14), is picking up and showing a bullish lean. YUM had also broken through its 50-day MA of $66.95 and 200-day MA of $66.47 in the last trading day, after Q1 report, as seen from the chart below.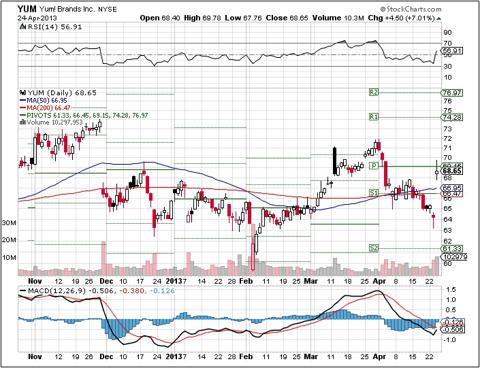 Source: StockCharts.com
Bottom Line
Despite the short-term bird flu concern, YUM's long-term outlook remains positive. With Operation Thunder and ongoing expansion in China, YUM is reacting quickly and sticks to its expansion plan. More upside potential is expected when the short-term concerns ease. For bullish investors, a credit put option spread of June 22, 2013 $62.5/$65 can be reviewed to gain some upside credit premium or to acquire YUM shares at a price below $65 upon options expiration. Investors can also review the following ETF to gain exposures to YUM:
Large-Cap Growth Equity Strategy Fund (NYSEARCA:RWG), 3.33% weighting
Note: Investors and traders are recommended to do their own due diligence and research before making any trading/investing decisions.
Disclosure: I have no positions in any stocks mentioned, but may initiate a long position in YUM over the next 72 hours. I wrote this article myself, and it expresses my own opinions. I am not receiving compensation for it (other than from Seeking Alpha). I have no business relationship with any company whose stock is mentioned in this article.