Italy finally has a new prime minister, Enrico Letta, who is expected to be supported both the center-left (its leader Bersani has recently resigned, as he was unable to get the bloc to vote for his choices for the job of president) and Berlusconi's center-right coalition. Apparently this has given fresh impetus to the buying of peripheral bonds in the euro area. Consequently, credit default swaps and other measures of systemic stress remain subdued. However, there are still technical divergences that must be considered worrisome and inflation expectations in Europe continue to plunge (this is often a precursor to credit stress). Moreover, safe haven debt continues to enjoy a good bid. We ask again, if everything is truly fine, then why is this so? Something obviously does not compute here.
Below is a selection of our customary update of credit market charts: CDS on various sovereign debtors and banks, bond yields, euro basis swaps and a few other charts. Charts and price scales are color coded (readers should keep the different price scales in mind when assessing 4-in-1 charts). Where necessary we have provided a legend for the color coding below the charts. Prices are as of Tuesday's close.
---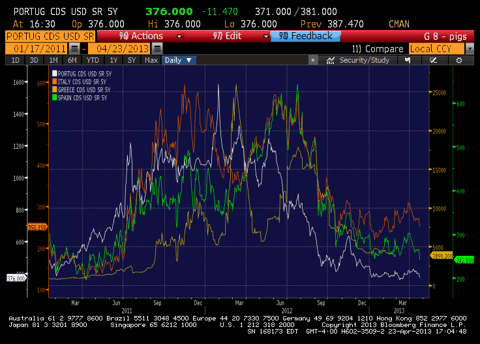 5 year CDS on Portugal, Italy, Greece and Spain - trending down again.
---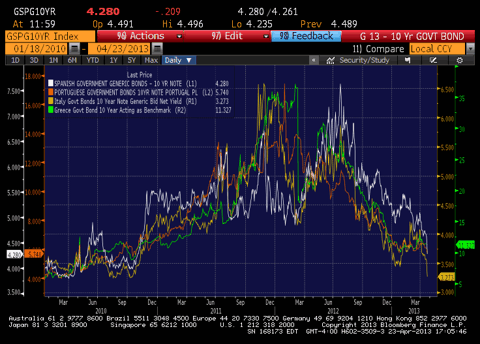 10 year government bond yields of Italy, Greece, Portugal and Spain - yields are plunging.
---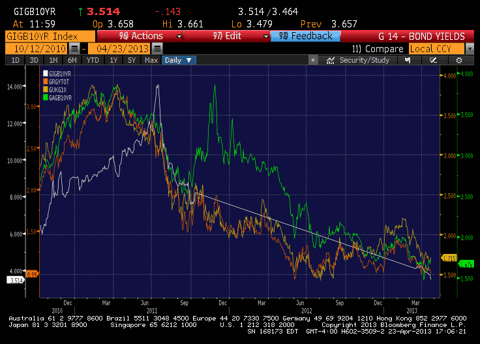 10 year government bond yields of Germany, Austria, U.K. gilts and the Irish 10 year note. The 'safe haven' type debt instruments continue to enjoy a strong bid.
---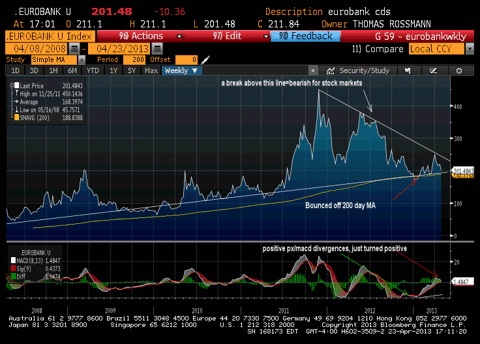 Our proprietary unweighted index of 5 year CDS on the senior debt of eight major European banks (Banco Bilbao Vizcaya Argentaria (BBVA), Banca Monte dei Paschi di Siena, Societe Generale (OTCPK:SCGLF), BNP Paribas (OTC:BNPZY), Deutsche Bank (NYSE:DB), UBS (NYSE:UBS), Intesa Sanpaolo (OTCPK:IITOF) and Unicredito (OTCPK:UNCFF)). The triangle comes ever closer to its apex - soon we will know whether the notable technical divergences will lead to a trend change.
---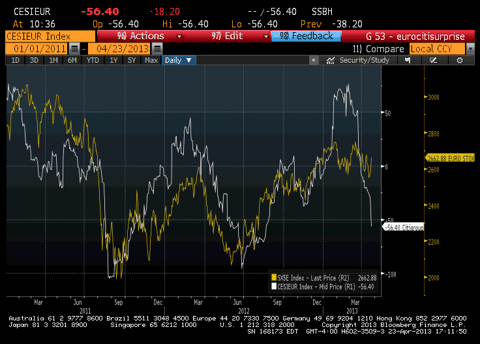 Citigroup's (NYSE:C) euro area 'economic surprise' index (white line) versus the Euro-Stoxx 50 Index. A growing gap is in evidence.
---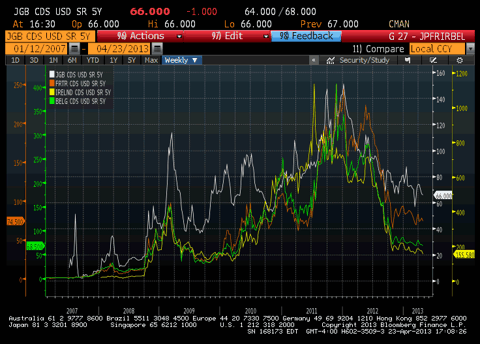 5 year CDS on France, Belgium, Ireland and Japan - it all looks fine, but all of these remain quite high considering that they refer to the debt of developed nation sovereigns.
---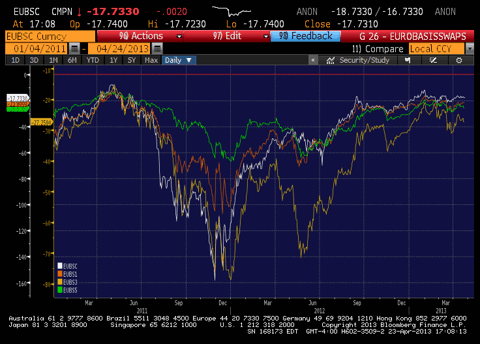 Three month, one year, three year and five year euro basis swaps - there continues to be a divergence between the shorter and longer dated basis swaps. It may not mean anything, but a similar divergence was seen shortly before the 2011 crisis broke out.
---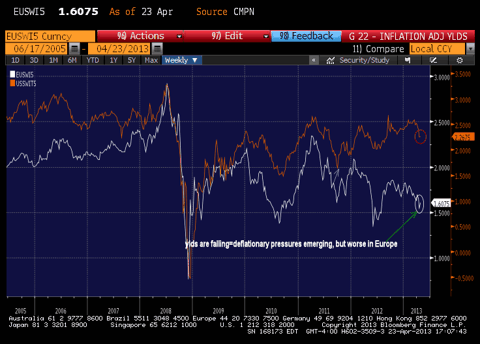 U.S. and euro area inflation expectations - both are now declining, with the decline more notable in Europe. This normally tends to be poison for 'risk assets'.
---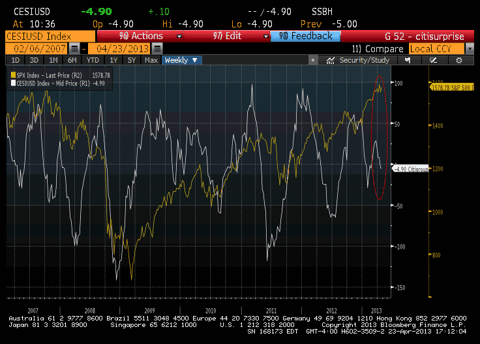 In the U.S., a similar disconnect between the Citigroup 'economic surprise index' (white line) and the SPX has become visible.
---
Conclusion:
At the moment, the markets are not worried about Europe - but there are still signs, subtle as they are, that this might change again. The persistent decline in inflation expectations and a growing gap between stock prices and economic reality should provide investors with ample reason for concern - even if those things seemingly 'don't matter' at the moment. As always, they won't matter until they suddenly do.
Charts by: Bloomberg