Yesterday we put more money to work by purchasing value, something we have been trying to stress over the past few weeks and months. We are buyers of value but just because we would not buy something now does not mean we would not be holders of it, for that is a very important distinction we want to make this morning. We had one reader confused on that, so we wanted to put that out there in case that misunderstanding was more widespread.
Commodities are all up, and gold has been up strongly so over the past few sessions. It is an ebb and flow game being played in the precious metals markets, and once some stability is found in the physical markets we shall see the equities rebound accordingly.
Commodity prices this morning are as follows:
Gold: $1446.90/ounce, up by $23.20/ounce
Silver: $23.30/ounce, up by $0.467/ounce
Oil: $91.81/barrel, up by $0.38/barrel
RBOB Gas: $2.7609/gallon, up by $0.0135/gallon
Natural Gas: $4.193/MMbtu, up by $0.027/MMbtu
Chart of the Day:
We ran across this image which we find interesting for it puts into perspective exactly how much of the US's coast is off limits to oil & natural gas exploration. Thank goodness for the shale boom taking place on land, for if not for that one can be assured that this would be a much bigger discussion on Capitol Hill and in the states affected.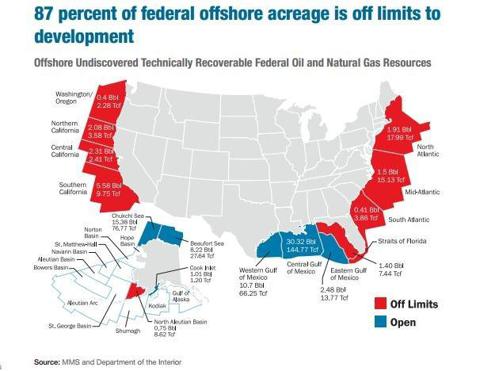 Chart courtesy of The Washington Post.
Oil & Natural Gas
Yesterday we were buyers of Rosetta Resources (NASDAQ:ROSE) and set our position up for what we think will be a run towards the $50/share level. We are content with it being a trade, either near or medium-term, but if it turns into an investment we can live with that too. We were asked yesterday if we were put off or worried about what the share offering and added debt might do to performance and our view is that great E&P companies looking to add debt to develop assets with high liquid and/or oil content is only a positive. It has been our view for some time now and has proven to be spot on. For those who disagree, simply look at the rest of Wall Street and how much cash those great companies are sitting on with no to low debt. Their shareholders are begging them to deploy the cash for acquisitions and/or growth initiatives as they are starved for growth. Here is a company doing just that and the market wants to punish them for journeying down a path which will simply lead to organic growth? Something is terribly wrong with that logic.
Our largest holding, Gulfport Energy (NASDAQ:GPOR), finally broke through our initial price target of $50/share during yesterday's session on the back of an upgrade from Jeffries. We heard through the grapevine that the price target was $78/share, but we were unable to confirm that as we did not see the research report. We are looking to $65/share as our end of the year price target, a figured arrived at via the new acreage purchased and the upside we see there as well as the wells which are coming online and our conservative estimates for where those will initially test as well as when they will be tied into pipeline infrastructure to begin producing. We are still bullish here.
If this was a girl in a singles bar, all the guys would have here ranked as an 8 or above. A very attractive chart indeed.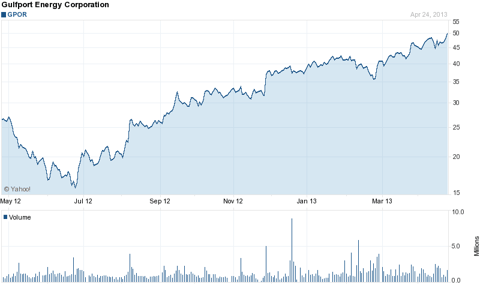 Chart courtesy of Yahoo Finance.
Magnum Hunter Resources (MHR) finally saw a relief rally yesterday as shares rose $0.38 (15.32%) to close at $2.86/share on volume of 11.6 million shares. For those who want to trade this, we say go ahead. We are not that brave or reckless and certainly do not have the stomach for this type of volatility on a daily basis. This will continue to be a name to watch moving forward, but luckily the company has taken proper moves to finance up prior to this and appears set in that important category.
We love when we run across names from our past which we either were investors in or followers of as it is somewhat nostalgic and also fun to see where they ended up in their plans. Yesterday FX Energy (NASDAQ:FXEN) was the name which popped up on one of our screens as shares finished sharply higher (up $0.73 or just over 27%) to close at $3.43/share. The spark was their press release (found here) which stated that they were testing two wells in Poland which appear promising and look to hold hydrocarbons. The company's plans have never really panned out for European exploration and production, but maybe these latest wells will be a turning point.
Cliff Watching
Cliffs Natural Resources (NYSE:CLF) had a solid day heading into earnings last night as shares finished higher by $0.90 (5.20%) to close at $18.22/share on volume of 13.6 million shares. After hours the company rose another $1.07 (5.87%) as they beat on the EPS estimates by $0.25/share while missing on revenues. At this point the only thing that matters is the bottom line as revenues will be under pressure due to the industry as a whole idling production, Cliffs included. This is one step in the right direction for management in their quest to regain shareholder trust, but there is still a long way to go to get back in their good graces. Watch today to see if this positive bit of news can push shares above the $20/share level.
Disclosure: I am long GPOR, ROSE. I wrote this article myself, and it expresses my own opinions. I am not receiving compensation for it (other than from Seeking Alpha). I have no business relationship with any company whose stock is mentioned in this article.