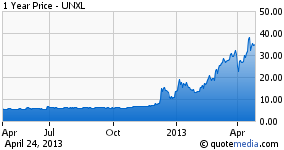 Barron's semi-annual Big Money Poll, published April 22, names Uni-Pixel (NASDAQ:UNXL) as one of the nine "favorite" stocks of big institutional investors for the next six to twelve months. It's the only company on the list with a miniscule market cap, so if you're looking for a tiny dynamo with huge growth potential that the big-money guys are buying, consider UNXL. (To read the entire article click here.)
It is truly amazing that these big guys would even be aware of UNXL, a tiny company that had not reported any earnings when the survey was taken, a business with a disruptive, next-generation touch-screen technology that had been assaulted by the shorts so severely that more than 50% of its issued shares are short.
Barron's spring survey was conducted during the second half of March with the assistance of Beta Research of Syosset, New York, and received responses from 185 institutional investors across the country "representing both smaller firms and some of the largest asset managers in the country." They were each asked to pick their one favorite stock for the months ahead, and Uni-Pixel made it into the Nifty Nine. (The article based on the survey, "Dow 16,000!" is Barron's cover story of April 22, pages 23-28.)
What is most remarkable about the inclusion of UNXL in the top favorites is the company it keeps. The complete list is: Apple (NASDAQ:AAPL), Ford (NYSE:F), Intel (NASDAQ:INTC), AIG (NYSE:AIG), Gilead Sciences (NASDAQ:GILD), eBay (NASDAQ:EBAY), National Oilwell Varco (NYSE:NOV), Google (NASDAQ:GOOG) - and Uni-Pixel. Eight large-cap Goliaths and one determined David. UNXL is a pint-sized micro-cap, out in Woodlands, Texas, with a valuation of a mere $380 million dollars at Tuesday's close. There is no other micro-cap or small-cap in the Big Money favorites. Uni-Pixel stands alone in a pantheon of the great-growth, large-cap giants of modern American enterprise.
First, an explanation of what UNXL is and does. This is for those who may have missed the epic six-month battle between the devoted longs, many of whom have ridden this rocket up from $5 last November to $35 today, and the aggressive shorts, who have dug themselves into an incredibly huge hole more than $100,000,000 deep, short by an estimated 6.2 million shares, 1.6 million of which are naked.
What is Uni-Pixel?
In its own words, "Uni-Pixel delivers performance-engineered films to the lighting, display and flexible electronics markets. Its high-volume roll-to-roll or continuous flow manufacturing process offers high-fidelity replication of advanced micro-optic structures and surface characteristics over large areas. A key focus for Uni-Pixel is developing electronic conductive films for use in electronic sensors for consumer and industrial applications. The company's newly developed UniBoss roll-to-roll electronics manufacturing process prints conductive elements on thin film with trace widths down to ~ 5um. The company is marketing its films for touch panel sensor, cover glass replacement, protective cover film, antenna and custom circuitry applications."
UNXL's patent-pending UniBoss is flexible electronic manufacturing process whereby it can precisely pattern fine- line conductors on a variety of substrates, such as glass, flex circuits, and flexible polymer rolls of film, in a continuous roll-to-roll process with high optical transparency. The company is pitching films made by the UniBoss process as an alternative to traditional indium tin oxide ("ITO") coated transparent materials used in a variety of electronic products. By replacing the ITO in a display device its customers can lower their device production costs, reduce the product thickness and weight, and improve the overall efficiency and performance. .
UNXL's film screen offers great benefits to UNXL and to its customers. For the former,, it is much cheaper to make, does not require the use of costly rare earths or silver, is not brittle, uses a waste-free additive technique instead of a subtractive one, is made on a fast roll-to-roll process, holds the cost of larger form factors to a linear price increase in contrast to the exponential increase with ITO, is thinner and more flexible than competing screens, and is lowest-cost screen in the market. For the OEM and the ultimate customer, the UNXL screen is more efficient, has faster scan rates, much more flexibility, is easily scalable, sucks far less power, can run on smaller batteries, can be bent and curved without breaking, allows better design, has superior electrical conductivity, has no graphic lag time (latency), and ranges from tiny to ultra-large formats.
Big Buying Likely Next Ten Days
UNXL's secondary offering sold out in a New York-minute last Thursday, but none of those to whom it was allocated were able to acquire much because the total offering was a mere, 1,195,000 shares, costing only $38,400,000, virtually chump changes for the big boys. The secondary legally closed on Tuesday, and some of these buyers will go to the market for more.
The next ten days seem certain to be a perfect storm of a blood-bath because: 1) The tradable float is no more than 5.6 million shares; 2) Each of the 185 surveyed institutions is now aware that a good number of its peers named UNXL as the top pick of the year among all stocks, and the only pick among small companies; 3) all of investing American will now be aware, through Barron's, or Seeking Alpha, or similar articles, that UNXL is the hottest small stock of the year; 4) those unfortunate souls who are short the 6.2 million shares will be facing margin calls and trying to cover in a tight and unforgiving market; 5) UNXL's upbeat annual meeting hits on April 26, and 6) a conference call in which management will discuss earnings and the company's bright future is scheduled for April 30 at 4:30 EST (phone 480-629-9808, code 4614874). The confluence of these events may well create the mother of all short squeezes and drive the price of the stock by the end of April to double where it is today.
The Failures of the Shorts
The shorts have, in the last three weeks, been badly damaged by a slew of failed tactics, and were counting on a possible secondary as their last shot at salvation, or their last palatable opportunity to cover before the stock zoomed.
They failed in their vehement attempts to brand UNXL as a fraud and a pump-and-dump scam, because management made good, right on schedule, on a long-promised announcement of a $5 million initial order from an OEM and a deal with an EcoSytsem partner,
They failed in their attempt to bash the price by arguing that no manufacturer that has not yet shipped product deserved the $320,000,000 valuation to which UNXL had then risen. Then last week Ladenburg Thalmann upped its target to $40, Williams Capital raised their target to $50, and Craig-Hallum raised theirs to $58, and Market Club gave it its highest rating: +100.
The shorts failed in their attempt to claim that UNXL had attracted no substantial or impressive partners because the news leaked out that Dell (DELL) was buying UNXL screens for its newest generation of touch-controlled computers and tablets. And that Intel would be promoting UNXL products to its ecosystem and its supply chain pursuant to a licensing arrangement with UNXL. And that Kodak (EKDKQ.PK), emerging from Chapter 11 bankruptcy in the next two months with a wad of cash, was embarking on a wholly new business called "functional printing" with UNXL as its partner.
And they also failed in their attempt to manipulate the price of the shares by daily "marking the close" and dumping hundreds of small lots of shares in the after-market -- because the price dauntlessly moved even further upward on almost each of the following mornings.
Then these shorts began chanting "Dilution!" after UNXL issued a press release last Wednesday announcing that it would make a secondary offering, jointly managed by Cowen and Craig-Hallum Capital Group. The secondary was made pursuant to a shelf registration that had been declared effective by the SEC on June 8, 2012. (A copy of the supplemental prospectus may be obtained here.)
UNXL sold all 1,195,000 shares at $32 each, plus the over-allotment of 179,260 shares, netting the company $40,000,000 after expenses, the cash it needs to rapidly build out its production capacity to take advantage of the huge opportunities ahead in the touch-screen field. It is now comfortably positioned to earn at least $1.30 a share this year and $4.40 a share in 2014 and boast a share price above $100 by Christmas. Maybe even by Chanukah.
This is good news for those who believe in UNXL, although many shorts had also hoped for a large secondary, mistakenly believing that it would severely depress the price of this stock, which had risen from 20 on February 15 to an intraday high of 41.42 on April 17. The secondary was probably the last opportunity for the shorts to cause serious problems, but they failed, as they have failed repeatedly of late as the true strength of the Uni-Pixel story has moved the market.
The dilution from the sale of 1.374,260 shares of shelf stock adds 13% to the 10,385,386 shares issued and outstanding as of March 31, 2013. While those extra shares will trim earnings per share by about 13%, that is more than outweighed by the likelihood that the earnings to come are to be so amazingly spectacular that the dilution will be small in comparison. The short-term problem is that the tradable float of the stock, which had previously been about 5 million shares, or half the issued stock, has now been increased by about 27%. These 1,374,000 new shares, which might be in weak hands looking for a quick profit, could become available to the shorts who, the past six weeks, had experienced great difficult in borrowing stock to short. There was just no more stock available. I had checked earlier last week with three large brokerage houses that had been charging 30% carrying costs to borrow UNXL shares, and they had none available. Now a small percent of the shorts may be able to find some shares to borrow, but it unlikely the wise ones will want to go further short following the Big Money Poll. More likely they will buy them to cover their short positions. Both sides have battled bitterly this week, causing the stock to yo-yo between 34 and 36.
What the shorts somehow missed in their dilution argument is that there are a lot more shares coming, about 26% more. These include 33,000 shares that vest and can be sold after August 16; an additional 1,929,796 being held available for management holders of options that will surely be exercised; 828,172 reserved for holders of warrants pursuant to earlier agreements, more than 3,000 not yet distributed from past Equity Incentive Plans; and, if approved by the shareholders at the company's annual meeting this coming Friday, 800,000 shares to be added to the new Equity Incentive Plan for employees, a grand total of 15,376,000 shares likely to have been issued by the end of 2014, (See page S-5 of the April 18, 2013 Supplement to the Prospectus of May 24, 2012.) I use the 15,376,000 share count in my forward-looking calculations below.
Last Week's Secondary Has Been a Big Benefit
There are at least ten reasons why the secondary will be a huge boon to UNX including: :
UNXL's ability to promptly and smoothly sell more than a million shares in the secondary market at $32 a share further validates the company's technology and prospects. This is especially true when you realize that the underwriters avoided the traditional haircut and sold it at 28% above its 50-day moving average. In fact, the stock had, in the three weeks before the secondary offering, only closed once over 32.
Its new affiliation with Cowen, one of the nation's top brokerage firms for discovering technological diamonds-in-the-rough and polishing them into gleaming gems, greatly enhances the company's credibility, while Cowen's due diligence prior to this offering should kill, once and forever, the short's "fraud" thesis. Cowen helps run the annual Display Week in mid-May in Vancouver, the premier annual showcase of the industry and, the leading event for the sale of displays to the North American market. UNXL will be there, explaining "Advanced Technologies and Materials Impacting the Display EcoSystem," the only public company in the panel's triumvirate of "technology leaders." The event "attracts the top companies and senior management who make product-management and purchasing decisions shaping the industry." (displayweek.org) Even the shorts, who have been so clueless up to now, should be able to connect the dots.
The $40 million that UNXL nets from the sale will be far more than sufficient to enable it to quickly and confidently build-out its plating and production lines and finance its newly-announced venture with Kodak to produce the touch-sensor films in Rochester. A rapid increase in production is the name of the game right now because the faster UNXL can ramp up, the more product it can churn out, the larger market share it can capture, the more billions it can earn in a touch market. This $40 million will be more than enough to fund the $12 million or so that UNXL will add to Kodak's contribution to outfit their new plant. In a conservative back-of-the-envelope calculation, this is enough to buy and install three new plating lines and 30 new printing lines, together able to turn out at least 2.5 million units (i.e. square feet) a month, on route to the Kodak-UNXL goal of 10 million a month. Two and a half million square feet a month equals 30 million units a year. Let's chuck out 20% for possible loss, waste, and quality-control rejects. That leaves 24 million units a year. At $20 a square foot, the stated price (far below the industry average), that comes out to $480 million in annual revenue from just UniBoss. Since an entire UniBoss production line only needs four employees per shift to run (two for plating and two for printing), labor costs are low and margins are high. Let's be harsh and deduct $180 million for materials, operations, amortization, depreciation, and taxes. That leaves $300,000,000 bottom line net income. Divide that by the 15,378,000 shares to be outstanding by 2014, and you have earnings of $19.50 a share. Apply to that a P/E multiple of 20, which is very low for a company growing like this, and you have a PPS of $390! Let me write that out so you know it's not a typo -- three hundred and ninety dollars per share. We can also make the calculation from the market side, a market for touch screens alone estimated by industry experts to reach 18 billion dollars by 2018. If UNXL can take a mere 10% share of this market, that is $1.8 billion gross annual revenue. Chop that down a full 60% for expenses, G&A, etc. and you get $720 million net income a year. Divide that by 15,378,000 shares, and the EPS is $46.80. Multiply that by a P/E of 20 and you have a price per share of $936 by 2018!!!! If you use a not-unreasonable P/E of 30 for this hot and growing stock, the valuation rises to $1400 a share! (No, I haven't been toking up on medical marijuana, and I never drink anything harder than Diet 7Up.) If you are an extremely skeptical investor, then whack the price in half again to account for some assumed Asian competition, quantity discounts, and product price erosion, and you a still looking at a 20-fold increase from 35 to 700. Now maybe you can understand why UNXL made the Nifty Nine in the Big Money Poll and joined the ranks of Apple and Google.
The funds from the offering will more than triple the company's book value, from $1.46 per share to $4.86 a share. While book value is an old-fashioned measure of company solidity, and of little consequence to the gunslingers, it means a lot to institutions and more conservative investors and should greatly broaden the types buying into the company.
The quick and easy success of the secondary gives enhanced visibility, credibility, respectability, and marketability to the company.
The downside risk in the secondary did not materialize. The company did not greedily inundate the market with shares, but sold only enough to enable it to fill its need for working capital. Even more impressive, the underwriters avoided the major danger in a secondary and were able to obtain an excellent price for the shares, more than 8 % higher than the $30 they had been on Monday, a true rarity in a secondary. And the stock formed a solid base at 32 that has resisted all assaults.
Since the availability of those funds will be sufficient to build the company to profitability and bring in millions in free cash-flow this year, this will enable management to shift focus from financing to executing, producing, partnering, and expanding.
UNXL may save Eastman Kodak in the process. This iconic 135-year-old American company has been ravaged by the digital camera and other disruptive technologies in the past two decades, its common stock beaten down to 31 cents a share on a good day. In January of this year the court authorized a sale of some Kodak assets and approved financing for the company, and it is expected to emerge from Chapter 11 bankruptcy by summer. Kodak CFO, Antonio Perez, announced that:"functional printing" would be the company's new focus and that commercial imagining would be a key growth area, using Kodak's immense knowledge of film technology to provide a foundation. Now UNXL has formed a joint manufacturing venture with Kodak, to be located in the one-million-square-foot Building 326 in Eastman Business Park. According to Kodak spokesman Christopher Veronda, the refurbished facility is "expected to be up and running by fall." (All quotes are from the Rochester Democrat and Chronicle or Kodak press releases.) If the venture succeeds, as seems increasingly likely, both companies will earn billions, and Kodak will be solidly back in business..
The availability of UNXL shares today, at what is likely to be the lowest price in the lifetimes of most investors, will itself induce many shorts to toss in the towel, buy the stock, cover, quit the field of battle, take their scare tactics elsewhere, and allow the share price to rise to natural levels. Indeed, the record-setting sale of 3.8 million shares in the open market last Thursday - a remarkable 76% of the company's tradable float - provides strong evidence that some of those badly beaten shorts have begun to run for cover. This is not a bad thing. Although many of the ardent longs delight in bashing the shorts on their message boards, and dream of a crushing short squeeze to put the stock into a jet-assisted takeoff, this is both (pardon) short-sighted and unnecessary. Except for day traders and their ilk, most investors do not buy a stock just because a short squeeze is in the offing. We buy it because the company has strong fundamentals and sound prospects for the future. That is where the focus must be, and that is where UNXL will shine after the shorts slink away.
Management's step-by-step choreography of the events leading up to the secondary was nothing less than masterful. This included the notorious, anxiety-producing "six weeks" announcement; the attention-getting mystery over the non-disclosure of the OEM partner; the announcement of the EcoSystem partnership with Intel, and the production deal with Kodak, each deftly dropped into the market with brilliant timing. (All of these events have been ably chronicled by others on Seeking Alpha during the past two months.) If management can apply that same deft touch and choreographing skill to future business strategy and product execution, UNXL could become one of the truly great companies of the future, and the big-money boys who picked it for Barron's will be very right - and very rich. .
And I haven't even mentioned UNXL's incredibly strong Diamond Guard film coating that is tougher than Gorilla Glass, and its breakthrough technique for producing stereoscopic 3D film for motion pictures and video games that can be viewed without special glasses, and ... (I could go on and on ...)
Disclosure: I am long UNXL, GILD, NOV. I wrote this article myself, and it expresses my own opinions. I am not receiving compensation for it (other than from Seeking Alpha). I have no business relationship with any company whose stock is mentioned in this article.